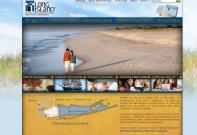 Hauppauge, N.Y.
- The Long Island Convention & Visitors Bureau (LICVB) is proud to announce the re-design and re-launch of the official travel and tourism site for Long Island at
http://www.discoverlongisland.com/
. The site incorporates the latest tools and technology to make it faster and easier to plan a visit to Long Island. The dramatically re-designed site features elements not offered anywhere else, including the most comprehensive and up-to-date Long Island Calendar of Events and a new Interactive Map using Google technology to pinpoint exact locations of area attractions. The Interactive Map also allows visitors to search Long Island by region or by type of attraction including wineries, farm stands, museums, lodging, golf and more.  "It's important for us to be at the forefront of new technology and to be where the traveler is looking for information about planning their trip," said Kristen Matejka, director of marketing and communication at the LICVB. Updating the site was essential in reaching potential visitors to Long Island's attractions and hotels. Increasingly visitors are planning and booking their vacations online with approximately 90 million American adults using the internet to plan travel last year, according to the U.S Travel Association (USTA). "While launching this new content-rich site is an important part of our online strategies, it is only one part of our interactive marketing mix," said Moke McGowan, president of the LICVB. "Next year we will launch our mobile site to leverage both online and mobile broadband users in a number of platforms to better reach potential and current visitors to Long Island."  The LICVB's current online strategy includes Twitter, YouTube, Travelocity, TripAdvisor and Facebook (with 160,000 fans). Most travelers see the internet as a 'very useful' or an 'essential tool' for planning many/most aspects of a trip including where to stay overnight, planning travel routes, potential places to visit, attractions to visit, as well as learning about what to do, according to the USTA. Among the primary tools for travel planning are search engines, company websites and destination websites. (Source: Travelers' Use of the Internet, 2009). Other features of the Long Island website include coupons, getaway packages, clickable brochures, photos, video and special promotions, along with focus areas on, for example, Famous Long Island, including the Hamptons; Famous Artists, Poets and Past Presidents; Famous Film Sites; Historic Gold Coast Mansions; Famous Actors and Comedians, and more. "The new site is loaded with rich content to give visitors to the site a better sense and feel for all that Long Island has to offer," said Matejka. "One menu choice offers visitors the opportunity to explore the history and culture that has made Long Island famous.  From George Washington to Theodore Roosevelt - Walt Whitman to Jackson Pollack and many more - visitors get an intimate glimpse into the people, places and activities that have made Long Island a world-renowned destination." The LICVB advertises, markets, and promotes visitation to Long Island through print media, TV, online marketing, search engine optimization, and social media, as well as by attending trade shows, conducting familiarization tours for meeting planners, tour operators and the media, distributing travel information at visitor centers, producing the annual printed Long Island Travel Guide and quarterly printed Calendar of Events. In addition, the LICVB holds educational events, generates industry statistics and contributes to the economic development of Long Island through tourism.
Press Contact Email: kmatejka@discoverlongisland.com
###
The Long Island Convention & Visitors Bureau and Sports Commission (LICVB&SC) was established in 1979 as the official tourism promotion agency for the destination's travel and tourism industry. Based on Long Island in Hauppauge, NY, the LICVB&SC contributes to the economic development and quality of life on Long Island by promoting the region as a world-class destination for tourism, meetings and conventions, trade shows, sporting events, and related activities. For more information about Long Island, please contact the Long Island Convention & Visitors Bureau and Sports Commission by calling 1-877-386-6654 or visit
http://www.discoverlongisland.com/
.