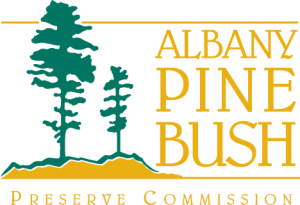 Albany, NY – The Albany Pine Bush Preserve is seeking people who would like to volunteer at the Albany Pine Bush Preserve. The public is welcome to visit with Pine Bush staff and current volunteers on Wednesday, November 2nd from 7-8 pm at the Discovery Center at 195 New Karner Road, Albany NY. The evening offers an opportunity to learn about the ways to become involved. Outreach and Volunteer Coordinator, Beth MacCallum said, "There are a myriad of unique opportunities available at the preserve, everything from greeting and educating visitors at the Discovery Center, to community science data collection, to spreading the word about the Pine Bush at local events in our community. We're looking for people who have a great love of nature and would like to share their time and enthusiasm." No previous experience is required and all necessary training will be provided.
To view the full volunteer job descriptions, visit https://albanypinebush.org/volunteer-jobs. To learn more or to schedule an interview, contact volunteer@albanypinebush.org.
BACKGROUND INFORMATION ON THE ALBANY PINE BUSH:
The 3,400+ - acre Albany Pine Bush Preserve (APBP), located in New York's Capital District, protects one of the best remaining inland pitch pine-scrub oak barrens in the world. This extraordinary fire-dependent ecosystem provides habitat for many plants and animals, including more than 20 percent of New York State's wildlife Species of Greatest Conservation Need, such as the endangered Karner blue butterfly. The APBP is a National Natural Landmark, Hudson River Valley National Heritage Area Site, National Recreation Trail Site, a New York State Unique Area, Birding Trail Site, Bird Conservation Area, and a National Audubon Society Important Bird Area. Characterized by rolling sand dunes and over 20 miles of trails, the APBP offers visitors many recreational opportunities including hiking, bird watching, cross-country skiing, horseback riding, mountain biking, hunting, fishing and canoeing. The Albany Pine Bush Preserve Commission is a public-private partnership created by the NYS Legislature in 1988 to protect and manage the APBP and provide the public with educational and recreational opportunities. The Management Plan for the APBP guides all aspects of expanding and managing the preserve. The Commission's goal is a preserve of 5,380 acres.
As the gateway to the Pine Bush, the Discovery Center at 195 New Karner Road, Albany, is a "green" certified interpretive center where visitors come to understand why the Pine Bush is rare and special. A visit to this unique destination is an exciting exploration where learning comes naturally through interactive exhibits, an outdoor Discovery Trail, and numerous programs on the ecology, natural history, cultural history and management of the Pine Bush. Admission to the Discovery Center is free (there is a fee for some programs). The center is open daily weekdays 9am-4pm and weekends 10am-4pm. For more information, visit www.AlbanyPineBush.org or call 518-456-0655.
###
Contact: 
Wendy Craney
Communications Director
518-456-0655 x1211 Office
518-421-0186 Mobile
518-456-8198 Fax