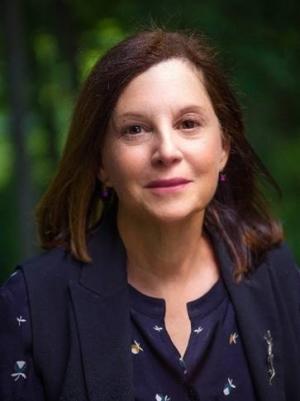 Thursday, September 29, 2022 @ 6 PM
Saratoga Springs, NY (September 13, 2022) – Saratoga Performing Arts Center announces that its WAMC@SPAC series will continue with "BAM! And Then It Hit Me with Karen Brooks Hopkins" on Thursday, September 29 at 6 p.m. in the Nancy DiCresce Room at The Pines@SPAC facility. WAMC's Joe Donahue will lead the conversation with author and President Emerita of the Brooklyn Academy of Music (BAM) Karen Brooks Hopkins about her new memoir, "BAM! And Then It Hit Me," a behind-the-scenes look at Hopkins' 36 years at the iconic cultural institution, America's oldest performing arts center. The discussion will explore leadership, innovation, urban revitalization and stories about artists and icons who inspired Hopkins throughout her career. A book signing will follow the conversation.
"We are so proud to be presenting Karen Hopkins at SPAC. She has been a powerhouse and an icon in the industry, someone who was instrumental in the evolution of the Brooklyn Academy of Music into one of the most important presenting and producing organizations in the world. BAM's fierce commitment to contemporary artists and new work made Brooklyn a magnet for anyone who cared about the arts. I myself moved from Manhattan to Brooklyn precisely to be right there in BAM's orbit, a mere walking distance from a great cauldron of creativity, " says Elizabeth Sobol, President & CEO of Saratoga Performing Arts Center. "Both lovers of the performing arts and the uninitiated will be compelled by Karen's 'behind-the-scenes' storytelling from 36 years at the helm of the Brooklyn Academy of Music."
"BAM! And Then It Hit Me" is a page-turning read perfect for any lover of the performing arts. The book is filled with stories about artists and icons, and at the same time, is an inspiring and constructive read for any not-for-profit organization or local arts center detailing key strategies for institutional success. Hopkins offers hands-on practical advice on topics ranging from fundraising and leadership to how to best manage complex organizations. Visual elements from the book highlighting behind-the-scenes moments from BAM's legendary performances over the years will also be shared with the public for the first time.
Karen Brooks Hopkins is the president emerita of the Brooklyn Academy of Music, where she worked for 36 years, serving 16 as its president. As president, Hopkins oversaw the institution's 230 full-time employees and its multiple theatres and cinemas. Hopkins has served as the chair of the Cultural Institutions Group, has been a member of the mayor's Cultural Affairs Advisory Commission, the New York State Board of Regents, and sat on the Boards of the NYC & Company, the Downtown Brooklyn Partnership, and currently serves on the Trust of Governors Island. Hopkins was presented the National Medal of the Arts, the highest award given to artists and arts organizations by the U.S. government, on behalf of BAM by President Obama in 2014. Her widely read book, "Successful Fundraising for Arts & Cultural Organizations," is currently in its second edition. Hopkins retired from BAM in 2015 and continued to serve at several arts foundations and performing arts centers.
"BAM! And Then It Hit Me with Karen Brooks Hopkins" is part of SPAC's growing LiteraryArts@SPAC initiative, which includes WAMC@SPAC events and conversations with renowned authors and poets such as Presidential Inaugural Poet Richard Blanco, journalist Chris Cox, New York Times columnist Pamela Paul, authors Will Schwalbe, Geraldine Brooks and Sarah Maslin Nir, and food writers Matt Hranek, Naomi Duguid and Sylvie Bigar. 
"BAM! And Then It Hit Me with Karen Brooks Hopkins" is free to attend, however seating is limited. Visit spac.org or click HERE to register.
Saratoga Performing Arts Center
The Saratoga Performing Arts Center (SPAC), located in the historic resort town of Saratoga Springs in upstate New York, is one of America's most prestigious summer festivals. Its tranquil setting in a 2,400-acre park preserve surrounded by hiking trails, geysers, and natural mineral springs draws vacation crowds and arts connoisseurs each year for immersive experiences of performances by resident companies New York City Ballet, The Philadelphia Orchestra, The Chamber Music Society of Lincoln Center, the Freihofer's Saratoga Jazz Festival, Opera Saratoga, and concerts by Live Nation. SPAC also hosts CulinaryArts@SPAC events in addition to imaginative programming such as the popular "SPAC on Stage" series and Caffè Lena @ SPAC.
SPAC is a 501c3 charitable organization. Donations and proceeds from fundraising events benefit the Center's children's education programs and support the vibrancy of its classical season. For more information visit spac.org.
###
Photo: Karen Hopkins - Photo Credit Bob Klein
Press Contact:
Kristy Ventre – 518-584-9330 ext. 125
518-316-1435 (m.)