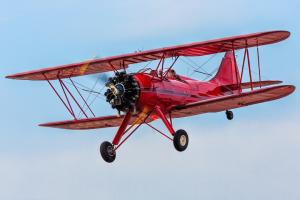 Celebrate The End of Summer 2021 With Two Days of Vintage Aircraft and Automobiles
Farmingdale, NY (August 14, 2021) - Long Island's American Airpower Museum (AAM) will host its Warbirds, Wings and Wheels Show on Labor Day Weekend, Saturday, September 4th and Sunday, September 5th, from 10:30 a.m. to 5:00 p.m. at the Museum, Hangar 3, 1230 New Highway, Farmingdale, New York.  Come to the Museum's two day spectacular celebrating the history of Aviation and Automobiles!  Get up close and personal with vintage Biplanes, Model A and T Fords, plus the Museum's fleet of World War II aircraft.  There will be flights available on vintage aircraft, contests, raffles and much, much more.
On Saturday, vintage Biplanes from the Bayport Aerodrome Society will land on the tarmac and taxi up to park on AAM's ramp at Hangar 3.  On display with the Biplanes will be vintage cars from the Model A Ford Club of Long Island (Model A and T Fords, plus others).  The Museum's sponsor, Cockpit USA, will donate one flight jacket to the winner of the best car and one flight jacket for the winner of the best airplane contests. 
Be there Sunday as the Museum's WWII squadron fires up their mighty engines and lifts off to perform exciting flight maneuvers over Republic Airport.  Aerial demonstrations will feature several flybys by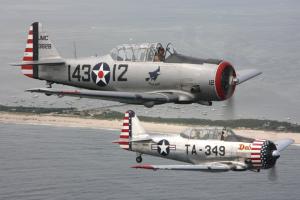 AAM's vintage military aircraft that played pivotal roles in America's WWII victories.  
An added attraction on both Saturday and Sunday: AAM's 1939 Red Waco UPF-7 Biplane and North American AT-6D Texans will be available to give living history flight experiences, weather permitting.  Admission:   $15 for adults, $12 for seniors and veterans, $10 for children 5 to 12.   Don't miss this one!
American Airpower Museum at Republic Airport is Long Island's only flying military aviation museum.
Photo Captions:  (1) AAM's Waco UPF-7 Biplane and (2) AAM's North American AT-6D Texans.
American Airpower Museum is an aviation museum located on the landmarked former site of Republic Aviation at Republic Airport, Farmingdale, NY.  The Museum maintains a collection of aviation artifacts and an array of aircraft spanning the many years of the aircraft factory's history.  The Museum is a 501 (c) (3) Nonprofit Educational Foundation Chartered by the New York State Board of Regents.
The American Airpower Museum - "Where aviation history takes flight!" 
Hangar 3 - 1230 New Highway - Farmingdale, NY 11735
(631) 293-6398 - info@americanairpowermuseum.org - www.americanairpowermuseum.org