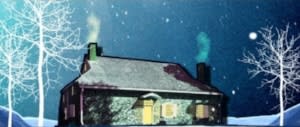 Newburgh, NY (December 5, 2018)  -- You are invited to Warm Up at the Washingtons' at Washington's Headquarters State Historic Site, in Newburgh, on Sunday, December 9th, 12 PM until 4 PM. Historic interpreters in each seasonally decorated room will greet visitors and share what took place when the Washingtons occupied the Hasbrouck farmhouse during the last winter of the Revolutionary War. The Salmagundi Consort will perform period appropriate music by an indoor Dutch jambless fireplace, and cookies and warm cider will be served near an outdoor fire.
Admission is free for the day, compliments of the Friends of the State Historic Sites of the Hudson Highlands. Call 845-562-1195 for details and directions.
While in the neighborhood visiting us, stop in and see the homes in the Newburgh Historic District featured on the Candlelight Tours. Contact the Crawford House at 845-561-2585 for more information and ticket prices.
Washington's Headquarters State Historic Site is a registered national historic landmark. It is located at the corner of Liberty and Washington Streets within the city of Newburgh's East End Historic District. The site is one of 35 historic sites within the New York State Office of Parks, Recreation and Historic Preservation and is one of 28 facilities administered by the Palisades Inters Park Commission in New York and New Jersey. For further information contact: (845) 562-1195.  For more information about New York State Parks, please visit our website at www.nysparks. com.   For more information call 845-562-1195 or visit us on Facebook at www.facebook.com/washingtonsheadquarters.
Help us save the Tower of Victory! The Palisades Parks Conservancy has completed a capital campaign to raise funds for the restoration of the Tower of Victory at Washington's Headquarters State Historic Site in Newburgh, NY. The Tower of Victory is truly one of the treasures of the Hudson Valley.  For 125 years, it has stood as the nation's only monument to the lasting peace that came after the end of the Revolutionary War. Robert Todd Lincoln, the son of the President and then Secretary of War, commissioned John Hemingway Duncan, one of the nation's most renowned architects at that time, to design the massive stone arched structure that hosts bronzes sculpted by William Rudolf O'Donovan, the pre-eminent monumental sculptor of the day. It stands on the property where General Washington created the "Badge of Military Merit" now called the Purple Heart medal.
Contact:
Elyse B. Goldberg | elyse.goldberg@parks.ny.gov | 845-562-1195