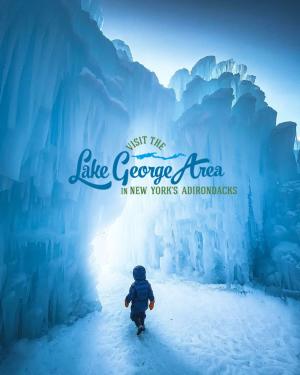 Lake George, N.Y. – The winter of 2021-22 promises to be unlike no other in the Lake George Area as Ice Castles brings its breathtaking display of sculptures, caverns, ice slides, lighting and more to Charles Wood Park's Festival Space. 
This fabulous new winter event that has drawn hundreds of thousands of visitors to numerous communities around the country with breathtaking ice displays, which feature LED lights that change color. Lake George will be its sixth location in the United States, joining New Hampshire, Wisconsin, Minnesota, Utah and Colorado. 
Ice Castles is scheduled to open in Festival Commons in Lake George in early January 2022, with the opening date dependent on weather conditions. It will combine with Lake George Winter Carnival and Lake George Winterfest to make for the busiest and most fun winter yet in the Lake George Region.  
Ice Castles is expected to draw up to 90,000 people from around the Northeast and Mid-Atlantic states for its ice-borne attractions. Construction of the elaborate ice structures will start in the fall, and run into December. 
Ice Castles facts: 
Depending on the weather, most locations open in early January and remain open until early March. 

Each castle is built by hand and takes thousands of man hours to create.  
The daily process consists of growing 5,000-12,000 icicles that are harvested by hand and individually sculpted into existing ice formations. The blend of icicle placement, temperatures, water volume, and wind result in an everchanging variety of ice formations.  

The immersive structures are made entirely from ice. Each castle is approximately 1 acre in size and consists of more than 25 million pounds.  

All Ice Castles sites are located next to a natural water source so the water returns to the environment each spring to be used again by wildlife, people, and plants. 
Said Ice Castles' CEO Kyle Standifird: "We are excited to bring the magic of Ice Castles to Lake George this winter. Our mission is to create a fun and safe outdoor experience where people can escape from the hustle of daily life for a moment and step into a frozen fairy-tale world." 
Said Warren County Tourism Director Joanne Conley: "We can hardly contain our enthusiasm over welcoming Ice Castles to Lake George. Visitors know us as an iconic summer destination, and now we invite them to experience all we have to offer in the winter months. Complementing our popular Winter Carnival, Ice Bars, and incredible winter recreation, we expect this magnificent attraction's frozen spires of light and color over the south shore of our beautiful lake, against the dramatic backdrop of the Adirondack Mountains, to dazzle spectators' senses. It certainly will be a sight to see!" 
Said Rachel Seeber, Chairwoman of the Warren County Board of Supervisors: "We are excited to welcome Ice Castles to Lake George for the very first time for an event like no other that promises to 'wow' residents and visitors this winter in Warren County. This commitment is yet another step by our community toward building our year-round tourism – 365 days a year." 
Said Lake George Regional Chamber of Commerce & CVB Executive Director Gina Mintzer: "We are thrilled to have Ice Castles choose the Lake George area to grow their event brand. This event will complement the current activities offered around the region while enhancing the winter experience for which visitors come to the region. Lake George is a perfect fit for an event like this that incorporates our natural winter beauty while also being family friendly."  
Ticket prices will range from $16 for children on weekdays to $28 adult weekend admission. 
For more on Ice Castles, including wonderful photos of Ice Castles events in other locations, check out their website here. 
###