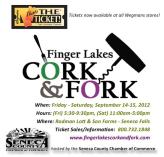 Seneca Falls, N.Y.
- The Seneca County Chamber of Commerce and the Waterloo Premium Outlets are proud to announce a new partnership for the 2012 Finger Lakes Cork & Fork event, scheduled for September 14-15, 2012 in Seneca Falls. The third annual event is the region's largest culinary showcase of fresh foods, fine wines, and farmer's favorites. In addition, the event raises money to help combat hunger in the Finger Lakes Region through its charitable proceeds. As part of the new partnership, several stores at the Waterloo Premium Outlets will serve as drop locations for non-perishable food products. The participating locations are:  VF Outlet, Le Gourmet Chef, and Harry & David. Attendees to the Finger Lakes Cork & Fork are encouraged to visit the participating stores and donate non-perishable food items to these exclusive drop locations. Once delivered, donors will receive a voucher coupon for 20% off of their regular admission tickets to Finger Lakes Cork & Fork and two free entries into the Grand Prize Giveaway to be held at this year's event.  Proceeds from the movement will benefit the Seneca County House of Concern, Trevor's Gift Program, and the Food Bank of the Southern Tier.  Through September 9, specially marked canned food donation bins for the event will be located in each of the stores, where patrons can visit, shop, and be encouraged to make a donation that day, or return before the event to both shop and make a contribution for the cause.  "This promotion displays how the Chamber is encouraging enhanced traffic to area businesses, looking to keep spending local; but it also gives back to the communities, while illustrating the strong support system that exists with both large and small businesses- and how they indeed work in partnership, promoting each other, as well as the local food movement and the producers that make it possible," stated Miranda Polmanteer, the Chamber's Director of Communications and Tourism Promotion.  The event has been designated as regionally significant for its efforts to help support and educate consumers by promoting healthy living through the use of fresh ingredients; through its charitable proceeds; and from its goals to stimulate the economy as part of the Chamber's
Buy Local
campaign.   Finger Lakes Cork and Fork will be held on Friday, September 14 from 6-9pm, and on Saturday, September 15 from 11am-5pm. Close to 100 representatives from each of the region's 14 counties be on display in exhibition halls at the event, where food and beverage producers will offer samples and sales of their products.
In addition, volunteers are also currently being sought to assist for the involvement and execution of the event. Any interested individuals, local groups or organizations are asked to contact the Seneca County Chamber of Commerce to sign up, or visit http://www.fingerlakescorkandfork.com/ to fill out the online volunteer registration form. For each shift that a volunteer is available, they will receive a free ticket to enjoy the event.
For more information about donations or Finger Lakes Cork & Fork, please contact the Seneca County Chamber of Commerce at (315) 568-2906, or by email at
info@senecachamber.org
, or visit
http://www.fingerlakescorkandfork.com/
.
###
Contact
: Miranda O. Polmanteer Director of Communications and Tourism Promotion, 315.568.2906