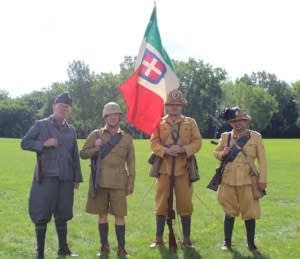 Watervliet, N.Y. – The Watervliet Historical Society is pleased to announce that on Saturday, August 19th and Sunday, August 20th, a display of military uniforms, customs, drills and weapon demonstrations through the ages will be presented at the Schuyler Flatts Historical Park in Menands. This event is sponsored by the Watervliet Historical Society with support from other local historical groups. 
It is FREE and the public is most welcome.  Hours are 10:00 am – 4:00 pm.  Food is available. 
There will be a strong representation by U.S. Civil War re-enactors, both North and South, including infantry, artillery, army and navy.  But there will also be 20th Century American, German and Italian units as well as Roman Empire, Viking and Colonial American presentations.
For more information please contact the Watervliet Historical Society's Jim Verhagen at (518) 268-3428.