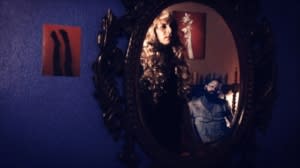 July 28–29, 2018
Co-presented with Cinema Tropical. Organized by guest curator Ela Bittencourt, who will introduce screenings.

New York, N.Y. – The Museum of the Moving Image has announced a weekend-long series celebrates the Brazilian LGBTQ community's contribution to contemporary cinema with 'LGBTQ Brazil' a unique lineup of recent films, all screening in New York for the first time.
In Sol Alegria, director Taviniho Teixeira demonstrates a strong satirical bend and influences from Rainer Werner Fassbinder and Pier Paolo Pasolini to Brazil's Cinema Marginal and Tropicalismo. The film's protagonists—renegades, circus performers, nuns, and priests touting guns and staging orgies—flaunt every cultural and social norm. Ismael Caneppele's debut, Music For When the Lights Go Out, centers on gender performativity; Luiz Roque's short, Heaven, depicts the demonization of transwomen in a futurist scenario, while Bárbara Wagner and Benjamin de Búrca's short, Terremoto Santo, explores the complexities and perils of religious fervor. The series also features work from filmmakers who experiment with mixing sci-fi, horror, music video, and the musical. In Uirá dos Reis and Guto Parente's feverish Sweet Amianto, Leonardo Mouramateus and Andreia Pires's choreographed Vando Vulgo Vedita, Fábio Leal's light-spirited The Daytime Doorman, and Daniel Nosco's fetish-driven Sr. Raposo, fluidity and play take center stage, against the poignant evocations of violence, fear, and discrimination. Meanwhile We Are All Here and Bixa Travesty are both potent love poems to trans performers' spunk and courage.

SCHEDULE FOR 'LGBTQ BRAZIL,' JULY 28–29, 2018
Unless otherwise noted, tickets are $15 ($11 seniors and students / $9 youth (ages 3–17) / free for members at the Film Lover and Kids Premium levels and above). Advance tickets are available online at http://movingimage.us. Ticket purchase includes same-day admission to the galleries (when the Museum is open).
 
Music for When the Lights Go Out (with Terremoto Santo)
SATURDAY, JULY 28, 2:00 P.M. 
Dir. Ismael Caneppele. 2017, 70 mins. In Portuguese with English subtitles. This coming-of-age LGBTQ romance restages its young protagonist's coming out and transformation with the moral support from a professional actress. This charismatic hybrid explores the possibilities of an intimate digital camera, and mixes real-life situations and persons with fictional elements. Winner of the Art Doc award at Sheffield Doc/Fest.  Preceded by Terremoto Santo (Dirs. Bárbara Wagner, Benjamin de Búrca. 2017, 20 mins.). Combining observation and performance, Wagner and de Búrca draw upon the oral richness as well as the eerie social contradictions of the Evangelical musical. Their work has been exhibited in numerous shows in and outside Brazil, and nominated for the country's main art prize, Prêmio Pipa.

Sweet Amianto (with The Daytime Porter)
SATURDAY, JULY 28, 4:30 P.M. (Bartos Screening Room)
Dirs. Uirá dos Reis, Guto Parente. 2013, 70 mins. In Portuguese with English subtitles. After being ditched by her boyfriend, a trans woman finds comfort in fantasy. Opening with a quote from Walt Whitman and dedicated to Brazilian artist José Leonilson, who died of AIDS in 1993, this glam, psychedelic meditation on love, illness, and betrayal is a darkly funny, lyrical acid trip. Preceded by The Daytime Doorman (Dir. Fábio Leal. 2016, 25 mins.) In this situational dramedy, fraternity, fun, and sex collide with social class and race. Leal charmingly toys with melodrama in this sensuous story of a white middle-class bon vivant, who picks up his building's black doorman.
 
Sol Alegria (with Vando Vulgo Vedita)
SATURDAY, JULY 28, 7:00 P.M. (Bartos Screening Room)
Dir. Tavinho Teixeira. 2018, 95 mins. In Portuguese with English subtitles. This satire, aimed at Brazil's recent tide of conservatism and religion's widening grip on political elites, celebrates the freeing power of sex and transgression. The film's striking images and narrative bravado recall such Brazilian directors as Andrea Tonacci (particularly Bang Bang), Joaquim Pedro de Andrade (the picaresque Macunaíma), and the master of Brazilian horror, José Mojica Marins. Special Jury Prize at Olhar de Cinema Film Festival. Preceded by Vando Vulgo Vedita (Dirs. Leonardo Mouramateus, Andreia Pires. 2017, 20 mins.) A group of friends meets at a local barbershop in Fortaleza and travel to the beach. Bodies and desires morph in a choreographed dance in the water before being summoned back to the streets, where real violence looms. Best Short at the Tiradentes Film Festival.
 
Passion of JL (with Sr. Raposo)
SUNDAY, JULY 29, 3:00 P.M. (Bartos Screening Room)
Dir. Carlos Nader. 2015, 82mins.
Dir. Carlos Nader. 2015, 82 mins. In Portuguese with English subtitles. Working from Brazilian artist José Leonilson's own audio records testifying to his thoughts, fears, and passions, Nader creates a unique glimpse at this talented artist, in love with many men and, perhaps most of all, with the movies—a bittersweet swan song of Leonilson, who died of AIDS in 1993 at the age of 36.  Winner of É Tudo Verdade / It's All True International Film Festival. Preceded by Sr. Raposo (Dir. Daniel Nosco. 2018, 23 mins.) Based on a story of Nolasco's real-life partner, this hypnotic short combines moments of terror and ecstasy, as it looks at a life lived with the HIV virus. A fetishistic fever dream, the film revolves around both the mortification of flesh and its victorious, daily resurrection.
 
Bixa Travesty (with Heaven and We Are All Here)
SUNDAY, JULY 29, 6 P.M. (Bartos Screening Room)
Dirs. Claudia Priscilla, Kiko Goifman. 2018, 75 mins. In Portuguese with English subtitles. The self-described "gender terrorist," singer Linn da Quebrada is the star of this sympathetic and intimate documentary portrait, which goes behind the scenes of the performer's radio show and highly charged stage acts. A film-manifesto about femininity and power, and an exorcism of hurt, Goifman's film is delightfully tongue-in-cheek, yet also forcefully on-message. Teddy Award at Berlinale. 
Preceded by: Heaven (Dir. Luiz Roque. 2016, 10 mins.) In an apocalyptic future, a "high-risk" population is under threat of deliberate contamination and forceful quarantine. Roque's other works have screened internationally, including in New York at MoMA PS1 and at Kunsthalle, in Vienna. He has been nominated for Brazil's top art prize, Prêmio Pipa. We Are All Here (Dirs. Chico Santos, Rafael Melim. 2017, 21 mins.) Young trans woman Rosa does not have much going for her except anger and moxy. When she is kicked out from home, and sees her entire community facing eviction, her rage boils over. Santos and Melim bring their community-theater skills to collaborate with real-life performer Rosa Luz, who shines in a cathartic piece in dialogue with the music video tradition. Best Short at the Tiradentes Film Festival.    
 
###
Photo: Sweet Amianto
Press contact: Tomoko Kawamoto, tkawamoto@movingimage.us or 718 777 6830.

MUSEUM INFORMATION
Museum of the Moving Image (movingimage.us) advances the understanding, enjoyment, and appreciation of the art, history, technique, and technology of film, television, and digital media. In its stunning facility—acclaimed for both its accessibility and bold design—the Museum presents exhibitions; screenings of significant works; discussion programs featuring actors, directors, craftspeople, and business leaders; and education programs which serve more than 50,000 students each year. The Museum also houses a significant collection of moving-image artifacts.

Hours: Wednesday–Thursday, 10:30 a.m. to 5:00 p.m. Friday, 10:30 to 8:00 p.m. Saturday–Sunday, 10:30 a.m. to 6:00 p.m. 
Museum Admission: $15 adults; $11 senior citizens (ages 65+) and students (ages 18+) with ID; $7 youth (ages 3–17). Children under 3 and Museum members are admitted free. Admission to the galleries is free on Fridays, 4:00 to 8:00 p.m. 
Film Screenings: Friday evenings, Saturdays and Sundays, and as scheduled. Unless otherwise noted, tickets are $15 adults / $11 students and seniors / $7 youth (ages 3–17) / discounted or free for Museum members. Advance purchase is available online. Ticket purchase may be applied toward same-day admission to the Museum's galleries.
Location: 36-01 35 Avenue (at 37 Street) in Astoria.
Subway: M (weekdays only) or R to Steinway Street. W (weekdays only) or N to Broadway.
Program Information: Telephone: 718 777 6888; Website: movingimage.us
Membership: http://movingimage.us/support/membership or 718 777 6877
 
Museum of the Moving Image is housed in a building owned by the City of New York and has received significant support from the following public agencies: New York City Department of Cultural Affairs; New York City Council; New York City Economic Development Corporation; New York State Council on the Arts with the support of Governor Andrew M. Cuomo and the New York State Legislature; Institute of Museum and Library Services; National Endowment for the Humanities; National Endowment for the Arts; and Natural Heritage Trust (administered by the New York State Office of Parks, Recreation and Historic Preservation). For more information, please visit movingimage.us