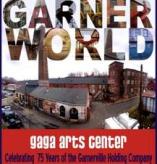 An Invitational Exhibition Celebrating the 75th Anniversary of The Garnerville Holding Company
Garnerville, NY
- The Garnerville Arts and Industrial Center, a pre-civil war mill complex with a rich and vibrant history, is holding an exhibition to celebrate the place and the people who find inspiration in the myriad aspects of this special and unique site. In the past seventy-five years, Garnerville Holding Company has been a guardian and caretaker of this unusual and inspiring collection of 19th century industrial-era buildings with hidden alleyways and alcoves reminiscent of a Dickens' novel. A vibrant community of artists and artisans brings varied perspectives and new insights to this historic landmark. The exhibit, spanning two galleries, presents remarkable images, installations, paintings and sculptures by some of the region's finest artists.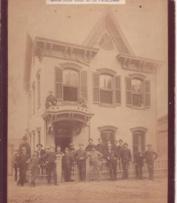 EXHIBITION DATES:
Friday, October 16 thru Sunday, November 15, 2009
GAGA GALA FUNDRAISER and PREVIEW
: Friday, October 16 @ 6pm
RECEPTION
for Public: Friday, October 23, 6pm to 9pm 2009 Gallery Hours: Fridays- 4-8PM, Saturdays 2-6PM and Sundays 12-4PM.
Music Performances:
Denman Maroney, Claudius Smith, Saturday, October 24th at 8PM       Gamelan Son of Lion, Sunday, November 8th (time tbd) Image Courtesy of the Rockland County Historical Society
Location and Contact Information:
GAGA is located at the Garnerville Arts & Industrial Center, 55 Railroad Avenue, Garnerville, NY 10923 in the Village of West Haverstraw, Rockland County. For directions and additional information, visit: www.gagaartscenter.org; call 845-947-7108, or email
gaga@garnervillearts.com
.
Contact:
Eric Laxman, Curator- 845-304-7615 James Tyler, Executive Director- 845-548-8918