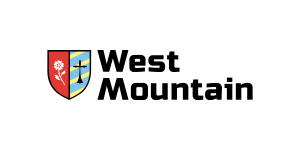 Lift tickets are on sale now at westmountain.com
New programming including freestyle development program and mogul course on go-go; expanded terrain park on banister. safe operations & reduced indoor capacity
Queensbury, NY--- West Mountain is ready to kick off its 2020-21 season, opening this weekend, Saturday, December 19 for skiing and riding! West Mountain has been blowing a lot of snow to prepare for opening. The snow tubing park will open on December 26.
"We are looking forward to welcoming our guests this winter to enjoy the outdoors", said Sara Montgomery, General Manager of West Mountain. "With so many families at home doing virtual learning this year, getting on the mountain and getting exercise will be a much-needed activity and escape!"
West Mountain offers beginner through advanced terrain and will be open for day and nighttime skiing, riding and tubing. The mountain staff has been focused on creating new, safe and innovative operations and programs to run this season, including:
• A new Freestyle Development Program
• A new Alpine Racing Academy for U12+ athletes
• Learn to Ski and Snowboard packages for youth and adult first-time beginners
• Continuation of the programs after school for school children
Additionally, during non-holiday periods, West Mountain will offer popular ticket promotions such as Monday and Tuesday 4-hour ticket specials and breakfast or lunch plus lift ticket specials. For those who don't ski or ride, West Mountain offers 10 lanes of tubing fun for all ages and abilities.
The resort has been open throughout COVID-19 pandemic offering safe, outdoor and socially distanced activities. West Mountain has been diligently working on safety plans leading up to the winter season opening, including the addition of outdoor eating and seating areas, warming tents, grab-n-go food and beverage windows, additional outdoor restrooms and controlled capacity at the two separate base-lodge areas (Main Base Lodge and Northwest Base Lodge).
"While our number one goal is to run a safe operation this season, it is also our goal to ensure that our guests do not incur any additional stress or inconvenience when they visit West Mountain", said Spencer Montgomery, Co-Owner and Managing Member of West Mountain. "Sure, things will be a little different operationally this year, but our staff is here to provide an enjoyable and stress-free environment. People have already been through so much this year; skiing and riding is a chance to simply enjoy being outdoors with friends and family."
NEW PROGRAMS FOR 2020-21 WINTER SEASON: www.WestMountain.com/lessons-programs/#6-week-programs
WEST MOUNTAIN MOGUL FREESTYLE DEVELOPMENT PROGRAM
West Mountain is excited to announce their newest program specializing in the Olympic disciplines of mogul skiing and slopestyle skiing. This new 6-week program will run on Tuesdays and Thursdays, with a coaching staff that includes 7x World Cup Mogul Freestyle Champion, John Witt. The program will teach mogul technique on a new dual mogul freestyle line that will be built on Go-Go trail and run into the Banister Terrain Park. The program will focus on technique including turns, airs and speed – as well as park slopestyle skill building.
WEST MOUNTAIN RACING'S ACADEMY PROGRAM
The WMR Academy Program, lead by Head Coach Steve Lathrop, is customized for U12- U19 advanced alpine ski racers who are looking to advance or have advanced to post season competition and beyond. The program offers academy-level training and travel that is scheduled around the public school day.
NEW PROMOTIONS FOR 20-21 WINTER SEASON: www.WestMountain.com/monday-and-tuesday-night-ticket-specials/
MONDAY AND TUESDAY 4-HR TICKET SPECIAL (NON-HOLIDAY) BREAKFAST + TICKET SPECIAL
Enjoy mornings at West Mountain with a $30 Breakfast + Ticket Special offered TuesdaysFridays 10 a.m.-12:30 p.m. (non-holiday). The Breakfast Special includes a 2-hour lift ticket, breakfast sandwich and a cup of coffee or hot chocolate from the West Express Café. LUNCH + TICKET SPECIAL Enjoy afternoons on the slopes at West Mountain with a $35 Lunch + Ticket Special – TuesdaysFridays 11:30 a.m.-2 p.m. (non-holiday). The Lunch Special includes a 2-hour lift ticket, 1/2 sandwich and a cup of soup, chips, and a small fountain drink from the West Express Café. AFTER SCHOOL PROGRAMS 2020-21 WINTER SEASON: West Mountain has been making kids happy while teaching them to learn to ski and snowboard with their school friends since 1961. The After School Programs begin in early January and run for 6 weeks (not including holiday break weeks); all participating schools come one day week on their designated day of the week. For more information and to register, please visit www.WestMountain.com/lessons-programs/
TICKETS ARE ON SALE NOW: Tickets are available to buy online at www.WestMountain.com. 59 West Mountain Road, Queensbury, NY 12804 • 518.636.3699 • WestMountain.com HOURS OF OPERATION: For winter hours, visit www.WestMountain.com/trip-planning/#hours . West Mountain offers day and nighttime skiing, riding and tubing.
GROUPS, WEDDINGS, TUBING PARTIES: For groups of 10 or more interested in booking, please contact west@WestMountain.com
WEST MOUNTAIN HEALTH MEASURES
The well-being of West Mountain's guests is at the heart of our concerns. Several health measures are in place and we ask for our guests' cooperation to meet the State of New York's recommendations, as they are a priority. West Mountain remains attentive to changes in the state's health and safety guidelines, and operations could vary rapidly depending on the situation. Read more about West Mountain's Mountain Safety initiatives online at www.WestMountain.com/safety
ABOUT WEST MOUNTAIN TRUE TO OUR ROOTS SINCE 1961
An established ski and outdoor activities year-round community with a family-friendly atmosphere, West Mountain is the choice for an authentic upstate experience on the mountain. Nestled at the foot of the Adirondack Mountains and conveniently located off I-87, West Mountain offers a quick drive to downhill satisfaction. Family-owned and operated since day one, West Mountain continues to evolve to meet the needs of families as well as skiing and riding loyalists and year-round outdoor enthusiasts. Improve your skills, have fun with your family and live an active lifestyle. We care about your family, your health and your enjoyment. West Mountain is the year-round destination for outdoor enthusiasts seeking convenience, affordability and a real Adirondack adventure. Welcome to West Mountain.
WEST MOUNTAIN PROUDLY SUPPORTS ITS COMMUNITY PARTNERS
Big Brothers Big Sisters, Glens Falls YMCA, Camp Under The Woods, ALS, Queensbury School District, Glens Falls School District, Glens Falls Rotary, Boy Scouts of America, Girl Scouts Of America, Charles R. Wood Foundation, Glens Falls Hospital, Double H Ranch, West Mountain School, West Mountain Ski Patrol, Special Olympics, Prospect Center
LINKS & SOCIAL
Website: www.WestMountain.com
Facebook: www.facebook.com/westmtnskiarea/   
Twitter: www.twitter.com/westmountain
Instagram: www.instagram.com/westmountain  
LinkedIn: www.linkedin.com/company/west-mountain-ski-area/
Hashtag: #WESTMTN | #WESTMOUNTAIN
MEDIA INQUIRIES
Contact: Press@WestMountain.com to be connected to General Manager, Sara Montgomery. B-roll and interview opportunities are available Friday, Dec. 18, as well as opening weekend, Dec. 19 & 20.