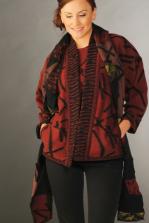 Where art merges with everyday life
White Plains, N.Y.
--- Now in its 18th year, the nationally-acclaimed Westchester Fine Craft Show returns to the Westchester County Center in White Plains, New York, October 14-16, showcasing a wide range of distinctive designs in fiber wearable art and jewelry, beautifully handcrafted furniture and unique art for the home. A premiere exhibit and sale of contemporary American functional and decorative design, this professionally juried show is well-known among art enthusiasts and collectors who appreciate seeing and owning only the best. The Westchester Fine Craft Show is a "must" destination for those who love shopping for quality, and living with the uniqueness of owning something American hand made.  Featured artists present a wide range of distinctive designs in art-to-wear fashions, jewelry and accessories. Stylish furnishings and art for the home include wood furniture, ceramics, glass and basketry. The work of some of the artists exhibiting at the show is described below:
Brian Toohey of Port Chester, NY
, is living his dream, creating beautifully designed, high quality belts and silver jewelry with flair and style that discerning customers appreciate. Toohey, who began designing in 1969 and is self-taught, creates a full line of hand-tooled leather belts with buckles cast in silver, plus handsome silver bracelets, necklaces, and earrings that are a lesson in balance, proportion and character.
Daniel Gugnoni and Barbara Mojon Gugnoni of Litchfield, CT
, design and create exquisite heirloom pieces for the home and office including beds, dining sets, side tables, display cases and chairs. Influenced by the Shaker philosophy of hard work, honesty, and pride in craftsmanship, the Gugnoni's strive each day to create fine furniture that meets customers' aesthetic desires and functional needs. On Friday, October 14 at 1 pm in his show booth, Daniel Gugnoni will give an informal talk on his approach to custom handcrafted furniture.
Chris Triola of Lansing, MI
, is a self-described visionary who thrives on wishes and dreams and likes to believe that anything is possible. The clothes she designs are clothes for creative women. They're 'doing' clothes things to wear when writing, buying, selling, making, driving, thinking yet they don't impose. At last year's show Chris was the recipient of the American Style Award of Excellence given by American Style Magazine.
Thomas Throop, of New Caanan, CT
, will again grace the Westchester Fine Craft Show with his handcrafted wood furniture, including beautiful music stands and fire place mantels. Throop attributes his work to the romance and intrigue that wood provides. Throop states, "My interest is to design furniture that is simple, direct and honest. I attempt to create elegance informed by design; a harmonious play of line, proportion, surface and space." Admission to the Westchester Fine Craft Show is $12 for adults and $11 for senior citizens. Show hours are Friday, October 14, from 10 a.m. to 6 p.m.; Saturday, October 15, from 10 a.m. to 6 p.m. and Sunday, October 16, from 11 a.m. to 5 p.m. The Westchester County Center is located at 198 Central Avenue at exit 5 off of I-287, and within easy walking distance of the White Plains train station. For show information call Crafts America at (203) 254-0486 or the Westchester County Center at (914) 995-4050. Visit
http://www.craftsamericashows.com/
or Facebook to see the complete list of artists and get a glimpse of their work.
###
Photo:
Chris Triola designs clothes for creative women. Chris won the American Style of Excellence Award from American Style Magazine. She will be among the juried artists at the Westchester Fine Craft Show on October 14-16 at the Westchester County Center. Find details at
http://www.craftsamericashows.com/