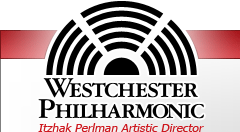 Guest Artists to include Anthony McGill, Barbara Cook, Alondra de la Parra and the Bailey/Schmidt/Perlman Trio
Purchase, NY
- The Westchester Philharmonic continues under the baton of Itzhak Perlman with a season packed with new and established stars from Maestro Perlman himself playing and conducting Mozart, to principal clarinetist of the Metropolitan Opera Orchestra, rising star Anthony McGill. Superstar Broadway legend Barbara Cook also joins the ranks of guest artists as does 27-year-old Mexican conducting sensation Alondra de la Parra and the powerhouse Perlman/Bailey/Schmidt Trio. Last season the orchestra performed to sold-out houses for five of its nine main stage events; it anticipates doing the same during Maestro Perlman's second year and is already the hot ticket in Westchester County. All events take place at The Performing Arts Center at Purchase College. The 2009-10 season opens
Saturday, October 10, 2009 at 8 pm and Sunday, October 11, 2009 at 3 pm
with Itzhak Perlman playing Mozart's Adagio in E Major and Rondo in C Major for violin and orchestra. The maestro then takes up the baton to lead Prokofiev's Symphony No. 1, and the opening weekend concludes fittingly with Berlioz's transcendent
Symphonie Fantastique
. In a major coup for the orchestra, clarinetist Anthony McGill will take the stage on
Saturday, November 21, 2009 at 8 pm and Sunday, November 22, 2009 at 3 pm.
McGill, whose breathtaking performance with Yo-Yo Ma and Maestro Perlman during January's Presidential Inauguration vaulted him into national prominence, will perform the enduring masterpiece that is Mozart's Clarinet Concerto. Conducted by Maestro Perlman, the program opens with Felix Mendelssohn's Overture to
A Midsummer Night's Dream
, and concludes with Schubert's "Great" Symphony No. 9. For two straight years the Phil's Winter Pops has been a sold-out success. This season's Winter Pops concert on
Sunday, December 20, 2009 at 3 pm
again brings a show-stopping Broadway star to the stage. Legendary soprano Barbara Cook has filled Carnegie Hall, the Hollywood Bowl, and the Kennedy Center, to name a few, and has an ever-growing mantle of honors including the Tony, Grammy, Drama Desk and New York Drama Critics Circle Awards. Cook will likely perform for a sold-out crowd at the Performing Arts Center this December singing Broadway hits and holiday favorites. The spring brings music of the Americas to the Philharmonic's stage with guest conductor Alondra de la Parra on
Saturday, April 17, 2010 at 8 pm and Sunday, April 18, 2010 at 3 pm.
Returning to our podium after a rain-shortened debut with the orchestra last summer, young 27-year-old Mexican conducting sensation Alondra de la Parra presents exuberant dance music of the Americas that just might entice audiences out of their seats, from Piazzola (Argentina) to Villa Lobos (Brazil) to Marquez (Mexico) to Aaron Copland's
Appalachian Spring
. For a triumphal season finale on Saturday
, May 15, 2010 at 8 pm and Sunday, May 16, 2010 at 3 pm,
Maestro Perlman conducts Beethoven's Triple Concerto with renowned cellist Zuill Bailey, rapidly rising violinist Giora Schmidt, and the Maestro's daughter and star pianist in her own right, Navah Perlman. The only concerto Beethoven ever wrote for more than one solo instrument, and demanding of the utmost virtuosity, it will be performed by this trio who's energetic and passionate performances have taken them to major concert halls, festivals and universities across North America. Beethoven's Third Symphony ("Eroica") punctuates our second extraordinary season under Perlman's artistic leadership.
To view the season at a glance on the Philharmonic's website please visit:
www.westchesterphil.org/mainstage.asp
.High resolution photos of the orchestra and artists are available and may be downloaded from: www.westchesterphil.org/pressphotos.asp.  Concert Tickets All performances will take place in The Concert Hall at The Performing Arts Center Purchase College, 735 Anderson Hill Road, Purchase, New York. Five and four concert subscriptions are available and range from $357-$89. Single tickets range from $85-$25. Student/child/group discounts are available.To purchase tickets and for additional information call the Westchester Philharmonic Box Office at (914) 682-3707 ext. 10.  Visa, MasterCard, American Express, Discover Card accepted. About the Westchester Philharmonic
The Westchester Philharmonic orchestra, which is led by world-renowned Artistic Director Itzhak Perlman, is the only fully-professional symphony orchestra devoted to serving the people of Westchester County. Founded in 1983 by Paul Lustig Dunkel, who was recently named Music Director Emeritus, the Philharmonic fulfills its mission in the concert hall, in the community, and in the classroom. The Philharmonic performs a main stage Concert Series at the Performing Arts Center Purchase College and partners with local agencies to present free and low-cost concerts for all County residents. Its award-winning education program serves over 2,000 elementary school students. The orchestra is comprised of the finest musicians from the greater New York area and has worked with the world's finest soloists, including Midori, Joshua Bell, and the late Isaac Stern. With a focus on presenting the best music of the past and present, the orchestra places particular emphasis on providing young musicians with an opportunity to perform with, or compose for, a professional symphony orchestra early in their careers. The Philharmonic has become a home for living American composers and has proudly commissioned many orchestral works such as Melinda Wagner's Concerto for Flute, Strings and Percussion, which was awarded the Pulitzer Prize. The orchestra is dedicated to inviting and attracting people of diverse backgrounds to its concerts and continues to explore new partnerships with local schools, libraries, and community centers, so that all in the community have the opportunity to experience the joy of a live, classical music concert.
Entergy Nuclear is a major sponsor of the Westchester Philharmonic. Westchester Magazine is a media sponsor of Westchester Philharmonic. The Philharmonic's season is made possible, in part, by the Basic Program Support Grant of ArtsWestchester with funds from Westchester County Government and with public funds from the New York State Council on the Arts, a state agency.
###
Contact:
  Lenore Eggleston (914) 682-3707 ext. 15
leggleston@westchesterphil.org
View press release as PDF.