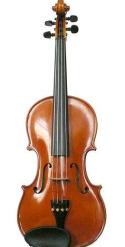 The Art of the Violin to include dinner, music and auction of one-of-a-kind violins
(White Plains)
- In celebration of the Westchester Philharmonic's 26th year and Itzhak Perlman's inaugural season as Artistic Director, the orchestra's board of directors has announced a spring gala benefit,
The Art of the Violin
. The event, which will pay tribute to guest of honor Maestro Perlman, will be held at the Ritz Carlton in White Plains on Sunday, May 17, 2009 at 5:30 pm immediately following the orchestra's Season Finale concert at 3 pm at the Performing Arts Center. Co-chaired by Mary Ann Liebert of Liebert Publications and Philharmonic Board Member Hannah Shmerler, the benefit will include cocktails, dinner, music and an auction. The exclusive auction will offer unique violins as objets d'art created expressly for the Westchester Philharmonic by renowned artists Stan Eisenman, Charles Fazzino, Luis Perelman, Peri Schwartz, and Arle Sklar-Weinstein. These artists, all Westchester residents, are represented in galleries, museums, and permanent collections throughout the world. Their generous and inspired contributions in creating these one-of-a-kind works of art provide a rare and exclusive opportunity to acquire the work of an important living artist. Sight-unseen bidding is open immediately by calling Joshua Worby at the Philharmonic at 914-682-3707, extension 12. All proceeds from The Art of the Violin event go to support the Philharmonic's many activities, in the concert hall, the community, and the classroom including main stage performances that bring world renowned musicians to Westchester County, free and low-cost community concerts and an award-winning education program that serves over 2,000 elementary school students annually. The gala will be preceded by the Philharmonic's final concert of the season on Saturday, May 16, 2009 at 8 pm and Sunday, May 17, 2009 at 3 pm featuring conductor Itzhak Perlman and 26-year-old American cellist Alisa Weilerstein performing the Saint-Saëns Cello Concerto. Ms. Weilerstein has already performed with dozens of major symphony orchestras around the world, enthralling audiences, critics, and fellow musicians with a level of virtuosity that combines rare technical prowess with pure musical passion. In addition to the Saint-Saëns Cello Concerto, the season finale opens with the intriguing Mozart Symphony No. 27 and closes with Tchaikovsky's glorious Fifth Symphony, perhaps one of the most performed works of all time. Benefit Tickets Tickets to The Art of the Violin are $250, $500, $1,000 and $2,500 per person. Tables of ten are $5,000. Season Finale concert tickets sold separately. The event begins at 5:30 pm at The Ritz- Carlton at Three Renaissance Square in White Plains. For further information and tickets please call the Westchester Philharmonic Box Office at (914) 682-3707 ext. 10. Season Finale Concert Tickets All performances will take place in The Concert Hall at The Performing Arts Center Purchase College, 735 Anderson Hill Road, Purchase, New York. Please note that at this time tickets are only available in the Second Tier, however tickets are available in all price ranges for benefit ticket holders. Tickets range from $75-$25. Student/child/group discounts are available. To purchase tickets and for additional information call the Westchester Philharmonic Box Office at (914) 682-3707 ext. 10.  Visa, MasterCard, American Express, Discover Card accepted.  Visit the Westchester Philharmonic's website at www.westchesterphil.org.
About the Auction Artists
In 1965, Stanley Eisenman founded Eisenman Associates which continues to be highly respected graphic design firm. He designed for corporations such as PepsiCo, Phillip Morris, Land O'Lakes, TWA and Mirage Resorts, among others. He also designed exhibits for Pepsi-Cola Company. One called "Optical Illusions" included three-dimensional illusions allowing visitors to not only see the illusion but be a part of it. He also designed a number of Christmas exhibits displayed in the lobby of Pepsico's world headquarters on Park Avenue and another that was featured in Life Magazine. As a designer for Brownjohn, Chermayeff & Geismar he won numerous AIGA and Art Director awards for excellence in design. In 1970 he was one of 12 designers, asked by the Moratorium Committee Against the War in Vietnam, to create a peace poster which was exhibited at the O.K. Harris Gallery in NYC. Now retired, Eisenman focuses on his artwork which explores the exciting relationships that can be achieved with simple elements to create a complex but harmonious result.   Charles Fazzino is one of the most popular and highly-collected pop artists of all time. During his more-than-thirty years as a pop artist, he has inserted his unique, detailed, vibrant, and three-dimensional style of artwork into the very fabric of popular culture. Fazzino's artworks are exhibited in more than twenty countries and 600 fine pop art galleries. He has received many private and important commissions and has been selected as the official artist for festivals and events all over the world. Fazzino is often referred to as a pop culture historian because of the breadth of his work and the way it touches his collectors and captures the best parts of their contemporary lives. His legacy will mark him as part of the next generation of famous pop art artists as he follows the paths originally forged by pop art pioneers like Andy Warhol, Keith Haring, Red Grooms, and Robert Rauschenberg. Luis Perelman has been director of The Blue Door Artist Association - a not-for-profit art organization in Westchester County and has organized numerous exhibitions throughout the county. He has worked in a variety of media including watercolor, painting, assemblage and sculpture. Perelman's recent work involves the connecting of random elements into a cohesive geometrical framework, and in the juxtaposing of seemingly disparate artifacts found as the discards of the Industrial Age. His intention is to bring about a transformation of these discarded elements into a cohesive whole. His work has been exhibited in museums and galleries in New York and the Northeast, including the Whitney Museum, the Neuberger Museum of Art, Leo Castelli and Allan Stone Galleries. In addition it is in many private collections including those of Roy Neuberger, Phillip Johnson and I.M.Pei. His most recent New York exhibition was at O.K. Harris. Peri Schwartz is a New York based artist whose powerful paintings, prints and drawings are said to blend realism and abstraction with predominating angles, shapes and lines. Her work is included in many public and museum collections including the British Museum, the Corcoran Gallery, the Fogg Art Museum, the Boston Museum, the Bibliotheque Nationale de France, the Yale University Art Gallery and the New York Public Library. Ms. Schwartz studied at Boston University's School of Fine Arts and received a Masters of Fine Arts at Queens College. For the past couple of years has worked with the master printer, Tony Kirk, at the Center for Contemporary Printmaking in Norwalk. Arlé Sklar-Weinstein received her BS and MA at New York University under Professor Hale Woodruff and studied advanced printmaking at Columbia University. She has exhibited her work at The Hudson River Museum, at The Katonah Museum of Art, at the West Broadway Gallery in New York City, at The Neuberger Museum in Purchase, New York, and at The San Diego Museum. Her work is in the collections of The Hudson River Museum and The Pepsico Collection in Purchase. She is recipient of a purchase award at the Albright-Knox Galleries and a study scholarship from the MOMA in NY.
About the Westchester Philharmonic
The Westchester Philharmonic orchestra, which is led by world-renowned Artistic Director Itzhak Perlman, is the only fully-professional symphony orchestra devoted to serving the people of Westchester County. Founded in 1983 by Paul Lustig Dunkel, who was recently named Music Director Emeritus, the Philharmonic fulfills its mission in the concert hall, in the community, and in the classroom. The Philharmonic performs a main stage Concert Series at the Performing Arts Center Purchase College and partners with local agencies to present free and low-cost concerts for all County residents. Its award-winning education program serves over 2,000 elementary school students. The orchestra is comprised of the finest musicians from the greater New York area and has worked with the world's finest soloists, including Midori, Joshua Bell, and the late Isaac Stern. With a focus on presenting the best music of the past and present, the orchestra places particular emphasis on providing young musicians with an opportunity to perform with, or compose for, a professional symphony orchestra early in their careers. The Philharmonic has become a home for living American composers and has proudly commissioned many orchestral works such as Melinda Wagner's Concerto for Flute, Strings and Percussion, which was awarded the Pulitzer Prize. The orchestra is dedicated to inviting and attracting people of diverse backgrounds to its concerts and continues to explore new partnerships with local schools, libraries, and community centers, so that all in the community have the opportunity to experience the joy of a live, classical music concert.
###
Contact:
Lenore Eggleston (914) 682-3707, ext. 15
leggleston@westchesterphil.org