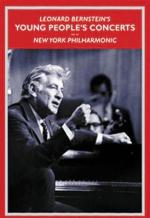 Film features Symphonie Fantastique to be performed by the orchestra following the film
Purchase, NY
— The Westchester Philharmonic is pleased to announce that it will show excerpts from the film Leonard Bernstein's Young People's Concerts - Berlioz Takes a Trip as part of its pre-concert series, Tuning Up, which is aimed at broadening the concert experience for its concert-goers. Perhaps best-known for the musical West Side Story, composer Leonard Bernstein was one of the most accomplished and influential musicians of the 20th century. For fifteen years, beginning in 1958, Bernstein attempted to turn the youth of America on to music through a series of televised performances called Leonard Bernstein's Young People's Concerts. Bernstein's Young People's Concerts with the New York Philharmonic stand among his greatest achievements. These televised programs introduced an entire generation to the joys of classical music. This short film finds Bernstein conducting a performance of select portions of Hector Berlioz 1830 composition Symphonie Fantastique. It originally aired on May 25, 1969. Excerpts from the film will be shown on Saturday, October 10, 2009 at 6:45 pm and on Sunday, October 11, 2009 at 1:45 pm with a short discussion following. Immediately following the film, the Philharmonic opens its second season under the baton of Itzhak Perlman with Maestro Perlman himself playing and conducting Mozart on Saturday, October 10 at 8 pm and Sunday, October 11 at 3 pm. Itzhak Perlman will play Mozart's Adagio in E Major and Rondo in C Major for violin and orchestra. The maestro then takes up the baton to lead Prokofiev's Symphony No. 1, and the opening weekend concludes fittingly with Berlioz's transcendent Symphonie Fantastique, featured in the pre-concert film. All events take place at The Performing Arts Center at Purchase College in The Concert Hall. Pre-concert events are free for ticket holders. A free open rehearsal is also scheduled for Saturday, October 10 at 10 am in The Concert Hall.
Concert Tickets
All performances will take place in The Concert Hall at The Performing Arts Center Purchase College, 735 Anderson Hill Road, Purchase, New York. Five and four concert subscriptions are available and range from $357-$89. Single tickets range from $85-$25. Student/child/group discounts are available. To purchase tickets and for additional information call the Westchester Philharmonic Box Office at (914) 682-3707 ext. 10. Visa, MasterCard, American Express, Discover Card accepted.
About the Westchester Philharmonic
The Westchester Philharmonic orchestra, which is led by world-renowned Artistic Director Itzhak Perlman, is the only fully-professional symphony orchestra devoted to serving the people of Westchester County. Founded in 1983 by Paul Lustig Dunkel, who was recently named Music Director Emeritus, the Philharmonic fulfills its mission in the concert hall, in the community, and in the classroom. The Philharmonic performs a main stage Concert Series at the Performing Arts Center Purchase College and partners with local agencies to present free and low-cost concerts for all County residents. Its award-winning education program serves over 2,000 elementary school students. The orchestra is comprised of the finest musicians from the greater New York area and has worked with the world's finest soloists, including Midori, Joshua Bell, and the late Isaac Stern. With a focus on presenting the best music of the past and present, the orchestra places particular emphasis on providing young musicians with an opportunity to perform with, or compose for, a professional symphony orchestra early in their careers. The Philharmonic has become a home for living American composers and has proudly commissioned many orchestral works such as Melinda Wagner's Concerto for Flute, Strings and Percussion, which was awarded the Pulitzer Prize. The orchestra is dedicated to inviting and attracting people of diverse backgrounds to its concerts and continues to explore new partnerships with local schools, libraries, and community centers, so that all in the community have the opportunity to experience the joy of a live, classical music concert.
Entergy Nuclear is a major sponsor of the Westchester Philharmonic. Westchester Magazine is a media sponsor of Westchester Philharmonic. The Philharmonic's season is made possible, in part, by the Basic Program Support Grant of ArtsWestchester with funds from Westchester County Government and with public funds from the New York State Council on the Arts, a state agency.
Contact
: Lenore Eggleston (914) 682-3707 ext. 15
leggleston@westchesterphil.org