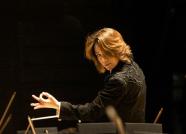 Program of Tchaikovsky, Rodrigo and Mozart to be led by superstar Japanese conductor Tomomi Nishimoto
Purchase, N.Y.
- Last November a young conductor from Japan, largely unknown in this country, ascended our podium, and as the final notes were played, the audience had erupted into a spontaneous ovation. At the insistence of our loyal audience, maestra Tomomi Nishimoto returns on Saturday, May 18, 2013 at 8 pm and Sunday, May 19, 2013 at 3 pm, joined by guitar virtuoso Eliot Fisk. Dubbed by The New Yorker as "the king of American classical guitar," Eliot Fisk joins the orchestra for Rodrigo's passionate and exhilarating Concierto Aranjuez. The concert opens with one of the most definitive works of its time, Tchaikovsky's Serenade, and concludes with Mozart's iconic Symphony No. 40.
Eliot Fisk
is one of the most exciting and creative musicians before the public today. Known worldwide for his adventurous repertoire he belongs, as his great mentor Andres Segovia once wrote, "at the top line of our artistic world." He has transformed the repertoire of the classical guitar through his ground breaking transcriptions and many of his recordings have entered the Billboard charts as best sellers; introducing much of this repertoire to an international audience. Eliot Fisk has collaborated with guitar legend, Angel Romero; virtuoso clarinetist, Richard Stoltzman; and jazz guitar great, Bill Frisell, among many others. In addition to his performing career, he is Founder and Director of Boston Guitar Fest, an annual cross disciplinary and cross cultural extravaganza co-sponsored by the New England Conservatory and Northeastern University. Audiences will also be treated to a rare opportunity to experience the exquisite technique and electrifying podium presence of
Japanese maestra Tomomi Nishimoto
. A celebrity figure in both Japan and Russia Tomomi Nishimoto is hailed as a "delicately sensitive conductor [who] fascinates even the orchestra." From her captivating presence on the stage, to her celebrity appearances in car and motorcycle commercials, she has attracted attention around the world. Guitarist Eliot Fisk will appear one hour before each performance for a pre-concert discussion with Philharmonic executive director Joshua Worby. Audiences are also invited to a free open rehearsal with the orchestra scheduled for Saturday, May 18 at 10 am. Families and children are welcome. Please visit
http://www.westchesterphil.org/
for updates. All events take place at The Performing Arts Center at Purchase College.
Concert Tickets
All performances will take place in The Concert Hall at The Performing Arts Center, Purchase College, 735 Anderson Hill Road, Purchase, New York. Single tickets range from $97-$30. Student/child/group discounts are available. To purchase tickets and for additional information call the Westchester Philharmonic Box Office at (914) 682-3707 ext. 10.  Visa, MasterCard, American Express, Discover Card accepted.  Visit the Westchester Philharmonic's website at
http://www.westchesterphil.org/
###
Contact:
Lenore Eggleston (914) 682-3707 ext. 15
leggleston@westchesterphil.org
High resolution photos and artist bios are available and may be downloaded from: www.westchesterphil.org/pressphotos.asp