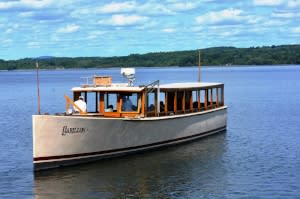 Ticonderoga, N.Y. – A boat tour aboard Fort Ticonderoga's 60-foot Carillon not only provides visitors with breathtaking lake views of commanding mountains and the majestic fort, it also crosses some of the most archaeologically rich waters in North America. This latest attraction at Fort Ticonderoga, a major cultural destination, museum, and National Historic Landmark located in New York's 6-million-acre Adirondack Park, offers passengers a unique travel experience. The 90-minute tour available daily Tuesday through Sunday features Ticonderoga's epic story of one of North America's most strategic strongholds and places the iconic fort into a larger context as part of the imperial struggle for the continent in the 18th century.
"From shipwrecks to a massive bridge that the Americans built in 1776, Lake Champlain holds defining stories of America's past," said Beth Hill, Fort Ticonderoga President and CEO.  "Fort Ticonderoga's layers of history carry right from the land onto the water. The Carillon boat tours help ignite visitors' imaginations as they explore this internationally strategic stretch of water and has quickly become one of the most popular attractions as part of the Fort Ticonderoga experience."
Boat tours aboard the Carillon began the 2017 season on Memorial Day Weekend and will run through October. The 60-foot, 35-passenger boat is available for daily tours, field trips, sunset cruises, and charters. Tickets for the boat cruise are available at Fort Ticonderoga or in advance by calling 518-585-2821. For more information visit www.fortticonderoga.org. Boat tours are available rain or shine.
Fort Ticonderoga: America's Fort™
The Fort Ticonderoga Association is an independent nonprofit educational organization that serves its mission to ensure that present and future generations learn from the struggles, sacrifices, and victories that shaped the nations of North America and changed world history. It serves this mission by preserving and enhancing its historic structures, collections, gardens and landscapes; and educating the public as it learns about the history of Fort Ticonderoga. Welcoming visitors since 1909, it preserves North America's largest 18th-century artillery collection, 2000 acres of historic landscape on Lake Champlain, and Carillon Battlefield, and the largest series of untouched 18th-century earthworks surviving in America.  Fort Ticonderoga engages more than 75,000 visitors each year and offers programs, historic interpretation, boat cruises, tours, demonstrations, and exhibits throughout the year and is open for daily visitation May through October. Fort Ticonderoga is accredited by the American Association of Museums and pursues its vision to be the premier cultural destination in North America. Visit www.FortTiconderoga.org for a full list of ongoing programs or call 518-585-2821. Fort Ticonderoga is located at 102 Fort Ti Road, Ticonderoga, New York.
America's Fort is a registered trademark of the Fort Ticonderoga Association.
Photo: Fort Ticonderoga's Vessel Carillon offers daily tours, sunset cruises, and charters through October.
Contact:
Beth Hill
(518) 585-2821