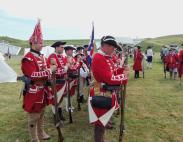 Oswego, N.Y.
- In 2013 Fort Ontario State Historic Site will be open to the public from Saturday, May 18 to Sunday October 13.  Visiting hours will be Wednesday through Sunday, 10 a.m. to 4:30 p.m.  The fort will be open seven days a week during the peak of tourist season from June 26 through Labor Day.  Admission prices will remain the same as last year; $4 for adults, $3 for seniors and students age 13 and above; children age 12 and under will be admitted free.  A wide range of special events are planned at the fort this year including a guided tour of the Post Cemetery on opening day, May 18 at 1 p.m.  Curator Jennifer Emmons has been researching the lives and deaths of the 77 soldiers, officers, and civilians buried in post cemetery, which was moved to its current location in 1903.  The history and personal stories of those buried in the post cemetery reflect Fort Ontario's significant role in world events from the French and Indian War through World War II.  Fort Ontario's active role in military history continues today as the 444
th
Engineer Company, 479
th
Engineer Battalion, maintains a United States Army Reserve Center on the 75-acre Fort Ontario Military Reservation National Register District.  After World War II, the military reservation was divided into five sections; one part went to NYS to be developed as a historic site, a section to the Fitzgibbons Boiler Works, a small section to Lakeshore Trucking (railroad sidings), a parcel to the Army Reserve, and a large section to the City of Oswego on a 99-year lease to be used for educational, transportation, and recreational purposes only.  Recently Historic Park Manager Ron Healt joined the fort's management team and will oversee maintenance and major infrastructure improvement projects at Fort Ontario projected to continue through 2016.  Work in 2013 will focus on the two officer's quarters and involve replacing or repairing window sash and cases, storm windows, shutters, doors, floor joists, sills, chimneys, roofs, gutters, revetments, and drainage.  Officers Quarters Two will be furnished this year, but Officers Quarters One will remain mostly unfurnished as building rehabilitation continues.   Having completed improvements in the two underground stone rifle galleries facing Oswego Harbor; for the first time since the early 1950s all three underground stone rifle galleries and two artillery casemates will be open to the public.  Stone for the galleries, casemates, and walls of the fort came from a quarry located near the location of the post cemetery.  Contrary to popular opinion, the fort's stone walls were not destroyed in battles.  In reality, improvements begun in 1863 ended in 1872 when Congress ceased funding expensive construction on Great Lakes posts when Canada and the United States signed a treaty calling for an unarmed border.  In May 1872 the civilian workmen under contract to the U.S. Army Corps of Engineers packed up their tools and left the fort's walls unfinished.  Over the winter the Friends of Fort Ontario purchased reproduction tin plates, cups, bottles, knives, forks, spoons, faux foods, crockery, utensils, and other items to recreate a US Army kitchen-mess room as it may have appeared at Fort Ontario in 1868.  This new period room interpretation will be unveiled on opening day.  On most US Army posts of the 19
th
century, kitchens and mess rooms (dining areas) were located in separate rooms in a barracks, but at some older posts such as Fort Ontario, cooking and eating functions were combined.  The 1868 kitchen-mess room, with its reproduction benches and tables, is designed so that it may be converted into an audio-visual room for power point lectures and programs in minutes. The room will also be used for school group lunches and historic food-related programming and fundraising events.  Fort Ontario State Historic Site is located at the north end of East Fourth Street in the City of Oswego, New York.  For more information on the fort and its programs and events contact Paul Lear at (315) 343-4711 - [
Paul.Lear@parks.ny.gov
], or check the Friends of Fort Ontario or State Parks websites at [
http://www.fortontario.com/
] [
http://www.nysparks.com/
].
###
Photo caption:
Fort Ontario State Historic Site opens Saturday, May 18, and will host a variety of special events, including a French and Indian War living history event on June 29 and 30.  This year marks the 250
th
 anniversary of the end of the French and Indian War, and the beginning of Pontiac's Rebellion which ended at Oswego in 1766 with the Treaty of Fort Ontario.   Re-enactors from around the United States and Canada will converge on Oswego to recreate the failed French attack on Fort Ontario in 1759 which helped seal the fate of France's North American Colony.