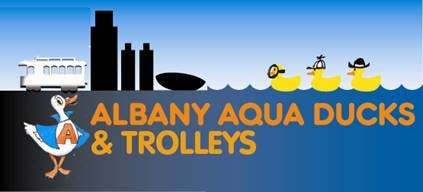 Albany, N.Y. -- The fun days of summer are here, and the Albany Aqua Ducks & Trolleys have created a variety of new and different tours for everyone's enjoyment.There's no better way to experience the fabulous Price Chopper July 4th Fireworks than aboard the Duck. First, there's a barbecue at the Shaker Road-Loudonville Fire Department before boarding the Duck to Splash into the Hudson River for the festivities.
Check out the new amphibious Duck tour that sets out in time to enjoy sunset on the Hudson River. Or, tour mansions, gardens and more aboard the Trolleys.
Give lunch or dinner some extra Splash! The Ducks have partnered with the Riverfront Barge at Corning Preserve, The Other Company in Menands and Jack's Oyster House in Albany for some special outings.
A new tour of Albany's Neighborhoods is on the schedule. And,  all are invited to gather up their dolls for the  new American Girl Tour that features tea at Ten Broeck Mansion.
There are comedy nights, Irish music nights and more as the Duck partners with The Orchard Tavern for some great food and events. For the kids, the Pirate Adventure Tours set sail for the Hudson's "high seas" throughout the summer. Kids have a chance to meet some of their favorite characters -- Elmo, Sponge Bob and Cookie Monster -- when boarding on special days.
The Ducks also have daily historic tours of the Capital City and the Trolleys offer a narrated tour with 18 stops from early July through Labor Day.
More information is available at AlbanyAquaDucks.com or by calling 518-462-3825.
Follow us on Facebook and Twitter.
###
MEDIA CONTACT:
Kathy Condon * Condon Communications
PH: 518-436-1103 * EMAIL: