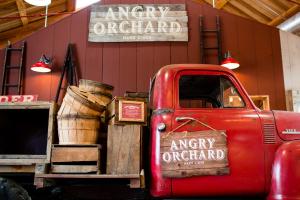 Choose From 26 Wineries, Breweries, Cideries and Distilleries and Taste the 'Spirit of the Hudson Valley'
Orange County, N.Y. (October 29, 2021) – The craft-brewing scene continues to grow in Orange County, N.Y., where the beers, ciders and spirits benefit from the region's rich agricultural heritage.
New breweries have joined long-beloved gathering places for beer aficionados. Abundant wines, spirits and ciders are also a match for all tastes, many of them crafted with ingredients sourced locally or elsewhere in New York State.
"A sip of a micro-brewed beer or cider crafted here in Orange County is a taste of the very spirit of the Hudson Valley," said Orange County Tourism & Film Director Amanda Dana. "The region is a draw for brewers, winemakers and distillers who invest their love of tradition and inventiveness into creating adult beverages from the finest classics to the wildly off-beat. Their taps and tasting rooms are waiting for you to visit, enjoy and pass a pleasant hour or two indulging in your favorites – old, new or both."
Below is a sampling of Orange County, N.Y. wineries, breweries, cideries, and distilleries currently offering outside seating. Please contact the venues directly to confirm their COVID-19 safety protocols.
Tin Barn Brewing Co., 62 Kings Highway Bypass, Sugar Loaf: Melted Gelato? Back 40? The Black-Hearted Queen? Those are just some of the imaginatively crafted – and inventively named – brews at the Tin Barn Brewing Co., which opened last year. Live music on weekends sets the scene. A large outdoor area is dog-friendly, as long as they're on leashes. (No dogs allowed in the Tasting Room or on the upper deck, which is for those age 18 and older.) Thursday 4 p.m. - 9 p.m., Friday 2 p.m. - 10 p.m., Saturday 11 a.m. - 10 p.m., Sunday, 11 a.m. - 7 p.m. Come Thursday at 6 p.m. for trivia night. https://www.tinbarn.com/
Drowned Lands Brewery, 251 State Road, Warwick: Another newcomer, the Drowned Lands Brewery crafts beers with a "terroir" approach. That means nurturing the character and flavor of the brews from the surrounding environment, including the local water, agriculture and house-mixed culture. The brewery and taproom occupy a 100-year-old administration building of a former reform school. Tap room open Thursdays and Fridays 3 p.m. - 10 p.m., Saturday 11 a.m. - 10 p.m., Sunday from 11 a.m. - 7 p.m. https://www.drownedlands.beer/
Long Lot Farm Brewery, 153 Johnson Road, Chester: The brewery is an addition to the dairy farm that has been family owned for five generations. That same tradition of care and commitment goes into the beers that flow from the 10 taps in the tasting room. Most of the hops for the brews are grown on the farm, and other ingredients are sourced from Orange County farmers. A food truck is typically on hand for snacking and more. (Check the Facebook or Instagram pages to find out what the day's choices are.) Groups are asked to call or email before arriving. Monday, Wednesday, Thursday and Friday 4 p.m. - 9 p.m., Saturday noon – 9 p.m., Sunday noon – 7 p.m. https://www.longlotfarmbrewery.com/
Warwick Valley Winery and Distillery, 114 Little York Road, Warwick: Sure, there's delicious hard apple cider (crafted from 10 apple varieties and fermented with champagne yeast), but why stop there? Warwick Valley's Doc's Ciders is a blend of an entire fruit stand of flavors. Varieties maximize the taste of strawberries, black currants, sour cherry and even framboise (raspberry). Of course, there's also a Pumpkin Cider. The beverage list also features cordials, wines and spirits, including award winners such as Black Dirt Bourbon and Warwick Rustic Gin. Tastings seven days a week, 362 days a year, 11 a.m. - 6 p.m. The café is open Wednesday - Friday noon - 5 p.m., Saturday and Sunday, 11 a.m. - 5 p.m. https://wvwinery.com/
Equilibrium Brewery, 2-8 South St., Middletown: Driven by inspiration and curiosity as both scientists and crafters of beer, the owners of Equilibrium Brewery consider their business an experimental brewery. Hence, brews with names such as Einstein's Yellow Cake, Energy Evolved and Fractal Mosaic. One standard that remains the same is the commitment to crafting "uncompromisingly great beer." They're made with fresh ingredients from local producers when possible. Taproom open Monday - Thursday, noon - 10 p.m., Friday, noon - 11 p.m., Saturday, 11 a.m. - 11 p.m., Sunday, 11 a.m. - 9 p.m. https://www.eqbrew.com/
Angry Orchard, 2241 Albany Post Road, Walden: How to decide from the many varieties of cider? The Cider House, on this 60-acre orchard, offers a clear crisp cider, and hazier unfiltered version (an ode to traditional American cider) and green apple cider as well. Their draft, canned and bottled offerings also include strawberry and peach-mango varieties, the popular Cinnful Draft with a spicy cinnamon twist, and even a rosé cider made with red-fleshed apples sourced from France. Sample several varieties in a cider-tasting flight. The in-house kitchen prepares food all days they're open, and food trucks add to the variety on Saturdays and Sundays. Tours are available (must be booked in advance). Open Thursday and Friday noon - 6 p.m., Saturday and Sunday 11 a.m. - 6 p.m. https://www.angryorchard.com
Orange County Tourism & Film, based in Goshen, N.Y., is the county's tourism headquarters and a participant in the I LOVE NY program. A comprehensive listing of area attractions, lodging, and events can be found at www.OrangeTourism.org. Additionally, a fun, free, 56-page travel guide is available for digital download at https://orangetourism.org/travel-guide/.
###
For more information, contact:
J.P. McGuirk
Focus Media, Inc.
845-576-2212