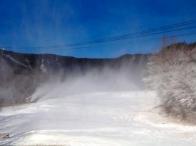 Open Saturday and Sunday, Nov. 16 & 17, 8:30 a.m. - 4 p.m. 
Wilmington, N.Y.
- Let the skiing and riding season begin at Whiteface Mountain, in Wilmington.  The Olympic mountain will open tomorrow, Saturday, Nov. 17, six days ahead of schedule. "The weather conditions and temperatures have been ideal for the last couple of weeks for snowmaking," said the mountain's general manager Aaron Kellett.  "Everyone at the mountain is excited to be opening early and we're all preparing for what's shaping up to be a great season ahead." This marks the earliest opening for the Olympic mountain since 2003-'04 when the season began on Nov. 16.  Three trails, Upper Valley, Lower Valley and Fox trails, will be open this weekend, with one lift, the Facelift quad.  The mountain's nursery and Kids Kampus programs will not be available.  Lift tickets are $25 for all skiers and riders and that money can be used towards the purchase of your 2012-'13 season pass.  The season pass deadline has been extended to Sunday, Nov. 18, for both Whiteface and Gore.  The adult non-holiday pass is available for just $699, while the adult full-season pass is just $869.  The young adult and college season pass can be purchased for $385 and the junior pass is only $299.  After this weekend, Whiteface will close Sunday, at 4 p.m., and re-open Friday, Nov. 23, in time for the Thanksgiving holiday weekend. Trails and lifts are subject to change this weekend. Please log on to
http://www.whiteface.com/
before coming to the mountain for the latest conditions.
Media Advisory:
Media wanting to come to Whiteface Mountain and cover the opening weekend of the skiing and riding season should contact Jon Lundin, ORDA public relations, at 518-637-6885, e-mail:
jlundin@orda.org
.
###