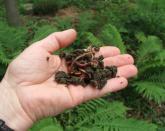 Cornwall, N.Y.
- On Saturday, July 7 at 10 a.m., the Hudson Highlands Nature Museum will be hosting:
Wiggly Worms!
  At the Outdoor Discovery Center, on Muser Drive, across from 174 Angola Road, Cornwall. Do you dig worms? Come learn about these fascinating little creatures and how they can help you recycle your kitchen scraps in a simple composter you can assemble and take home. Pre-paid registration is required for this program, plus a $5 fee per composter. Receive a small amount of red wigglers with each composting kit.  Recommended for adults with or without children and for children ages 5 and up. Admission: $7/Adults - $5/Children. Museum Members: $5/Adults - $3/Children. For online pre-paid registration visit hhnaturemuseum.org or call 845-534-5506. ext. 204.                                                                     
###
Photo
: Learn about Worms: Nature's Composters at the Hudson Highlands Nature Museum on Saturday, July 7 at 10 a.m. Photo by Pam Golben.
Contact:
Marian Goldin, Marketing Manager
Hudson Highlands Nature Museum
845-534-5506, ext. 215