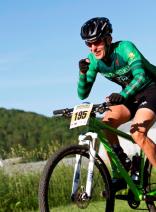 Wilmington/Whiteface 100k, June 17
Wilmington, N.Y. -
When people are first asked what they think of when they're asked about Wilmington, N.Y., they may answer with alpine skiing, fishing, hiking and some... Santa's Workshop. After all, the tiny upstate New York community, with a population of about 1,300, is easily recognized for all of those things.  Wilmington is home of Whiteface Mountain, famous for having the greatest vertical east of the Rockies; the Ausable River, long known for some of the greatest trout fishing in the eastern United States; and it's even home to Santa's Workshop, which opened in 1949 and is one of the oldest theme parks in the United States. But there's something else that Wilmington is quickly becoming... a cycling destination. "That's something that we've been striving to become for some time now.  It's not mu
ch of a secret anymore," said Town of Wilmington supervisor Randy Preston.  "We're always going to be known for skiing, fishing, hiking, etc., but this community also wants to be known for its vast cycling opportunities." Wilmington is surrounded with endless cycling opportunities.  From downhill, cross country and road cycling there's something for all levels of abilities and fitness. "From professionals to someone who just wants to enjoy a casual ride and breathtaking views that surround them, it's all here," Preston stated.  "I think it's the variety of terrain that separates us from other destinations." Wilmington continues to add mileage to its mountain bike trails, with the cooperation of the Department of Environmental Conservation (DEC) and Bark Eaters Trail Alliance (BETA).  Today, riders can enjoy more than 10 miles of trails at the Wilmington Wild Forest Flume Trail System. These trails, which are rated easy to hard, offer diverse terrain with views of the beaver dam and the west branch of the Ausable River. Additionally, riders can hop off their bikes and hike the "foot trail" to the top of Flume Knob, offering breathtaking views of the Adirondacks. When done with these trails, they can cycle a few miles down the road to the Wilmington Wild Forest Beaver Brook Trail System and experience more than three-and-a-half-miles of some of the best trails in the northern Adirondacks. Whiteface Mountain, which hosted the 1980 Olympic Winter Games' alpine competitions, is also an exceptional downhill cycling venue.  The mountain has 27 diverse trails, 17 of which are single track, that range from hardcore expert only downhillers, to cruisers and winding cross-country paths.  Some runs can take as long as 40 minutes, from top to bottom. Wilmington will be showcasing all of these cycling opportunities when it hosts its annual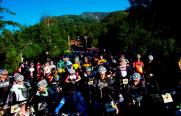 Wilmington Whiteface Bike Fest
, June 14-17, which Preston calls, "a celebration on two wheels." Preston believes that this is a great opportunity for road and cross country cyclists, and everyone in between, to experience first-hand what Wilmington and the surrounding communities have to offer.

Two events that highlight the Bike Fest are the
11th annual Whiteface Mountain Uphill Bike Race
, Saturday, June 16, and the second annual
Wilmington/Whiteface 100k (WW100)
. The 11-mile uphill
BUMPS (Bike Up the Mountain Points Series)
race, scheduled to start at 8 a.m., begins at Whiteface Mountain and will take the more than 300 road cyclists up the mountain's scenic Veteran's Memorial Highway.  Whiteface is New York's fifth highest peak. Registration for this event is available at
www.bikereg.com/Net/14909
. Organizers of this event hope that the early Saturday start time will leave cyclists enough energy to race in Sunday's, June 17, WW100, which the only
Leadville Trail 100
(LT100) qualifier in the northeastern United States.  As many as 1,000 cyclists are expected to compete for as many as 100 qualifying spots into the LT100. This 69-mile long out and back race, beginning and ending at Whiteface Mountain, will weave its way through Wilmington and the neighboring towns of Jay, Keene, Lewis and Elizabethtown before returning to the Olympic mountain for a final climb of 2,500 feet and the finish line.  In addition to the Whiteface climb, riders can also look forward to climbing both Jay and Saddleback Mountains. Not once, but twice since this is an out and back race.  Both of these climbs are more than 750 meters apiece. Several free family-friendly events also make up the Wilmington Whiteface Bike Fest.  They include a bike parade, "The Brainless not Chainless Gravity Ride," beginning from Santa's Workshop, stunts, jumps and trick exhibitions, mountain bike instruction, as well as live music and games. Whiteface Mountain will also host the seventh annual
5k Downhill at Whiteface
, which is expected to feature 200 professional and amateur racers.
Media Advisory:
Media credential request forms for the Leadville Race Series, Wilmington/Whiteface 100k (WW100), June 17, at Whiteface Mountain, in Wilmington, N.Y. are now available. Download, http://www.whiteface.com/media/pdf/cred_100k.pdf, complete and return your credential request form no later than Wednesday, June 13.
Photos Courtesy
of ORDA.
###
Contact:
Jon Lundin WW100 Communications Tel: 518.523.1655 ext. 5313 E-mail:
jlundin@orda.org