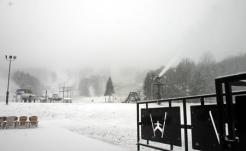 Winter finally arrives!
Windham, NY
-- Remember that feeling when you were little and you couldn't wait to open your holiday presents? It felt like the day would
never
arrive! Well, there are plenty of kids and grown-ups who feel the same way about this ski season. It's tough to accept that we just didn't have the temperatures to get open this weekend as planned. But get ready to rip off the wrapping paper and enjoy a great season! Windham Mountain's snowmaking plant is humming away on Whistler (top to bottom), What's Next, Wiseacres and around the base area. They will continue to pump it out around the clock as long as temperatures permit, plus are expecting 2-4" of natural snow. The temperatures are currently 23 on top and 30 at the base. Good snowmaking weather is expected on the top of the mountain during the daytime and nighttime snowmaking operations top to bottom. Staff are making the most out of a great forecast for the next several days and look to this Thursday, December 10, to open for the first skiing and riding of the year. Legends Lounge is open this weekend from 12-5pm for bar snacks and beverage service.  The retail shop and Special Tickets counter are also open this weekend. The 3500 Club is open to members this weekend, so bring your gear in and get your locker organized for the season without the rush. Don't forget that the Rock'n Mexicana Cantina + Grill over at the Winwood Inn will be open Saturday 5-11pm for the best south of the border fare you'll find anywhere and 3pm-midnight at the bar serving incredible margaritas and offering 25 different tequilas. Sunday's hours are 5-10pm for the restaurant and 3-11pm at the bar. The forecast still looks very good and the Windham crew is working 24/7 to get this mountain open.  It's going to be a great season!
###