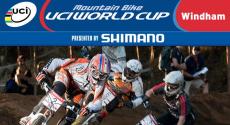 Top cyclists from across the globe to compete in Greene County in July
Windham, N.Y.
- For the second year in a row, the world's best professional mountain bikers will converge on Windham Mountain as the resort town hosts the seventh in a series of 10 World Cup events held all over the globe. The 2011 edition of the UCI Mountain Bike World Cup presented by Shimano will get under way in less than a week with the first round in Pietermaritzburg, South Africa. The Windham event will take place from July 7 through July 10. The World Cup circuit is a series of races in three different racing disciplines - cross-country (narrow, rocky paths through forests and streams), downhill (riders race the clock on treacherous descents) and "4-cross (4X)" (four riders at a time race a fast downhill course with jumps and banked corners).  This year's Windham World Cup will be a bit different than 2010's in that there will be no 4-cross competition. "Despite the success we achieved in 2010 with the 4-cross event, we had to make the difficult decision not to include it in this year's schedule at Windham.  Since our venue is a ski mountain, the course has to be dismantled for the ski season and completely rebuilt each year, making it too cost prohibitive to continue," said Race Director Nick Bove. "This decision will allow us to devote more resources, both financial and human, to the downhill and cross-country events, which promise to be even better than last year for both racers and spectators." Windham organizers are also planning many community events again this year, including cross-country and downhill racing for all levels of ability, a block party and a concert, among other activities, to continue last year's efforts to involve racers and spectators alike in celebrating the uniqueness of the Windham area. "We received so much positive feedback last year about all of the community events we offered and we're promising to deliver more fun activities for the entire family again in July," Bove said. Windham is the seventh stop on a tour that also visits Pietermaritzburg, South Africa; Dalby Forest, Great Britain; Offenburg, Germany; Fort William, Great Britain; Leogang, Austria; Mt. Sainte-Anne, Canada; La Bress, France; Nove Mesto Na Morave, Czech Republic; and Val di Sole, Italy. For more information or to volunteer, visit 
http://www.racewindham.com/
.
###
Contact
: Jo Ann LeSage Nelson, Pierce Communications 518.427.1186 or 518.928.4134 (cell)
Windham_Media@albanypr.com