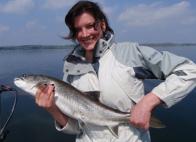 Catches 9-pound lake trout to pair with Finger Lakes wines
Aurora, NY - May 15, 2009
  - Susan Kostrzewa, Senior Editor of
Wine Enthusiast Magazine,
had some doubts about her angling abilities when she was invited on a "Catch & Cook" press visit to the Finger Lakes, but she was up for the challenge.  As part of the Cayuga County Office of Tourism's public relations activities, Ms. Korstrzewa was invited to the Village of Aurora to fish the waters of Cayuga Lake and have her catch prepared by the Aurora Inn's Executive Chef Greg Rhoad.  Luck was with her as she reeled in a 9-pound lake trout and a delicious meal was prepared by Chef Rhoad, paired with a fine Pinot Noir from Heart and Hands Wine Company in Union Springs. To read about Ms. Kostrzewa's  'Catch and Cook" tour, visit:
http://blog.winemag.com/editors/2009/05/13/food-for-thought-in-the-finger-lakes/
About Wine Enthusiast Magazine and Susan Kostrzewa
Wine Enthusiast Magazin
e and Wine Enthusiast Online features stories on buying, storing, sampling and serving wine.  It is published 14 times a year and has a circulation of 90,000.   Senior Editor Susan Kostrzewa has written and edited wine, food and travel stories for the past 12 years.  She is also head of the magazine's book publishing department and recently co-edited the
Wine Enthusiast Wine & Food Pairings
cookbook.
About the Cayuga County Office of Tourism
The Cayuga County Office of Tourism is the designated Tourism Promotion Agency for Cayuga County and promotes the County's attractions, events, and lodging establishments. For more information call 315-255-1658/800-499-9615.
Editorial Contact:
Meg Vanek Executive Director Cayuga County Office of Tourism 131 Genesee Street Auburn, NY  13021 (315) 255-1658 e-mail: 
meg@tourcayuga.com