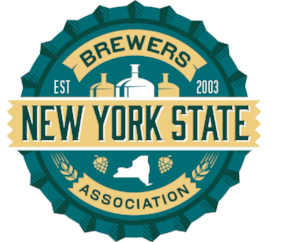 Rochester, NY -- August 1, 2018 -- New York State Brewers Association is proud to announce the winners of the 2nd annual New York State Craft Beer Competition and Governor's Excelsior Cup.  
The New York Craft Brewers Competition was held on Saturday, July 28, 2018 in Rochester NY.  43 expert beer judges from across the state came together to judge 642 beers from 123 New York State breweries to award gold, silver, and bronze medals to 45 breweries with the Governor's Excelsior Cup being awarded to the Best of Show beer in the state, which was awarded for the second consecutive year to Threes Brewing in Brooklyn for their Passing Time Grisette. This competition is the largest craft beer competition in the state, and the second largest state competition in the country behind California. 
"As New York State continues its renaissance as a leader in craft beer, it's an honor for our team to win a second consecutive Governors Excelsior Cup" said Josh Stylman (co-owner of Threes Brewing). "It's especially exciting to see a nuanced style gain recognition over some of the trendier beers available in today's market. We are so proud of our brewing team and the beers we are producing right here in Brooklyn." 
 "It was really impressive to see so many new breweries entering the competition this year and winning medals" said Paul Leone (Executive Director, New York State Brewers Association). "Every region of the state is represented with an incredible variety of amazing beer, there really is no better time to Think New York, Drink New York". 
"We have been making great beer in NYS for 130 years and we are happy to once again get recognition for the wide variety of beers we are making by winning 3 gold medals this year" said Fred Matt, (President of FX Matt Brewing Company/Saranac) "New York State is making incredible beer and we are proud to be part of this vibrant beer community".  
In the competitions second year, brewers were allowed to enter beers in 24 categories, with the American New England IPA and Light Lager categories receiving the highest number of entries at 58 each. Peekskill Brewing in Peekskill (1 gold, 2 silver, 1 bronze) and Big Ditch Brewing in Buffalo (4 bronze) won the most medals at 4 each.  
The Governor's Excelsior Cup and other awardees will be on display in the Horticulture Building at the Fair, which runs from August 22nd until September 3rd. Several of the award-winning beers will also be available to buy at this year's Fair as well. For a complete list of winners and additional information, please go here - https://newyorkcraftbeer.com/2018-competition/2018-winners/ 
About the New York State Brewers Association 
The NYSBA was founded in 2003 to serve as a promotional and legislative proponent for New York State breweries, microbreweries, brewpubs and brewing affiliated businesses. The growth of the Craft Beer segment continues to be strong and New York State's share of that growth has exceeded that of breweries on the national level.  
For more Information:
 The New York State Brewers Association http://newyorkcraftbeer.com
NYSBA Executive Director Paul Leone paul@newyorkcraftbeer.com or 585-469-1012 
###
Contact:
Paul Leone
Executive Director
585-469-1012
New York State Brewers Association
www.NewYorkCraftBeer.com