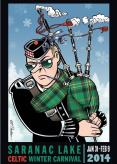 Saranac Lake, N.Y.
- Collectible posters designed by "Doonesbury" cartoonist Garry Trudeau for the 2014 Saranac Lake Winter Carnival are now available for sale.  Using the theme "Celtic Carnival," Trudeau's illustration shows "Doonesbury" character Duke playing the bagpipes with a winter scene in the background. Mr. Trudeau signed 100 posters as fundraisers for the benefit of Winter Carnival.  Unsigned posters are also available.  Trudeau, who was raised in Saranac Lake, has been creating the Winter Carnival button design since 1981 and offered his first poster design in 2012. Signed posters cost $60 and unsigned posters cost $15, including tax. There is an additional cost for shipping if local pick-up is not possible. Most signed posters have already been claimed by advance order, so anyone interested in a signed poster should contact Jeff Dickson immediately as quantities are limited.  To purchase a poster contact Mr. Dickson at 518-891-4344. Unsigned posters will also be sold during Winter Carnival on Jan. 31 - Feb. 9 at its headquarters located at 141 River Street, at Ampersound located at 52 Main Street and at K&E Enterprises on Broadway.  A raffle will also be held for poster #1.  Sales are limited to 100 raffle tickets at a cost of $5 each.  Tickets are available from Jeff Dickson until the opening of carnival on January 31 and then will be available at headquarters until February 9. The Saranac Lake Winter Carnival Committee, formally known as the Society for Promotion of Winter Carnival, Saranac Lake, Inc., is a group of volunteers dedicated to organizing an annual mid-winter festival.  This 10-day, communitywide event traces its roots to a one-day Winter Carnival held in 1897 by the Pontiac Club.  The Carnival honors its heritage every year by building an Ice Palace from blocks of ice harvested from Lake Flower's Pontiac Bay, where carnival events have been traditionally held for generations.  For more information, visit the Saranac Lake Winter Carnival website at
http://www.saranaclakewintercarnival.com/
.  The 2014 Winter Carnival will take place Jan. 31 - Feb. 9.
-30-
PHOTO
: 2014 Saranac Lake Winter Carnival Poster (photo provided)
Contact
: Colleen O'Neill, (973) 280-9281, Saranac Lake Winter Carnival Committee, Publicity Chair or Eric Foster, (518) 369-0575, Saranac Lake Winter Carnival Committee, Chairman