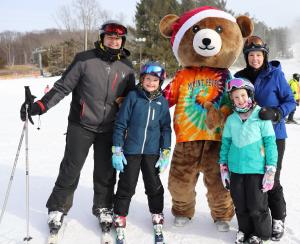 Orange County, N.Y. (January 13, 2022) – Don't let the winter pass without taking the opportunity to glide down snowy slopes or across an icy pond or rink in Orange County, N.Y. From gentle beginner slopes to thrilling expert black-diamond runs, mountains in the county offer fun for skiers, snowboarders and tubers of all levels. Skaters can take to the ice at an indoor or outdoor rink or, when conditions permit, on a frozen pond.
"Orange County, N.Y. is a winter wonderland for active enthusiasts of all ages and skill levels!" said Amanda Dana, Director of Orange County Tourism & Film. "Bundle up and experience the rush of the fresh winter air. If you're looking for an exhilarating day in the snow and a weekend at one of our fabulous B&B's, you're sure to make snowy-weather memories right here in Orange County."
Some locations for snow sports:
SKIING, SNOW BOARDING, SNOW TUBING
Mount Peter, 51 Old Mount Peter Road, Warwick. New York's Family Mountain opened Dec. 27 for skiers, riders and snow tubers with several new features, most notably, a system for buying a ticket online in advance and reserving a date, and a new and more efficient rental building. Winter outdoor enthusiasts of all levels are welcome. Mount Peter's famous FREE beginner lessons are offered on weekends and holidays to introduce newcomers to the sport. Mount Peter also offers private and family lessons, including mid-week learn-to-ski and snowboard packages. https://www.mtpeter.com/
Victor Constant Ski area at West Point, 732 Victor Constant Road, West Point. Ski season begins Jan. 14 at the area. The public is welcome to this ski area that is part of the United States Military Academy at West Point. It features a 650-foot bunny hill (green circle run) plus several other blue square and black diamond trails. https://westpoint.armymwr.com/programs/victor-constant-ski-area
ICE SKATING
Bear Mountain Ice Rink, 3006 Seven Lakes Drive: The outdoor rink at Bear Mountain State Park is open Fridays, Saturdays and Sundays through March 6. Skate rentals and lessons are available. Check the website for any unscheduled closures due to weather. https://www.bearmountainicerink.org/
Icetime Sports Complex, 21 Lakeside Drive, Newburgh: There's an indoor rink with sessions for public skating as well as figure skaters/skate dancers and hockey players. Lessons are available, and birthday parties can be booked. Come for the Friday night Party Skate. https://www.icetimesports.org/
Crane Park, Highway 17M, Monroe: Ice skating permitted only in designated areas, and only when the green flag is up. Bring your own skates! https://www.villageofmonroe.org/parks.html
Winding Hills Park, Route 17K, Montgomery: Ice skating permitted on the pond when conditions permit. https://www.orangecountygov.com/1491/Winding-Hills-Park
About Orange County Tourism & Film
Orange County Tourism & Film, based in Goshen, N.Y., is the county's tourism headquarters and a participant in the I LOVE NY program. A comprehensive listing of area attractions, lodging, and events can be found at www.OrangeTourism.org. Additionally, a fun, free, 56-page travel guide is available for digital download at https://orangetourism.org/travel-guide/.
###
Photo: Mt. Peter
For more information, contact:
J.P. McGuirk
Focus Media, Inc.
845-576-2212