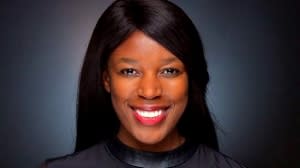 Seneca Falls, N.Y. –Women's Rights National Historical Park is proud to announce that Elizabeth Nyamayaro will be the keynote speaker for Convention Days 2017, July 14-16. Ms. Nyamayaro is Senior Advisor to Under-Secretary-General and Executive Director of UN Women and the Head of the HeForShe Initiative, a global solidarity movement which seeks to engage men and boys as advocates for gender equality.
A strong advocate for women rights and economic empowerment, she has worked at the forefront of Africa's development agenda for more than a decade in both the public and private sector, and previously held positions with UNAIDS, World Health Organization and the World Bank. Prior to UN Women, she was Director External Affairs & Policy, Africa and part of the Corporate Strategy Office at Merck. Born in Zimbabwe and a Political Scientist by training, Ms. Nyamayaro holds a MSc in Politics from the London School of Economics and Political Science.
Elizabeth will be giving her presentation: "HeForShe Global Solidarity Movement" on July 15th, from 11:00 am – 12:00 pm in Declaration Park at Women's Rights National Historical Park. HeForShe is inviting people around the world to stand together to create a bold, visible force for gender equality; Women's Rights National Historical Park - Declaration Park
For more information about the park and upcoming programs, please visit the website www.nps.gov/wori or call (315)568-2991.For a full Convention Days schedule visit go.nps.gov/ConventionDays2017
Follow us on Facebook (@WomensRightsNPS), Twitter (#WomensRightsNPS) and Instagram (WomensRightsNPS)
Join the Friends of Women's Rights National Historical Park at www.womensrightsfriends.org. If you would like to receive email announcements about other upcoming events, just send an email to wori_information_desk@nps.gov to subscribe. All programs are free and open to the public.
###
Contact:            Ashley Nottingham, 315-568-2991 ext.5000