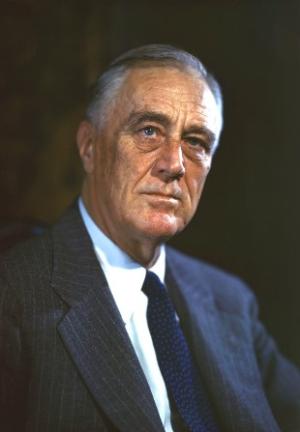 Seneca Falls, NY –
"In the future days, which we seek to make secure, we look forward to a world founded upon four essential human freedoms.                                                                                          
The first is freedom of speech and expression….                                                                               
The second is freedom of every person to worship God in his own way….                                      
The third is freedom from want…secure to every nation a healthy peacetime life for its inhabitants…
The fourth is freedom from fear…" 
The words of U.S. President Franklin D. Roosevelt delivered in his 1941 State of Union Address inspired American artist Norman Rockwell to create his famous "Four Freedoms" paintings in 1943; and these words have continued to inspire artist Louis Ebarb today, leading him to initiate The Four Freedoms Project in 2017.  In the months of May and June, Women's Rights National Historical Park will be host to an exhibit of paintings and drawings in collaboration with the Four Freedoms Project titled, "The Four Freedoms Reinterpreted."
This exhibition opens with a reception at the park's visitor center on May 5, 2018 from 5 to 8 p.m.  From there, "The Four Freedoms Reinterpreted" will be on display at the park until the end of June 2018.  Both the reception and exhibit are free and open to the public. 
The Four Freedoms Project is meant to both inform and inspire. In response to Ebarb's invitation, four artists with diverse cultural background and artistic styles each created four works for the Four Freedoms Project 2018.  Together with Ebarb's own four paintings, a total of twenty art pieces will be exhibited. Although they are all on the same theme, the great variety in style, subject matters and medium is remarkable.  Featured in the exhibit will be the work of Lorraine Brooks, Louis Ebarb, Francisco Malonzo, Tina So and Chifung Wong. 
The year 2018 marks the 75th anniversary of Rockwell's "Four Freedoms" series.  Project Coordinator, Louis Ebarb considers it timely to remind everyone of these four essential freedoms through artistic expression – not just of his own, but also of artists from different cultures, ethnicities, and beliefs.
Beyond the exhibit, Still Point Arts Quarterly Magazine will dedicate its Fall 2018 edition to FDR's Four Freedoms.  It will feature the images and story of the Four Freedoms Project as well as the results of a "Call for Art and a Call for Writers."
To find more information about the Four Freedoms Project, and to view images go to: www.FourFreedomsProject.com
For more information about the park and upcoming programs, please visit our website, www.nps.gov/wori or call (315)568-2991.  Follow us on Facebook (@WomensRightsNPS), Twitter (#WomensRightsNPS), and Instagram (WomensRightsNPS).  Join the Friends of Women's Rights National Historical Park at www.womensrightsfriends.org. If you would like to receive email announcements about other upcoming events, just send an email to wori_information_desk@nps.gov to subscribe.
###

Contact:
Elizabeth Hokanson
Phone number:  315-568-2991 x3007