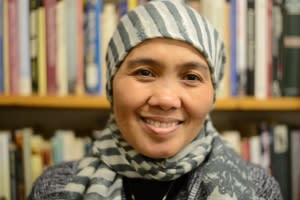 Seneca Falls, N.Y.: This workshop will take place in the Wesleyan Chapel at Women's Rights National Historical Park on Saturday May 27 from 2:00 – 4:00 pm. This workshop addresses common stereotypes about Muslims and Islam in the context of contemporary America. It invites participants to share their stories and backgrounds, while also discussing strategies each has developed to help address Islamophobia given the media's frequent misrepresentation of Islam and its followers. This workshop discusses what Islam means to Muslims and how they feel about being Muslims in America. It engages participants to reflect on why appreciation toward religious and racial diversity makes America better and stronger.
Instructor Etin Anwar is Associate Professor and Chair of Religious Studies at Hobart and William Smith Colleges, Geneva, NY. She is a scholar who has written and edited a number of publications, book chapters and articles. Her first book is titled: Gender and Self in Islam (Routledge, 2006).  She is currently working on a manuscript entitled Genealogy of Islamic Feminism: Patterns and Trends in Indonesia. She has also been featured in the WXXI TV documentary called Muslim Women in Our Midst: The Path to Understanding in conjunction with America at the Crossroads (2006). Anwar's role as a teacher, scholar, and as an active member of the international community shows her deep commitment to the promotion of social justice and peace. 
Women's Rights National Historic Park is open Friday through Sunday from 9:00 am to 5:00 pm. For more information about the park and upcoming programs, please visit the website www.nps.gov/wori or call (315)568-2991.
Follow us on Facebook (@WomensRightsNPS), Twitter (#WomensRightsNPS) and Instagram (WomensRightsNPS)
Join the Friends of Women's Rights National Historical Park at www.womensrightsfriends.org. If you would like to receive email announcements about other upcoming events, just send an email to wori_information_desk@nps.gov to subscribe.
All programs are free and open to the public.
Contact(s): Ashley Nottingham
Phone Number: 315-568-2991 ext. 5000
Date: 5/19/17
Release Number: 17-9