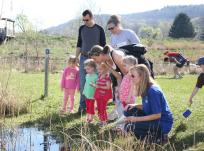 Cornwall, N.Y.
- On Saturday, May 22 at 10 a.m., the Hudson Highlands Nature Museum will be hosting:
The Wonders of Wetlands!
  Come take a close look at this remarkably diverse habitat and its resident wildlife with Environmental Educator Michele Diamanti at the Outdoor Discovery Center, entrance on Muser Drive, across from 174 Angola Road, Cornwall.  Learn about the importance of wetlands followed by a short hike with Ms. Diamanti through the Museum's wetland trails where visitors might observe an active Muskrat building a home, a Great Blue Heron, and Red Winged Black Birds nesting and hear the calls of the bull frogs. Participants will also explore what can be found in a scoop net from the pond during this morning of discovery.  This program is recommended for adults and children ages 5 and older. For more information call 845-534-5506, ext. 204. Visit the Museum's website at
http://www.hhnaturemuseum.org/
                                                                        ###
Photo Caption
: Discover animal habitats and the importance of wetlands at Wonders of the Wetlands offered at the Hudson Highlands Nature Museum in Cornwall on Saturday, May 22 at 10 a.m. Photo by George Potanovic Jr.
Contact:
Marian Goldin, Marketing Manager
Hudson Highlands Nature Museum
845-534-5506, ext. 215