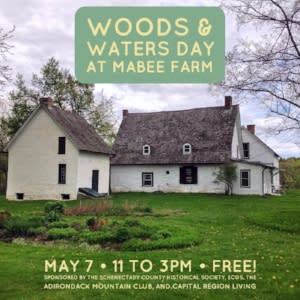 Sunday, May 7th, 11 a.m. – 3 p.m.
Schenectady, N.Y. – The Schenectady County Historical Society is celebrating woods and waters as we bloom into May! Join us for a spring festival exploring plants and animals, streams and ponds, and how they all tie together!
Woods & Waters Day at Mabee Farm will feature:
•  Release of a barred owl plus live birds-of-prey with Outpost #4 wildlife rehabilitators (@1pm)
•  Exhibition grand opening of Naturelogues (featuring photographers Scott and Denise Hackert-Stoner plus their signature Nature At Your Doorstep program (@2pm)
•  Nature walks (@12pm & 1:30pm)
•  Farm & garden tour (@11:30am & 12:30pm)
•  Bird cams
•  Bird Watch scavenger hunt
•  Nature crafts 
•  Tours of the historic Mabee House
•  Demonstrations
•  Exhibitors
•  Food and drinks

All FREE!

Woods & Waters Day is presented in partnership with ECOS: The Environmental Clearinghouse, Capital Region Living Magazine, and the Schenectady Chapter of the Adirondack Mountain Club. For more info, please contact curator@schenectadyhistorical.org or call 887-5073. Mabee Farm Historic Site is wheelchair accessible, with off-street parking in front of the Franchere Center. Learn more at www.schenectadyhistorical.org/woods
To learn more, click here.
###