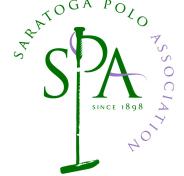 Saratoga Polo Announces News for 2010 Season
Saratoga Springs
, N.Y. - Saratoga Polo opens its 2010 season July 9, launching a full line-up of world-class tournaments and special events. With the first match on historic Whitney Field less than two months away, the Saratoga Polo Association is offering a new membership program for the season, which continues through September 5. "The new memberships offer incredible value," said Jim Rossi, Saratoga Polo's managing partner. "Memberships come with an unlimited individual, family or group clubhouse admission (normally $25 per person) or a reserved tailgate spot on the General Admission side."  Each membership package also includes a Member Bonus Pack, which contains two Clubhouse admission passes, two free cocktail vouchers, and two merchandise coupons for $5 off - a combined $75 value. Membership Packages include:
Individual Memberships with unlimited admission for one adult $250; and Family Memberships with unlimited admission for two adult members $450. Corporate Box Memberships also are available. Adding to the allure of Saratoga Polo are the magnificent acres of polo fields, which serve as a backdrop to an elegant clubhouse and the billowing peaks of a formal white event tent. And to complete the experience, the acclaimed The Lily & the Rose gourmet caterers returns to Saratoga Polo this season. Kim Klopstock's The Lily & the Rose returns to Saratoga Polo's Whitney Fields as the exclusive caterer for the 2010 season. This includes serving tapas and specialty dinners during matches, as well as offering full-service catering for a variety of corporate functions, weddings, showers, birthdays, anniversary parties, charity and other special events. "We are overjoyed that The Lily and the Rose is coming back to polo," said Jim Rossi, Saratoga Polo's Managing Partner. "Kim is known for being an overachiever and creating beautiful dishes. The simple elegance she brings to her food is a perfect fit for the sport of polo."  Klopstock owns The Lify and the Rose as well the restaurant Fifty South, on Route 50 in Ballston Spa, just south of Saratoga Springs. Her clients include Willie Nelson, Tom Petty, The New York City Ballet and many others.
Also New for the 2010 Saratoga Polo Season
New Saratoga Polo ManageR - Pam Mudra, who got her professional start in the polo world working for Hall of Famer Memo Gracida, comes to Saratoga with 15 years of polo management experience, including player coordination, staff management, promotions, field maintenance and polo training. She currently spends her winters managing at Houston Polo Club. Previously, Mudra worked at a variety of other clubs, including Las Calinas, Chicago International Polo Club and Sarasota Polo Academy.
POLO LESSONS TO BE OFFERED - Pam Mudra will offer polo lessons for children and adults, beginning late-June.
Saratoga Polo
matches are played every Wednesday, Friday and Sunday evenings, July 9
th
through Labor Day. Gates open at 4 p.m. and matches start at 5:30 p.m. at the polo grounds at Bloomfield and Denton Roads (weather and field conditions permitting). Admission is $25 per person for entry into the Clubhouse - offering box seats, air-conditioning and a full cash bar.  Or $25 per carload is charged for the more casual general admission lawn, where family and friends gather for tailgate picnics that range from extraordinarily simple to the extravagant. Saratoga Polo, a tradition since 1898, is among the oldest polo clubs in the U.S.  Current owners Jim Rossi and Mike Bucci, who purchased the Polo Club property in 2004, are committed to making polo more accessible, and to increasing interest among a broader audience.
2010 Tournament Schedule
The Spirit of Saratoga Cup 
Friday July 9th - Sunday July 11th
Mid-July Tournament 
Friday July 16th - Sunday July 25th
The WCT Women's Tournament 
Wednesday July 28th - Sunday August 1st
The Whitney Cup  
Friday August 6th - Sunday August 8th
The Ylvisaker Cup 
Friday August 13 - Friday August 15
The Barrantes Cup 
Friday August 20 - Sunday August 29
The Celebrate Saratoga Cup 
Friday September 3rd - Sunday September 5
th
(Scheduled to feature John Walsh from America's Most Wanted)
Additional information is available by calling the Saratoga Polo Association at 518.584.8108 or visiting
http://www.saratogapolo.com/
.
###
Media Contact                                                                                                   
Ruth Fein Wallens                                                                                               518.858.7329
ruth@saratogapolo.com
http://www.saratogapolo.com/