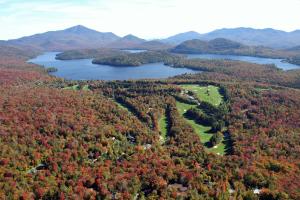 Championship golf at Whiteface Club and Resort with Four Diamond lodging and dining at Mirror Lake Inn
Lake Placid, N.Y. – The long winter is about to end. The months of snow insulation on the golf course will be a thing of the past.
When these happen, the 2019 golf season will be here and an extraordinary stay and play experience will reawaken as the AAA Four Diamond Mirror Lake Inn Resort and Spa and sister property Whiteface Club and Resort collaborate to present the most exceptional upscale golf and lodging combination in the Adirondack Mountains.
Separately, the two luxe offerings, only three miles apart, provide memorable experiences. Together, however, they rival Streamsong, Pebble Beach, Bandon Dunes, Pinehurst, the Broadmoor and Whistling Straits.
The opening tee shots at the Whitefce Club and Resort golf course will occur in early May. After the fall maintenance program was applied, players can expect to find excellent conditions from the first putt of the season.
"Our crew, led by course superintendent Mike Sabatini, is ready to get to work as soon as spring conditions allow," said Mark Sperling, CEO of the Whiteface Companies. "These 18 holes are our pride and joy, and really allow us to display the knowledge and talents of Mike's staff as well as our gardeners and landscapers. We're really looking forward to getting the season underway."
Shortly thereafter, the Whiteface Club-Mirror Lake Inn combination becomes a highly acclaimed reprieve from city heat, reported GolfAdvisor.com. In Upstate New York and Northern New England, the Whiteface Club, according to the online golf bible, is listed first among Cool Summer Golf Destinations, ahead of icons such as The Sagamore, Turning Stone, Stowe Mountain and Taconic Golf Club.
https://www.golfadvisor.com/articles/beat-the-heat-with-these-cool-american-summer-golf-trip-destinations
The par 71 tree-lined layout, featuring tee to green irrigation, also has long been a favorite of regional players and visitors alike. In recent years, it has been ranked fourth in the state among classic courses and among the best overall in New York by Golfweek Magazine.
Reviewers on TripAdvisor have been similarly impressed:
"This is a fun and challenging course to play that is very well maintained. The greens, fairway and rough are all very well-manicured and the flowers that are all throughout the course are amazing. I think one of my favorite parts of this course though was the views. It seemed like just about every hole had a view of the amazing surrounding mountains." – Dane M, Whitefish Bay, Wis.
"Beautiful flowers everywhere! Improves overall experience. Some narrow fairways provide decent challenge. Greens in great shape. Interesting layout (not just back and forth). Fantastic little restaurant/bar for lunch." – Tom J., Savannah, Ga.
From GolfAdvisor.com comes the following:
"A fun round in God's country. Not a long course but a lot of fun and well maintained. I have played all of the courses in the Lake Placid area and this one is my favorite." – Anonymous
For those who have never played this John Van Kleek design, be ready to negotiate several noteworthy and memorable holes on each side.
The Whiteface Club's signature hole, the dogleg left, par 5 sixth, stares at the summit of Whiteface Mountain from the tee and must be played in stages: ideally, a fairway wood that free falls endlessly into the fairway, followed by a left turn and layup to the base of a hill, and then a lofted club from some 100 yards straight uphill to the green.
On the back nine, prepare for Lake Placid's version of Amen Corner – the brutal par 3 fourteenth hole that plays uphill over 200 yards to a three-tiered green with bunkers left and right, and landscaping just beyond the putting surface. Kindly, there is a bailout area to the right. Most pars on the 14th hole are of the pitch and putt variety. Then step up to the par 4 fifteenth hole that also plays long, uphill and turns slightly left into a narrow, two-tiered green.
To make sure you don't leave completely flummoxed, Van Kleek realized that rewards are also part of the game, and that's where the final three holes can soothe one's ego. A short par 4 and a pair of very manageable par fives will have you smiling at the end.
A typical Whiteface Club golf season will extend into mid-October, with appropriate pricing in the spring and fall. Unlike many world class golf destinations, players may either walk or ride at any time of the day or season.
For tee times, please call 518-523-PUTT. When you do, it's likely that long-time PGA Professional J. Peter Martin will answer the phone. Martin, entering his 41st season at the Whiteface Club, leads a staff of gifted instructors and friendly shop attendants. Martin enjoys engaging players in the history of golf in the High Peaks, having authored Adirondack Golf Courses Past and Present, the definitive soft-cover on the game in our region.
When staying in Lake Placid, guests can log on to http://www.mirrorlakeinn.com/packages and find stay and play programs that suit their needs.
The Inn, just a two-minute walk to Lake Placid's Main Street, features 131 units over seven acres, each facing Mirror Lake and the Adirondack High Peaks. Included are three distinct dining options, a world class spa, with salon and fitness room, indoor/outdoor swimming pools and a private beach with complimentary boats. The Mirror Lake Inn has been AAA Four Diamond rated the past 35 years, second longest in the entire state.
The bars at Taste Bistro and The Cottage Café, both part of the Mirror Lake Inn, offer spectacular settings. They are worthy scenes for a 19th hole where players can regale in their day's play, and have no fear of penalty strokes for stretching the truth.
-30-
Contact: Sandy Caligiore, 518-302-3086, sandy@mirrorlakeinn.com