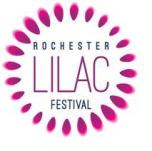 Lilacs expected to be at peak for the festival; enjoy new attractions and big-name musical acts including Rusted Root, Spin Doctors, Marshall Tucker, and Eddie Money
Rochester, N.Y.
- The 1,200 lilac bushes decorating the 22 acres of Highland Park in Rochester, N.Y. will put on a spectacular show May 10-19, exploding with color and fragrance during the Rochester Lilac Festival - showcasing the world's largest collection of lilacs during the largest and oldest festival of its kind. The 115-year-old festival this year has a new name, adding the word Rochester to the title, plus a new logo, new events and attractions, high-profile national music acts, and a new producer, The Springut Group. The Rochester Lilac Festival is a joint venture of Monroe County Parks, City of Rochester, and VisitRochester convention and visitors bureau. More than 500,000 visitors from most every continent are expected to attend the 10-day festival, which is an experience for all your senses - 
See
the magnificent array of colors, people, and arts & crafts;
Smell
the aromatic lilacs;
Hear
entertaining musical acts;
Taste
the variety of foods and treats; and
Touch
a lilac branch as you sniff a fresh bud or walk hand-in-hand along the spectacular park paths.  "The lilacs at this year's Rochester Lilac Festival will be at their peak," said Larry Staub Director of Monroe County Parks. "Visitors are in for a treat with the vibrant colors and rich scents on display." The 155-acre Highland Park was designed by famed landscape architect Frederick Law Olmsted, who also created New York City's Central Park. Guests can enjoy the park's paths and lilacs on foot or via horse-drawn carriage rides, as well as via cell phone tours and a smartphone app.                                
What's new and notable for the Rochester Lilac Fest in 2013?
National Headliners:
National bands headlining the main stage entertainment include The Spin Doctors, Rusted Root, Marshall Tucker, The Smithereens, and Eddie Money ... all free! Local acts include Prime Time Funk, Paradigm Shift, The Skycoasters, and The Campbell Brothers.
Wine & Chocolate Tasting
Three evenings of a Wine & Chocolate Tasting under the big tent, where you can sample more than 150 different local, regional, and national wines from more than 30 wineries - from 4 to 8 p.m. Tuesday through Thursday, May 14-16. Admission is $10 per person per day and includes 15 wine-tasting tickets, a commemorative tasting glass, access to an outdoor tasting garden, live jazz, and wine purchases on site with pick-up service. Rochester winery Casa Larga will be selling its Lilac Hill wine, with label art featuring the 2013 Rochester Lilac Festival poster. Advance tickets for the Wine & Chocolate Tasting are on sale now at lilacfestival.com.
Craft Beer Garden
A Craft Beer Garden will offer more than 20 varieties of eclectic regional and national beers on tap on a rotating schedule of five different beers per day, for sale alongside a variety of beers from Genesee Brewery. The featured breweries are Ithaca, Victory, Long Trail, and Pyramid.
The Parade
The 2013 Rochester Lilac Festival Parade at 10:30 a.m. Saturday, May 11, is anticipated to be the largest and most spectacular Lilac Parade to date, with more than 2,500 participants, including 20 marching bands, dancers, and costumed characters. The parade's grand marshals are West Webster volunteer firefighters Joseph Hofstetter and Theodore Scardino, who bravely survived a tragedy in our community on Christmas Eve.
Kid Power!
Each year a portion of the park is transformed into a mini amusement park during the Lilac Festival. And this year the children's rides and entertainment will feature new mini rides and several bounce houses and inflatable obstacle courses. The kids' stage will offer a variety of acts and is being relocated closer to the rides, in an area now being called "Kid Power!" The children's rides and inflatables require tickets, which are sold on site; the live children's musical concerts are free.
Demonstration Stages
Along the paths, a variety of demonstrations will be taking place, from gardening tips to woodworking.
Art In the Park
More than 130 artists will be exhibiting on the South Avenue Green in this year's juried Arts and Crafts Shows, open 10:30 a.m. to 6 pm. Saturdays and 10:30 a.m. to 5 p.m. Sundays. Artists from more than 10 different states are participating, with art ranging from ceramics and glass to jewelry and metal/sculpture
For more information
For more information and updates on Rochester Lilac Festival 2013, visit
lilacfestival.com
.
Hotel information
Special room rates for the Rochester Lilac Festival are available at The Radisson Hotel Rochester Airport. Room rates for festival guests are $99. For reservations, call (585) 475-1910.
For other events in Rochester,
visit www.visitrochester.com.
ATTN. MEDIA
Photographs and Press Releases
Press releases and high-res photographs from past festivals, logos, and this year's musical acts are online at:
https://www.box.com/s/ktglvuwls7e33rkelr3c
Calendar Listing
Lilac Festival ... the world's largest collection of lilacs coupled with live entertainment, children's amusements, arts and crafts, and wine tastings May 10-19 Highland Park, Rochester, N.Y. (10:30 a.m. to 8:30 p.m. daily) FREE
Media Contact
Claire Wysokowski, VisitRochester (585) 784-0947
clairew@visitrochester.com