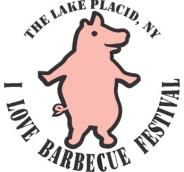 World Champion Pit Master Myron Mixon to compete at I Love BBQ and Music Festival, July 2-4
Lake Placid, N.Y.
 - Three time world champion barbecue pit master and reality television personality Myron Mixon will compete in the 2011 I Love BBQ and Music Festival, July 2-4, on the Olympic Skating Oval in Lake Placid, N.Y. Daily admission is $6 for adults; children under 10 will be admitted free of charge. The event is organized by USA Luge and Marketing Manager Dmitry Feld, who is also Board President of the Thomas Shipman Youth Center, the beneficiary of the festival. Hours of operation will be 11:30 AM - 9 PM July 2-3, and 11:30 AM - 7 PM July 4. The contest, now entering its 6th year, is a Kansas City Barbecue Society-sanctioned event and a New York State Championship. The winner is invited to the American Royal Invitational BBQ Championship in Kansas City and is also placed in a draw for the Jack Daniels World Championship in Lynchburg, Tenn. Mixon, a Georgia native, is one of the most decorated BBQ competitors in the world and is the chief cook of Jack's Old South BBQ Team. An eight-time Memphis In May Team of the Year winner, Mixon has amassed more 180 grand championships, 11 national championships and over 30 state champion titles. Mixon has recently starred in the hit reality show "BBQ Pit Masters" on the TLC Network and also "The Ultimate BBQ Showdown" on CBS. In addition to cooking competitively, Mixon operates Jack's Old South cooking school in Unadilla, Georgia and markets barbecue sauces and rubs along with his signature line of BBQ smokers available at 
http://www.jacksoldsouth.com/
. Myron will be on hand Friday, July 1, from 6-7:30 PM at the Courtyard Marriott, Route 73 in Lake Placid. He will meet and greet the public and also sign his new cookbook "Smokin' with Myron Mixon", which has been recently featured on both Good Morning America and The Today Show. A cooking demo featuring Myron will be held at the BBQ Festival on Saturday, July 2, at 2:00 PM with a meet and greet immediately afterward. Mixon appeared June 11-12 before 125,000 at the Big Apple Barbecue Block Party in Madison Square Park in New York City, and just returned from the Safeway Barbecue Battles June 25-26 on Pennsylvania Avenue in Washington, D.C., approximately 10 blocks from the White House. British chef Peter Sidwell, from England's Lake District, will also be in attendance. Sidwell (
http://www.simplygoodtaste.co.uk/
), starred on The Lakes on a Plate television series which aired on Channel 4 in England and is currently running in Canada and New Zealand. Sidwell is now in pre-production for his second TV series. He is coming specifically to Lake Placid to be a celebrity judge at the event for the I Love BBQ Junior World Championships. Festival patrons can sample the many barbecue delicacies during the weekend. There will be a pulled pork and chicken wing tasting on July 2 from 1-3 PM. A $3 Rib Fest, where the general public can sample the best ribs in the East, will be offered on July 3 from 1-3 PM. It was formerly known as buck-a-rib, and is held in memory of former Festival competitor Mike Grudzinskas. The I Love BBQ Junior World Championships will be held Sunday, July 3, at 12 PM. In addition to medals, the top three teams will receive scholarships to attend Paul Smiths College. Each member of the gold medal crew will get $10,000 to be used over four years. The silver medalists will each pick up $6,000 scholarships, while the bronze medal winners will be awarded $4,000 per member. The music lineup over the three days will include Grammy Award winner Buckwheat Zydeco, Heidi Little, Sven Curth, Lowell Bailey, Stoneground Express, Lucid, Slyde and many others. Other entertainment will come in the form of the Krusher BMX Stunt Team, with its high-energy BMX bike and in-line skating exhibitions, on July 3 at 2 PM, 3 PM and 6 PM. The Krusher Stunt Team will bring 10 tons of equipment and a team of 12 stunt professionals. Festival attendees will be amazed by technical maneuvers on the flat ground and then will see daredevil flying though out the air at the height of 15 feet, performing stunts such as 360 degree turns, tail whips, bar spins and back flips. There will also be a kid's bounce around area and coconut climbing trees. In the previous five years of the event, nearly $90,000 has been raised for the Thomas Shipman Youth Center through the I Love BBQ and Music Festival.   For more information and a complete schedule of activities, please log on to 
http://www.ilbbqf.com/
. 
###
Contact:
Sandy Caligiore, 518-637-3597, 
sandy@usaluge