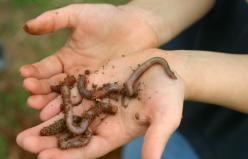 Fact: An Acre of Land Can Contain More Than a Million Earthworms!
On
Saturday, May 23 at 10 a.m.
, slither down to the Hudson Highlands Nature Museum's Outdoor Discovery Center, entrance on Muser Drive, across from 174 Angola Road, Cornwall to learn about
The Wonderful World of Worms!
Join Environmental Educator, Michele Diamanti, to learn about these fascinating creatures including their anatomy, natural history and importance to farming. Participants will observe live worms under a microscope and build a mini worm composter to take home. This program is recommended for adults with or without children, and children ages 5 and older. Cost: $5 per person. Members: $3. For information call 845-534-5506, ext. 204. Visit the museum's website at
http://www.hhnaturemuseum.org/
.
Contact:  
Marian Goldin, Marketing Associate Hudson Highlands Nature Museum 845-534-5506, ext. 215