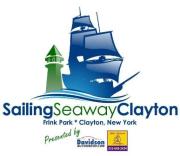 Davidson Auto Group to host group from Fort Drum
Clayton, N.Y.
- Sailing Seaway Clayton presented by Davidson Auto Group and Lake Ontario Realty announced today that soldiers from Fort Drum's Wounded Warriors program will tour tall ship Lynx on June 14, courtesy of Davidson Auto Group. Davidson Auto Group will host soldiers from Fort Drum for a relaxing evening at Frink Park in downtown Clayton. The group of Wounded Warriors will be invited aboard the tall ship Lynx for deck tours at the Thousand Islands Regional Dock. "The Davidson Auto Group is very proud to sponsor the Sailing Seaway Clayton event and in particular hosting the Warriors for an evening of fun and relaxation aboard the Lynx," said Dwight Davidson, owner of the Watertown auto dealership group. "In addition to highlighting the Clayton river community, this event allows us to honor the sacrifices our soldiers have made for us." Jeffrey Woods, Director of Operations, Lynx Educational Foundation said, "We are honored to have the Wounded Warriors from Fort Drum aboard Lynx, better known as 'America's Privateer.' For it is because of their sacrifices and courage that we have our freedom today. Welcome aboard!" "In teaching about the War of 1812, we talk a lot about conflict and armed struggle aboard Lynx, so being able to show our gratitude to those who have seen real action and made true sacrifice in the service of our nation is not only relevant, but a great reward," Lynx Captain Jamie Trost added. Davidson Auto Group is based in Watertown, New York and has been a proud member of the North Country for over 50 years with five locations in Central and Northern New York. Sailing Seaway Clayton presented by Davidson Auto Group and Lake Ontario Realty officially kicks-off on Tuesday, June 14 at 12 Noon with the Grand Arrival of Lynx hosted by The Ship Watcher. Beginning on Wednesday, June 15 and running each day through Monday, June 20 the ship will be open to the public for deck tours and sailing excursions to benefit the Lynx Educational Foundation. Deck tours are a $5.00 donation (children 12 and under are free), while daily 2-hour sailing excursions are only $55.00 per person (seniors and military are $45.00 and children 12 and under are $30.00). Excursions can be booked in advance by visiting
http://www.sailingseawayclayton.com/
or by simply visiting the ship during the week. Sailing excursion space is limited and going fast.
###
Contact:
Michael J. Folsom (315) 374-5273
theshipwatcher@yahoo.com