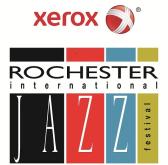 New Club Pass Venue, Little Theatre, Added - 12 Clubs in 2013!
Rochester, N.Y.
- The Xerox Rochester International Jazz Festival's (XRIJF) 12th Edition Club Pass goes on sale this Friday October 26 at 10 a.m. at the special holiday price of $174 plus $6 service charge, a $20 savings off the regular price. The special price is good until 12 midnight December 31, 2012. If passes are still available, the price increases to $194 plus service charge January 1 until sold out. The service charge is $6, $2 if mailed. Club Passes may be purchased exclusively online at rochesterjazz.com, via the Festival's state-of-the-art online E-ticketing system rolled out last year. "We are pleased to announce that we are adding a new venue, The Little Theatre, to the 2013 Club Pass Series. That will add 18 concerts, making the 2013 Club Pass good at 221 Club Pass shows over nine days, 18 more shows than last year," said John Nugent, Artistic Director and Producer. More than half of all Club Passes available last year were sold before the end of December, and the Club Pass sold out February 6, more than a month before the lineup was announced.  The 2013 full festival lineup will be announced in March 2013. The Club Pass is an exceptional value pass, so only a limited number of passes is available for sale. The Club Pass offers a significant savings over individual concert tickets, which will be available at the door for $20 and $25 per show. Individual Club Pass show tickets are not available in advance. Entry to all Club Pass shows is first-come, first-served with the Pass or tickets purchased at the door.
12 Club Pass Series Venues in 2013:
1.     Abilene Bar and Lounge (153 Liberty Pole Way) 2.     Christ Church (141 East Ave) 3.     Harro East Ballroom (155 North Chestnut Street) 4.     Hatch Recital Hall, Eastman East Wing (433 E. Main Street) 5.     Kilbourn Hall, Eastman School of Music (26 Gibbs Street) 6.     Little Theatre (240 East Avenue) 7.     Max of Eastman Place (Gibbs St.) 8.     Montage Grille (50 Chestnut Plaza) 9.     Reformation Lutheran Church (111 North Chestnut Street) 10. Rochester Club Ballroom (120 East Ave) 11. Festival Club Pass Big Tent (Main St. & Gibbs St.) 12. Xerox Auditorium at Xerox Plaza (100 S. Clinton Ave) entrance on Broad Street)
About XRIJF
The Xerox Rochester International Jazz Festival presented by M&T Bank was founded in 2002 and is produced by John Nugent, Artistic Director and Marc Iacona, Executive Director. The 11th Edition 2012 Festival drew more than 185,000 music lovers to hear some of the finest artists in the world perform. Nugent, a noted tenor sax player, has traveled the world with many jazz artists including Tony Bennett, Ella Fitzgerald, Rosemary Clooney, Clark Terry, The Woody Herman Orchestra and The Vanguard Jazz Orchestra. Iacona, a Rochester native, business and community leader, avid trumpeter and supporter of the arts, is President of Simcona Electronics.
###
Media Contacts:
Dalmath Associates Inc. Jean Dalmath / (585) 586-6650 Direct / (585) 755-6911 Mobile
mailto:jean@rochesterjazz.com
Amanda Antinore / (585) 586-6650 Direct / (585) 729-7533 Mobile
mailto:amanda@rochesterjazz.com
Link:
http://www.rochesterjazz.com/