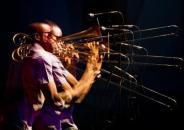 9 Days, 300 Concerts, 1000+ Artists, 18 Venues!
Norah Jones, Diana Krall, Steve Martin, Esperanza Spalding, Daryl Hall, Keb' Mo' & Zappa Plays Zappa to Headline
Rochester N.Y.
-
The 11th edition of the nine-day
Xerox Rochester International Jazz Festival (XRIJF) (
http://www.rochesterjazz.com/
) presented by M&T Bank opens in less than three weeks on June 22! The festival runs through June 30 and will present more than 1000 artists performing at 18 venues and outdoor stages, in 300 concerts, including almost 70 free concerts.  Last year's festival drew more than 182,000. With one of the nation's most extensive international lineups, artists will travel from 14 countries including Canada, Sweden, Denmark, Faroe Islands, Scotland, Ireland, England, Norway, Sierra Leone, Hungary, Cuba, France, Italy and Russia. Norah Jones, Diana Krall, Steve Martin & The Steep Canyon Rangers, Esperanza Spalding, Zappa Plays Zappa, and Daryl Hall "Live From Daryl's House" with special guest Keb' Mo', will headline.Concerts for Krall, Jones and Martin (two shows) are sold out. Tickets for Esperanza Spalding, Daryl Hall and Zappa Plays Zappa are on sale now at
rochesterjazz.com
. The Club Pass series - which includes three international series, Made in the UK, Nordic Jazz Now and Viva Italia - will be held in 12 venues and feature more than 200 shows including Christian McBride, Tom Harrell, Ninety Miles, Terrence Blanchard Quintet, Benny Green Trio, Eliane Elias Trio, Colin Stetson, Roy Haynes, Raul Midon, Catherine Russell, Eldar, Nicholas Payton, Eivor Palsdottir, Liane Carroll, Tessa Souter and Get The Blessing, Brandi Disterheft, Chic Gamine and Gypsophila, international rising stars IPA, Goran Kfajes, Mederic and Mathias Eick. Free outdoor stage concerts will feature Trombone Shorty, Jimmie Vaughan & The Tilt-a-Whirl Band, Gov't Mule with Warren Haynes and the southern rockers Outlaws. "In assembling more than 300 performances for our annual nine-day celebration of creative improvised music, my goal is to harness the power of human expression through music in a calculated fashion, " says John Nugent, Producer and Artistic Director. "The super wave of talent coming will bring our audience to new heights of
aural ecstasy
not yet experienced! It's going to be our best festival yet!" Marc Iacona, Producer and Executive Director, says,  "Rochester will once again be an international focal point of one of America's true art forms. Jazz was developed around the turn of the 20
th
century, and it is reborn every June in Rochester, NY!"

More Festival Highlights
Three concerts will be filmed by WXXI-TV for broadcast nationwide on PBS stations - Terence Blanchard (6/25), Eliane Elias (6/27) and Raul Midon (6/30)
A prime-time special on the festival produced by 13WHAM TV (ABC) will air June 21 at 8 PM EST
What Kind of Jazz Are You? Stop into the Xerox House of Grooves on Jazz Street to find out! In its fourth year as title sponsor, Xerox is working behind the scenes to enhance the attendee experience, from printing passes with state-of-the-art security features to connecting patrons with the music they love via a Find Your Jazz scavenger hunt, free photo opportunity and complimentary listening stations. An augmented reality app will allow attendees to learn more about jazz genres and choose their favorite.
Jazz History Courses and Jazz Discussions: the renowned Eastman School of Music will offer a full schedule of classes during the festival. See schedule at: rochesterjazz.com/php/press_room.php?id=334&option=view_entry
Nine days of free jazz films including a Steve Martin Marathon, the 10th Anniversary WXXI/XRIJF series of shows appearing nationwide on PBS television stations, and free music at the Little Cafe presented by the Little Theatre and WXXI. See schedule at: rochesterjazz.com/php/press_room.php?id=324&option=view_entry
Donate new and used musical instruments and accessories at the Rochester Education Foundation booth in the merchandise tent to benefit city school music students
Jazz Scholarships: the annual XRIJF/ESM jazz scholarship will be presented to an Eastman School of Music (ESM) student on Monday June 25 at a special free concert at Kodak Hall at Eastman Theatre. 7 p.m.
Kids Jam Session: Kids 13-19 can sign up to jam with Eastman School of Music faculty, Saturday June 30, 2-4pm, free and open to the public. Room TBD
Information, Tickets, Parking & Street Closings
XRIJF App for iPhones:  available free from iTunes at http://itunes.apple.com/app/id524715474
XRIJF Mobile Site: m.rochesterjazz.com
Festival Ticket Shop, 100 Gibbs St.: open for headliner tickets and information June 4 - 21, Mon. - Fri. 10 a.m. to 6 p.m.; Sat., 10 a.m. to 5 p.m.; closed Sundays and holidays; June 22-30: open daily 10 a.m. to 11 p.m.
Brochures/Map/ Schedule: available at the Ticket Shop, map and schedule available online at rochesterjazz.com
Club Pass Series: Entry is first-come, first-served with the Club Pass (sold out) or tickets purchased at the door, cash only, for $20/ $25 per show. Club Pass show tickets are not available in advance. 
Headliner Shows: Tickets for Esperanza Spalding, Daryl Hall and Zappa Plays Zappa are on sale now at rochesterjazz.com or at the door if available  
Jam Sessions at the Rochester Plaza Hotel State St. Bar & Grill: free admission, nightly from 10:30 p.m. with The Bob Sneider Trio at the Festival's official hotel, located at 70 State Street. 
Outdoor Stages: free, no tickets required, all shows rain or shine
Street Closings: see rochesterjazz.com/travel for a list of all closings, dates and times
Parking: park once and walk to all venues; for parking locations see rochesterjazz.com/travel
More Info:
Visit
http://www.rochesterjazz.com/
for the full schedule, map, venue information, artist bios & photos.
The Xerox Rochester International Jazz Festival
presented by M&T Bank was founded in 2002 and is produced by John Nugent, Artistic Director and Marc Iacona, Executive Director. Now one of the largest jazz festivals in the U.S., each year the festival presents more than 300 concerts at 18 venues in Rochester's East End Cultural District featuring the finest musicians from all over the world. The 2011 Festival drew more than 182,000 music lovers to hear some of the finest artists in the world perform.
###
(Photo: Trombone Shorty by James Dolan for XRIJF)
Credential Application:
See rochesterjazz.com
Press Room
Media Contacts
Jean Dalmath: 585-586-6650 (direct) / 585-755-6911 (mobile) /
mailto:jean@rochesterjazz.com
Amanda Antinore: 585-586-6650 (direct) / 585-729-7533 (mobile)
mailto:amanda@rochesterjazz.com