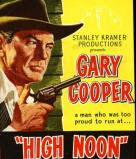 "Tall in the Saddle" series includes Ox-Bow Incident, High Noon, The Gunfighter
Rochester, N.Y.
- Rochester's favorite film expert Jack Garner is the Dryden Theatre's guest programmer in January and February, as he presents a series of Western films titled "Tall in the Saddle." Garner, who considers Westerns "a great American film genre," will introduce each of the screenings at the Dryden Theatre, taking place most Thursday evenings in January and February. In Garner's words: "The Western has been part of American cinema from the beginning," Garner said. "The Great Train Robbery of 1903, arguably the first narrative film, was a Western. Westerns are the most distinctly American of all film, offering stories of expanding frontiers, of Manifest Destiny (or, alternatively, the near-crushing of American Indian cultures). The vast landscapes make a grand canvas on which to tell of an often lawless land, a world of great danger from nature, from gun-toting outlaws, and from American Indians. The iconic nature of the great Westerns, the mythical stories that have evolved, the action in the dusty streets or in sun-and-shadow canyons of the Southwest, are the stuff that continues to attract fans. I've been one all my life. This series offers prestige pictures (High Noon), a great epic (The Big Country), two films that Clint Eastwood once told me were his favorites (The Ox-Bow Incident and Blood on the Moon), and more. A John Ford series may soon be in the offing here, so I've chosen a lesser-known (but still good) Ford Western, Wagon Master, sidestepping the John Wayne classics. All films in this series are essential to an understanding of this great American film genre." Garner retired from Gannett News Service as chief national film critic and continues to write about film and the arts as a columnist with the Democrat and Chronicle. For his writing and community service, Eastman House awarded him the George Eastman Medal of Honor in 2007. The films of "Jack Garner Presents: Tall in the Saddle"
8 p.m. Thursday, Jan. 5       
Ox-Bow Incident (Wellman, US 1943, 75 min., 16mm)
Henry Fonda stars in this Oscar®-nominated Western as a drifter who gets caught up in a town's mob rule as three supposed rustlers are summarily threatened with the noose. Adapted from Walter Van Tilburg Clark's novel, Ox-Bow is stunningly shot by a master of black and white cinematography, Arthur C. Miller, who also filmed The Gunfighter in this series.
8 p.m. Thursday, Jan. 12     
Blood On The Moon (Robert Wise, US 1948, 88 min.)
Film noirs weren't just crime dramas; this is a dark and moody noir Western. Noir legend Robert Mitchum is a gunfighter in the midst of a battle between cattlemen and homesteaders, an oft-seen Western theme (later used to great effect in Shane). Director Wise, only a few years from his apprenticeship as Orson Welles's editor, displays a strong Wellesian influence.
8 p.m. Thursday, Jan. 19              
Wagon Master (John Ford, US 1950, 86 min.)
The greatest Western director creates this sparse but effective story of a wagon train as a gift to players who normally supported John Wayne or Henry Fonda. Harry Carey Jr., Ward Bond, and the great actor and horseman Ben Johnson move to center stage in a tale about a wagon train of Mormons challenged by nature, outlaws, and Navajos. The film inspired TV's Wagon Train, which also starred Bond.
8 p.m. Thursday, Jan. 26              
The Gunfighter (Henry King, US 1950, 85 min.)
Gregory Peck delivers some of his best work as a famed gunfighter on the run. Every town has some punk who wants to challenge him. He can't put his gun-fighting past behind him. Writer William Bowers reportedly got the idea when he saw a stupid braggart try to take on retired boxer Jack Dempsey in his Times Square saloon.
8 p.m. Thursday, Feb. 2
High Noon (Fred Zinnemann, US 1952, 85 min.)
The most iconic and beloved of all Westerns, in which a lawman (Gary Cooper) stands alone against revenge-seeking killers due on the noon train. A ticking clock (and a narrative in "real time") heightens the tension. Cooper won the Oscar®; some say his pained performance was caused as much by a burning ulcer as the superb, lean script.
7 p.m. Thursday, Feb. 9
The Big Country (William Wyler, US 1958, 168 min.)
A year before Ben-Hur, Wyler honed his epic skills on this vast Western, about a fight over water rights between a wealthy rancher and a scruffy brood of neighbors. The cast includes Gregory Peck, Charlton Heston, Oscar®-winning Burl Ives, and Chuck Connors (once a Rochester Royals NBA player). Jerome Moross's soaring score is the best ever in a Western.
8 p.m. Thursday, Feb. 23
The Long Riders (Walter Hill, US 1980, 99 min.)
Hill takes a classic tale - the story of Jesse James - and employs remarkable casting. The story is of brothers: the Jameses, the Youngers, the Fords, and the Millers. Hill hires real brothers - the Keaches, the Carradines, the Guests, and the Quaids. No gimmick; it's inspired genius. Add Ry Cooder's memorable score, and you've got something special.    Admission is regular Dryden pricing for each screening: $8 general/$6 students and members. For more information, please call (585) 271-3361 or visit dryden.eastmanhouse.org.
# # #
Media Contact
: Dresden Engle
dengle@geh.org
(585) 271.3361 ext. 213