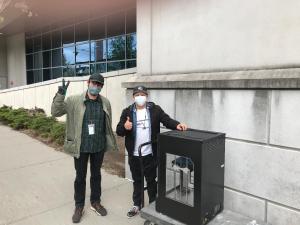 Yonkers, NY — When Yonkers Public Library (YPL) closed all three locations on Saturday, March 14th for what has now become the longest closure in its 137-year history, administrators knew the closure would require a drastic departure from core library service. "The public library is the community's most democratic gathering place," says YPL Director Jesse Montero "Our print and media collections are still our most utilized service."
Libraries have already undertaken many innovations this century, and the COVID-19 pandemic requires that they reinvent themselves once again. In less than a week, YPL launched its first virtual program - a Facebook live art therapy workshop followed by Zumba. Within a month, YPL is offering more than 30 programs each week, ranging from Children's Storytimes to Technology classes to social events for seniors.
Libraries are more than their buildings. YPL's staff provides friendly service and reliable information to all members of the community. By late March, staff from YPL's three locations began offering phone services from 10 am-4 pm, Monday-Saturday, to assist with patron accounts, and provide reference and referral services. YPL answers questions through info@ypl.org and techhelp@ypl.org. Since launching these services they've answered over 1,700 calls. 
The Librarians at YPL also established a dial-in service (914-639-5014) where callers can access the Story of the Day (in English or Spanish) and Poem of the Day. They've also launched a blog that provides vital information and updates on everything from unemployment insurance to small business assistance to census updates.
While print collections still constitute the majority of YPL's circulation, eBooks have become increasingly popular. YPL cardholders have access to more than 57,000 eBook and audiobooks (with more than 107,000 available "copies") in the library's digital collections. Since closing, digital circulation has gone up 60% from last year. YPL also offers patrons free access to online subscription services like lynda.com (video tutorials to develop business, design, and software skills), tutor.com (homework help), Gale Courses (free distance learning), and Kanopy (streaming video specializing in documentaries, foreign films, children's entertainment, and classics, including the Criterion Collection). 
While YPL buildings are closed, the library has loaned equipment and materials to organizations across the City to assist in efforts to provide essential services. Many healthcare facilities are low on personal protective equipment. On April 10th, YPL donated their Z18 3-D printer to City Council President Mike Khader's office. The printer was transferred to St. Joseph's Medical Center to fabricate PPE. St. John's Riverside Hospital's Dr, Stephen Erosa has successfully made over 100 personal protective face masks for healthcare workers using two of YPL's MakerBot 3D printers.
Yonkers City Council President, Mike Khader is a lifelong Yonkers native who watched the library system firsthand and all of its transitions, "As our City continues to change and evolve, Yonkers Public Library has maintained adaptability to the new transitions and diversity. Libraries are no longer just a place to borrow a book, they provide many social and community programs and opportunities. Amazingly, more recently YPL played a vital role with my office in helping to create PPE by loaning their 3-D printers to help create masks at St Joseph's hospital. The general public doesn't realize all the library has."
"We are so proud to be part of the movement to help out our medical community by lending out our 3D printers and donating filament. It's times like these that warm your heart when you see people, strangers, working together to achieve a common goal. I didn't know the name Dr. Stephen Erosa until last week but now he will forever be a partner to Yonkers Public Library," says YPL Technology Coordinator Christine Bitetti. The Riverfront Library's Tech Central opened on May 4, 2016, and continues to grow with the evolution of technology.
YPL is also loaning laptops to Yonkers City employees to help facilitate work-from-home. YPL continues to lend books to each of the Yonkers Public Schools (YPS) Grab and Go sites.
"Despite the challenges that come with a place-based organization remaining closed, YPL has worked hard to be accessible and relevant," says YPL Director Mr. Montero, "Yonkers can be proud of its home library." Remarkably, since closing the library doors YPL has issued nearly 200 new library cards to Yonkers residents.
About The Yonkers Public Library
The Yonkers Public Library is the largest library in Westchester County and was established in 1893 to serve the citizens of the City of Yonkers. There are currently three branches; Riverfront Library, our main branch, in downtown Yonkers, the Grinton I. Will Branch on Central Avenue and the Crestwood Branch in the Crestwood section of the city. Our mission is to change lives every date. Our expert, trusted staff help all the people of Yonkers find the information they need, the programs they enjoy, and the reading they love. In 2018, the library had over 825,000 visitors, checked out 795,000 items, held 7,200 programs for adults, teens and youth and answered 364,479 reference questions. For more information about the Yonkers Public Library, visit www.ypl.org.
###
Photo: YPL Director Jesse Montero with Hector Santiago transferring the Z18 3D printer to St. Jospeh's Medical Center