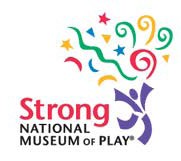 Rochester, N.Y.
  - Sound the royal trumpets! The Queen of Play requests your presence at the Royal Ball at Strong National Museum of Play on Saturday, April 10 from 11 a.m. to 4 p.m. and Sunday, April 11 from 1 to 4 p.m. Come dressed in your most regal attire and meet Her Majesty "in person" when Strong is transformed into a royal court with live music, pageantry, and courtly dancing. Complete a quest and get knighted by the queen, enjoy a "feast" at the royal banquet table, and get a special gift from The Fairy Godmother when you visit her to make a wish.  Nonesuch Early Music Ensemble invites you to enjoy sprightly dance tunes and soaring melodies. Ensemble performers include Mitzie Collins on hammered dulcimer and percussion instruments; John Heyer on the hurdy-gurdy, hammered dulcimer, and recorders; and Roxanne Ziegler on Celtic harp and small percussion instruments. Twelve-year-old Aviella Winder, who has been performing in professional theater and in TV commercials since age five, will regale you with enchanting songs on Saturday and Sunday at 2 p.m. If you don't have royal garb, don't worry! You can create your own majestic attire and adornments, including crowns, scepters, shields, and family crests. You are also invited to strengthen your eye-hand coordination in Nerf -archery? in Sherwood Forest or tend to the dragons and unicorns at the Folkmanis puppet corner. Be a knight or a princess when you step into the
LEGO® Castle Adventure
exhibit, on view at Strong only through May 9. See the king's treasures, visit the friendly LEGO dragon, and build a castle of your own. All Royal Ball activities are included with general museum admission fees.
###
Contact
: Susan Trien (585) 410-6359
strien@museumofplay.org