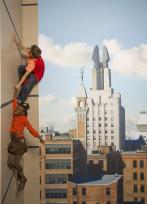 Rochester, NY
– Look up in the sky! It's a bird. It's a plane. It's . . .American Comic Book Heroes: The Battle of Good vs. Evil, a hands-on exhibit flying into Strong National Museum of Play on October 17, 2009. Produced by Strong, the original exhibit covers seven decades of amazing characters who have struggled mightily against evil in the comic-book cosmos while inspiring kids' imaginations and play. Gigantic, life-size statues of Superman™ (aka Clark Kent, who has battled for Truth, Justice, and the American Way since 1938) and Spider-Man™ (aka Peter Parker, given super powers by a radioactive spider-bite), protect the exhibit entrance. Life-size figures of Batman™, Iron Man™ and The Incredible Hulk are also on display. (You're invited to meet and pose for pictures with Marvel Comics' official Spider-Man during the Opening Weekend Celebration, October 17 and 18.) Grownups and older kids will enjoy a journey through the golden age of comic books. Hear early radio comic-book-hero broadcasts; see famous superheroes of television, film, and video games; and enjoy rare, original 1940s radio scripts and early comic book art. Joe Simon, the legendary 96-year-old comic-book writer, editor, artist, and cocreator of the famous Captain America superhero, drew a special cartoon of Captain America especially for this exhibit (Simon, who now lives in New York City, is a former Rochester native and graduate of Benjamin Franklin High School ). Also on view are superhero-inspired posters, toys, action figures, and more. Everyone becomes a superhero when they attend Super Powers School. Step into a mirrored booth and change your identity with capes and costumes and visit these interactive stations to acquire super powers:
Super Strength
: Step into the laboratory to absorb the ?gamma rays that will give you surprising powers of strength, enabling you to pick up a massively heavy object.
Super Memory
: Observe a series of flashing lights and train your brain to repeat back the correct sequences.
Super Balance
: Walk across a steel beam high above the city and look down upon dizzying heights and spectacular views.
Super Flight
: Hold on tight as you maneuver through an aerial course.
Super Reflexes
: Play Whack A Foe! and sharpen your reaction times. Don't miss your chance to capture a super smile! Have a photo of your face superimposed onto a flying superhero, appear in a video, and create a postcard that you can email to friends and relatives. Or have your picture taken as you climb up the Rochester skyline and show your friends and family what a super time you are having. Plus, play a superhero video arcade game and LEGO Batman for Wii; create your own stories with miniature figures at the super-hero play table; and join in the guessing game, "Superheroes or Not?" American Comic Book Heroes: The Battle of Good vs. Evil is included with general museum admission fees. The exhibit is made possible in part by Greater Rochester Health Foundation through its Be A Healthy Hero campaign. For photos to go with this story, click
here
.
About the Strong National Museum of Play
Strong National Museum of Play®, located in downtown Rochester, New York, is the only museum in the world devoted solely to the study of play as it illuminates American culture. Museum Hours: Monday–Thursday, 10:00 a.m. to 5:00 p.m.; Friday and Saturday, 10:00 a.m. to 8:00 p.m.; Sunday, 12:00 noon to 5:00 p.m.
Admission Fees
:
General Admission
(does not include admission to Dancing Wings Butterfly Garden®): Adults $10.00; Seniors $9.00; Children (2–15) $8.00; Children younger than two free; Strong members free.
Admission to Dancing Wings Butterfly Garden®
: General Admission fee plus $1.50 for members, $3.00 for nonmembers; Children under 2 free. Entry is by timed ticket only. Please call 585-263-2700 to reserve and purchase tickets.
Parking
: Free parking is available at the museum for all guests on a first-come, first-served basis. Please note that, on high visitation days, the museum lot may reach capacity early in the day. If space is not available on site at the time of your visit, you will be directed to additional parking at neighboring municipal garages (fees may apply).
Contact
: Susan Trien 585-410-6359
strien@museumofplay.org