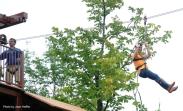 Howes Cave, N.Y.
- One of the oldest attractions in the Northeast,
Howe Caverns
,  held the Grand Opening Aug. 4 for  the first in a series of new attractions coming to its Schoharie County home. New Zip Lines and a Ropes Course, part of the new
Howe High Adventure
, are the first of the new additions planned for the 400-acre Howe Caverns Estate. John Lemery, President of Howe Caves Development LLC that is overseeing the new features, welcomed guests to the Grand Opening. "Today's opening," Mr. Lemery said, "marks the first phase of expansion here at Howe Caverns.  It allows visitors to enjoy more than the cave, to explore new adventures and to spend more time in Schoharie County." Robert Holt, General Manager of Howe Caverns, Inc., said: "For more than 80 years, Howe Caverns has been the home to fun and exploration. The new Zip Lines and Ropes Course add to that spirit." Also attending were U.S. Congressman Paul D. Tonko, New York State Sen. James Seward and Assemblyman Peter Lopez. Officials from Schoharie County included Harold Vroman, Chairman of the Schoharie County Board of Supervisors, and Tom Murray, Cobleskill Town Supervisor. F. Michael Tucker, President of the Center for Economic Growth in Albany, also was at the ceremony. Taking an inaugural ride on the Zip Lines was Brent Ridge, co-owner of Beekman 1802 in Sharon Springs and co-host of the popular television series
, The Fabulous Beekman Boys
,
on Planet Green. The Ropes Course was the scene of a media challenge with guests from radio, television, newspapers and blogs, in both the Capital Region and Utica. Another recent addition above the earth is a pre-tour show featuring discoverer Lester Howe in animatronic form.  Using he most sophisticated robotic animation in the northeast, Lester regales visitors with stories of the great wonder that bears his name. Designed by themed entertainment designer and world-leading animatronics creator Garner Holt Productions, Inc. of San Bernardino, CA, the pre-tour experience showcases techniques more often found in places like Disney World. 
ABOUT HOWE HIGH ADVENTURE
Howe Caves Development LLC launches the first phase of new attractions coming to the 400-acre Howe Caverns Estate. Called Howe High Adventure, new attractions in 2011 include a 250-seat picnic pavilion, now under construction.  A new, 6,000-square-foot building for the Howe Caverns Mining Company is scheduled to open in 2012. The building will house mining for gemstones fossils and arrowheads; a rock shop; and a Patty Tobin Fine Jewelry Boutique. Additional phases in the planning stages include the development of Howe Dinosaur Canyon, complete with animatronic dinosaurs and featuring a huge Tyrannosaurus Rex.
ABOUT HOWE CAVERNS
Howe Caverns is the largest cave open to the public in the Northeast and welcomes close to 170,000 guests each year. Howe Caverns is located midway between Albany and Cooperstown, off Exit 22 of I-88. Open daily, except Thanksgiving and Christmas days when it is closed, Howe Caverns' winter hours are from 9 a.m. to 5 p.m. from November 1 through March 31. Summer hours are from 9 a.m. to 6 pm from April 1 through October 31.  For additional information, call
518-296-8900
, or visit
http://www.howecaverns.com/
.
###
Photos Available at this Link: 
https://www.yousendit.com/sharedFolder?phi_action=app/orchestrateSharedFolder&id=zNr2A-UHhHkw7rLSUjlK8Esny0VpQBRLf2gUbKGRG8I
MEDIA CONTACT:
Kathy Condon PH:
518-436-1103
CELL:
518-441-0259
condonkathy@gmail.com