Shop for I Love New York Merchandise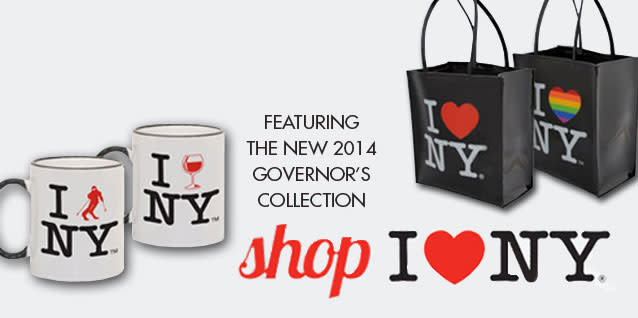 Shop I LOVE NY reflects the many reasons and affinities people have with New York State and highlights the many great ways to love New York.
Inside Shop I LOVE NY, you'll find The Collection that includes the classic I LOVE NY, I LOVE NY LGBTQ logo and limited edition merchandise featuring variations of the I LOVE NY logo that are meant to be proudly worn and shared around the globe. The variations represent loved New York State recreational activities and attractions, including biking, camping, golfing, fishing, horse racing and equestrian riding, motorcycling, sailing, skiing, theater and wine tasting in New York State. Shipped with each Collection item will be statistics and insightful "Did You Know" fun facts, highlighting the state's featured tourism asset.
Through a special licensing arrangement with the NFL and the Buffalo Bills, The Collection will also have t-shirts featuring a "I Buffalo NY" mark, using the vintage 1962 Buffalo Bills logo, to promote the growing tourism to the Buffalo area. Buffalo is the second largest city in New York State and full of exciting things to do. This co-branded mark resonates with Bills fans all over the country and world.


Click HERE to go to shopiloveny.com
The iconic I Love NY mark is owned solely by the State of New York to promote its 11 vacation regions. All usages of the classic, LGBTQ and Collection logos must receive licensing privileges and prior consent. The I LOVE NY mark is a registered trademark of the New York State Department of Economic Development. All uses must be with permission.