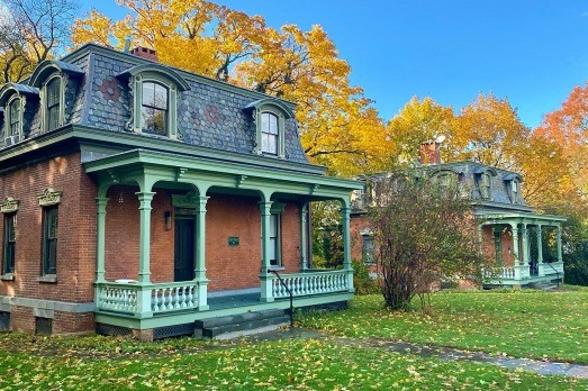 October 8-10 marks Path Through History Weekend in New York State, a chance to celebrate the rich and vibrant past from the banks of Lake George to the south shore of Long Island. Below, we've selected a series of can't-miss events ranging from cider making to guided tours of everything from cemeteries to canals. Check out the Path Through History event site for all of the historical and educational attractions hosting something special over the weekend!
Masks are encouraged, but optional in most settings per New York State guidelines. Individual businesses or attractions may require mask wearing. Call ahead and check websites and social media to make sure attractions and amenities are open and available.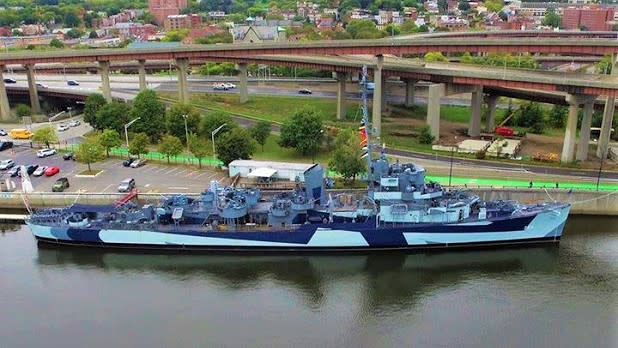 Walk the decks of this floating museum, located on the Albany waterfront, to experience the daily lives of the sailors who once lived and served aboard the USS Slater during World War II. The USS Slater, a destroyer escort launched in 1944, saw service in both the Atlantic and Pacific oceans, and today is the sole floating survivor of 563 sister ships. One-hour guided tours will take you back in time to WWII as you explore the galley, mess hall, crew quarters, private Captain's quarters, and more throughout the ship's three levels. Albany, October 8-10 from 10am-4pm,; $10 for adults, $9 for veterans and seniors, $8 for children 6-17, children under 5 are free

Credit: Getty Images
Want to experience glorious fall foliage along with a history lesson? At Lake George Battlefield Park, you'll not only be treated to the magnificent autumn splendor but also learn the significant role this area played during two major 18th century conflicts. This Path Through History Weekend, free guided tours will take you to the scene of the Battle of Lake George that took place in 1755, the ruins of Fort George, and the site of Continental Army's largest smallpox hospital. The park is also the final resting place of four unknown soldiers killed during the Battle of Lake George and home to poignant memorials to Native Americans, St. Isaac Jogues, Sir William Johnson, and King Hendrick. Lake George, October 8 from 11am to 12pm, October 9 from 1pm to 2pm; Free

Instagram: @chasing_ny on Instagram
This Path Through History Weekend, in honor of Indigenous Peoples Day, visitors to the Roberson Museum and Science Center will have the rare opportunity to take a guided tour of the exhibit Haudenosaunee: People of the Longhouse. The exhibit tells the story of the Haudenosaunee Confederacy and the contributions its people have made to art, science, and history. Visitors are welcome to walk through a partial model of a longhouse, grind corn, and weave a basket as they learn the ways and traditions of the Haudenosaunee. Binghamton, October 8 from 12pm to 5pm; $8 for non-members, free for members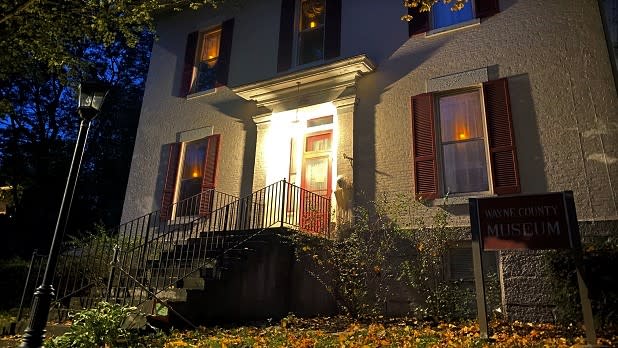 Join the Museum of Wayne County, once home to a jail and sheriff's residence, for some history and haunts as you embark on a unique tour that starts out at the county's former courthouse before coming to an eerie end in the old cell blocks, where artwork made by inmates still cover the walls. Your skin is sure to crawl as you tour the cells after dark and learn the stories of the inmates. Lyons, October 7 and 8 from 7pm to 8:30pm; $10/Adults and $5/Kids under 12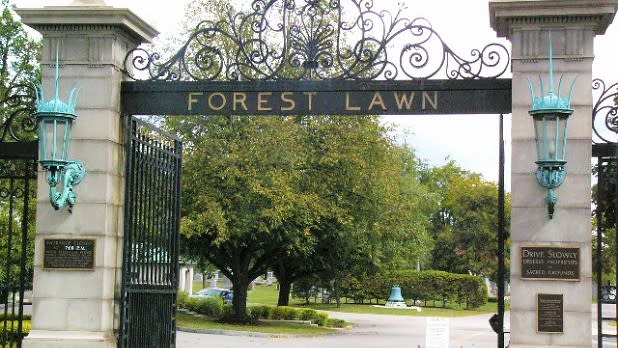 Forest Lawn Cemetery is not only the final resting place for some of New York State's most historic figures, from former US President Millard Fillmore to pioneering US Congresswoman Shirley Chisholm, but it's also Buffalo-Niagara's largest arboretum. The cemetery's 269-acres are filled with hills, valleys, lakes and streams, and abundant wildlife. On its famed Sunday walking tour, you'll learn about the cemetery's distinguished residents while encountering beautiful art and architecture, including the Frank Lloyd Wright-designed Blue Sky Mausoleum, as you explore the historic and beautifully landscaped grounds. Buffalo, October 9 from 2pm to 4pm; $15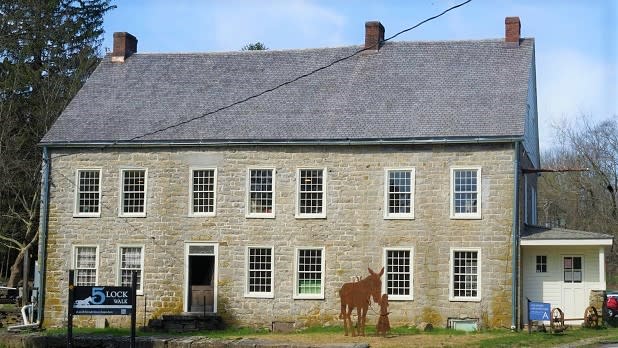 Now in its new home at the stunning 1797 stone DePuy Tavern building, the D&H Canal Museum is ready to take you on a historical journey highlighting the importance of the Delaware & Hudson Canal. On the Five Locks Walk you'll follow the canal towpath once traveled by "hoggees" as they guided the mules that pulled boats in the water. You'll also see the stonework remains of the locks that would lower boats more than 70 feet and learn the stories of the immigrants who built and operated this critical waterway that moved coal between New York and Pennsylvania. High Falls, October 9 from 2pm to 4pm; Free

Photo courtesy of Sagtikos Manor
The 42-room Sagtikos Manor, which once served as the Long Island headquarters for the British Army during the Revolutionary War and even hosted President George Washington for a night in 1790, will honor its 300-year history at its Fall Festival. Learn about the strange funerary practices of the Victorian era as you join the procession of a mock funeral for one of the members of the Thomas-Gardiner family, who resided in the manor for over 200 years. Colonial demonstrators and Revolutionary War reenactments will also be part of the days' activities to give you a glimpse into the past. Bay Shore, October 9 from 10am to 4pm; $10 adults, $5 children (6-14), under 5 free
Once a thriving community for retired sailors, Snug Harbor now bears a collection of historic buildings showing off Greek Revival, Beaux Arts, Victorian, and other classic architectural styles. In fact, five buildings plus the chapel were the first structures to be granted landmark status by New York City. On this grand historical tour, you'll not only see the past but also learn about the master plan for the future of this sprawling 19th century campus that's also filled with botanical gardens, wetlands, museums, and more! Staten Island, October 8 from 1pm to 2:30pm; $10

Courtesy of the Time And The Valleys Museum
Before pumpkin spice lattes came on the scene, cider reigned supreme as the official drink of fall. Though you'll find plenty of cideries serving up this beloved beverage, the Time and the Valleys Museum is preserving and teaching the old ways. Experience old time cider making with a hand cider press and learn the long history of this fruity drink that many early settlers in America believed could aid and prevent illness and lead to a long life! Grahamsville, October 9 from 1pm to 3pm; Members: Free, non-members: $5

Courtesy of the Fenton History Center
Dig into the past at Jamestown's historic Lake View Cemetery during the Fenton History Center's annual Saints and Sinners Walking Tour. As you stroll through the 150-acre burial ground, you'll encounter costumed actors who bring to life the stories of some of the cemetery's more than 45,000 inhabitants. You may even come across some big names, like Jamestown's native daughter, Lucille Ball. See even more Sunday, October 9 during the Mausoleum and More tour, which includes light refreshments with the $20 ticket price. Jamestown, October 8 from 8am to 6pm; Pre-Sale tickets $15 for non-members, $2 for youth, and $10 for Fenton History Center members. Tickets at gate $17 for non-members, $15 for members.
Boldt Castle (Thousand Islands-Seaway)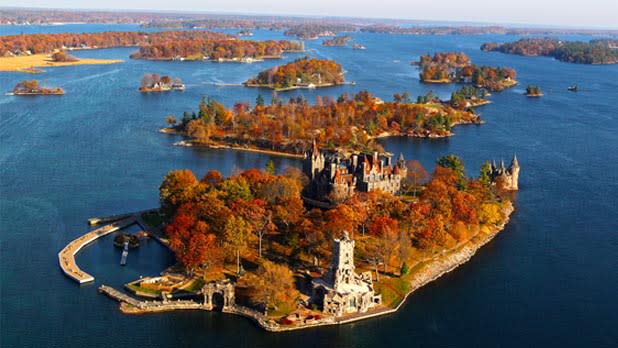 Go on a fairytale adventure to the grandiose Boldt Castle, fittingly situated on Heart Island in the picturesque St. Lawrence River. Learn the romantic yet tragic history of this 120-room Rhineland-style castle, which was commissioned by turn-of-the-20th century hotel magnate George Boldt in tribute to his beloved wife. This is the last weekend to visit this magnificent marvel before it closes for the season. Don't miss your chance to sail to the island with Uncle Sam Boat Tours and Clayton Island Tours. Prices vary by tour
---
Don't forget to post photos of your New York adventures on Instagram and Twitter with #iSpyNY and tag us on Facebook!