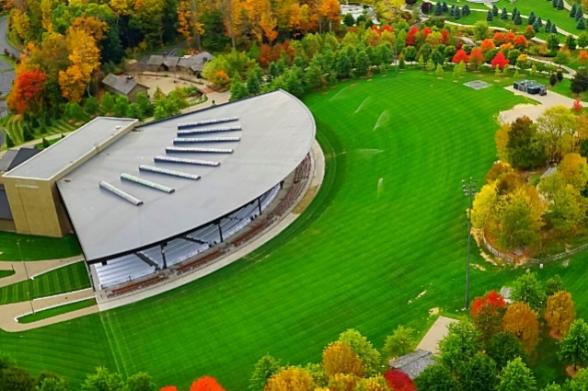 New York State is home to many world-renowned museums, cultural institutions, zoos, and more. Due to coronavirus restrictions, some of these incredible attractions are temporarily closed, but many can still be explored online from the comfort of your own home. Below is a list of New York State's best online events, virtual tours, webcams, and livestreams. This list will be updated regularly, so check back when you need inspiration, whether it's taking a 360-degree tour of the Baseball Hall of Fame, visiting a cuddly animal on a zoo livecam, browsing a world-class art collection, or practicing deep breathing in a livestream yoga class. (Events are noted with dates in bold.) You can also find exciting virtual reality and 360-degree videos on the I LOVE NY app. 
Updated 9/15/2020
I LOVE NY Live From New York Series
Recent Live From New York on Instagram events have included a live comedy showcase with the National Comedy Center, a cooking demonstration with New York Kitchen, and craft brewing tips with The Randolph from Brooklyn. You can watch a replay of a presentation, "Stories About The Stuff," from the Strong National Museum of Play, on the I LOVE NY Facebook and Instagram pages. Chef Jeffory's cooking demo from New York Kitchen is also available on the I LOVE NY Facebook and Instagram pages. Stay tuned for our next events, coming soon, and follow @iloveny on Instagram for updates.
Art & Culture:
Adirondack Lakes Center for the Arts: The ALCA-Seltzer Series: Online Relief from the Headaches of Social Distancing! These "doses" of online workshops (Seltzer Workshops), short videos (Seltzer Shorts), and livestreams (Seltzer Streams) are designed to help the Arts Center stay connected with our communities, both near and far! They include songs, theatre, studio tours, workshops, concerts, and more. (Adirondacks)
Hyde Collection: Current exhibits available online. You can also join the Hyde's new Facebook group created to provide support, activities, and share resources. (Adirondacks)
Adirondack Trust Co. Festival of Young Artists: Saratoga Performing Arts Center's Festival of Young Artists has moved to the digital realm with an experiential online gallery for all to enjoy. Celebrating the performances, artwork, and writings of student artists from the Adirondack, Saratoga, and Capital Regions of New York State​. (Capital-Saratoga)
Albany Center Gallery: Explore the Gallery from home with 360-degree tours of previous exhibits available on their website. (Capital-Saratoga)
Bethel Woods Center for the Arts: View the virtual gallery "Captured at a Distance," an exhibit created by teen participants in the Center's Project: Identity Photography program. "Captured at a Distance" offers a glimpse into the lives of students before and during social distancing practices and stay-at-home mandates. View the virtual gallery. (Catskills)
Opus 40: Online arts, culture, and education experiences from the Catskills outdoor sculpture park. (Catskills)
Thomas Cole Historic Site: Video lectures and virtual tours. (Catskills)
Anthony Brunelli Fine Arts: Virtual art at the HERSTORY exhibit. (Central New York)
Fenimore Art Museum: Check out several virtual experiences including glimpses of new exhibitions, collections programs, and more. (Central New York)
Munson-Williams-Proctor Arts Institute: Online version of the permanent collection. (Central New York)
Griffis Sculpture Park: Drone footage of the outdoor sculpture park. (Chautauqua-Allegheny)
George Eastman Museum: In addition to the online collections, browse the recently launched online project that provides access to a selection of digitized films from the museum's moving image collection. To date, the museum has released 23 digitized films, including groundbreaking documentaries by Leo Hurwitz, a group of 13 rare screen tests from the David O. Selznick Collection (among them a screen test of the recently deceased Hollywood legend Olivia de Havilland for her signature role of Melanie in Gone with the Wind), and a Rochester-based film about Eastman Kodak Company. Free access is available at eastman.org/digitizedfilms. (Finger Lakes)
Gourdlandia: Gourdlandia's artist, Graham Ottoson is featured in a new "show and tell" video demonstrating the gourds of all shapes and sizes she transforms into instruments, lamps, clocks, and other décor items. (Finger Lakes)
Johnson Museum of Art: View and search the collection with the eMuseum database. (Finger Lakes)
Memorial Art Gallery—The Sculpture Park @ MAG: Explore the collections online. (Finger Lakes)
Tioga Arts Council: Stay connected with Tioga Arts Council from home. View current exhibitions online, explore ways to stay "Creative in Quarantine" and find art activities for the whole family. (Finger Lakes)
Albright-Knox Art Gallery: Explore the collection, which is easily navigable by art movement—including pop art and abstract expressionism—or timeline, with artists including Picasso, Cézanne, Rodin, Matisse, Gaugin, and Kahlo. (Greater Niagara)
Burchfield Penney Art Center: Digital collection. (Greater Niagara)
Art Omi Sculpture and Architecture Park: Art Omi's Curatorial Conversations. Watch previously recorded Zoom conversations of curators exploring and discussing current and past works from the sculpture park and arts organization. Also, browse all of Art Omi's current and past exhibitions online at its website. Visitors will find thousands of photos of outdoor installations in the Sculpture & Architecture Park in all four seasons, as well as documentation of gallery exhibitions. New: Check out a virtual reality tour of the park. And take an audio tour of Art Omi, available through the GeoTourist app. (Hudson Valley)
Dia: Beacon Watch & Listen: Video and audio talks between artists (Hudson Valley)
Edward Hopper House: Browse photos of current exhibitions online. (Hudson Valley)
Garner Arts Center: #GarnerAtHome with Virtual Art Classes every Wednesday at 5:30 pm or access all past classes on Facebook. Plus, explore the virtual gallery anytime. (Hudson Valley)
Maggazino Italian Art: Move through the exhibits by clicking on either of the pictures, then scrolling through the images of the collections using the left- and right-oriented arrows. Note that this is not a 360-degree tour. (Hudson Valley)
Poughkeepsie Open Studios is typically an opportunity to interact personally with artists who live, work, or teach in the area. While it's a little different this year, you'll still have the opportunity to virtually learn about local artists' creative processes, and the types of media they employ. Start your virtual tour and be introduced to more than 60 local artists. (Hudson Valley)
Richard B. Fisher Center for the Performing Arts at Bard College: The Fisher Center's Virtual Stage, Archival Discoveries, and New Commissions for the Digital Sphere. Each Wednesday UPSTREAMING will release new content, including digital commissions and beloved performances from our archives. These programs reflect the Fisher Center's mission to engage artists and audiences in the development and examination of artistic ideas, offering perspectives from the past and present, as well as visions of the future. (Hudson Valley)
Rockland Center for the Arts: Virtually step inside artist studios, take a class, or try out meditation while coloring. Prices vary. (Hudson Valley)
Storm King Art Center: Storm King's site is reopened with new protocols, but you can still explore the permanent collection online, discover hidden treasures in the archives, and view the Oral History Program, all from home. (Hudson Valley)
Wassaic Project's 2020 Summer Exhibition: The show, "Now, more than ever," is available virtually. It features 161 works by 67 artists, laid out in a way that mimics the physical spaces in and around Maxon Mills—the historic, seven-floor grain mill out of which they host all of their exhibitions. (Hudson Valley)
Heckscher Museum of Art: Bringing the Museum to You- Heckscher at Home offers an online Collection Database and Exhibitions as well as Kids Art Activities and more. (Long Island)
Parrish Art Museum: Online artist stories, podcasts, videos, and more. (Long Island)
Metropolitan Museum of Art: Immersive 360-degree videos of The Metropolitan Museum of Art's locations, including The Met Cloisters, The Met Breuer, and the Fifth Avenue museum's Temple of Dendur and arms and armor galleries. (New York City)
The Studio Museum in Harlem: Discover thousands of artworks from the collection of The Studio Museum in Harlem, a home for artists of African descent and work inspired and influenced by black culture. (NYC)
Frederic Remington Art Museum: View collections and exhibits online. (Thousand Islands-Seaway)
Family-Friendly/Education:
2020 Virtual Great New York State Fair- Enjoy the Great New York State Fair right at home this year with virtual contests and activities from the Fair and its partners. Livestream the Fair's annual Butter Sculpture reveal, virtually visit farms, and witness live dairy cow births, and if you're near the Fairgrounds, enjoy drive-thru fair food through Labor Day! (Finger Lakes)
New York Department of Environmental Conservation, Hudson River: Download lesson plans, booklets, workshops, and more while taking a virtual journey down the river. (Various Regions)
Hyde Collection: Weekly children's programming including artful afternoons and tours for tots available on the collection's YouTube channel. (Adirondacks)
The Wild Center: 360-degree virtual tour. Plus, special online events, talks, games, and more on the Wild Center's digital site. (Adirondacks)
Albany Institute of History & Art: STEAM lesson plans and more. (Capital-Saratoga)
Children's Museum at Saratoga: Virtual storytime and activities. (Capital-Saratoga)
MiSci Museum of Innovation & Science: Catch MiSci on the Move, new educational videos featuring miSci educators, and more on YouTube. (Capital-Saratoga)
SPAC: The Saratoga Performing Arts Center has family-friendly activities available, including dance classes for kids 5 and up (and adults), printable coloring pages and puzzles, and more. (Capital-Saratoga)
The Tang Teaching Museum: Art-making activities you can do at home, including downloadable art projects and coloring pages inspired by Tang exhibitions and Tang collections. (Capital-Saratoga)
Emerson Resort & Spa: Take the Emerson Resort & Spa's online Scavenger Hunt for a chance to win an Emerson kaleidoscope! (Catskills)
Hanford Mills Museum: Wednesdays at 11 am, HMM Education Coordinator Luke Murphy presents "What I Learned Wednesdays" with interactive demonstrations on the museum's Facebook page. Topics include water power, simple machines, and other STEAM explorations. (Catskills)
Oneida County Coloring Pages: Get out the crayons and markers and color in pages featuring Central New York attractions like the Utica Zoo, Erie Canal, and more! (Central New York)
Roberson Museum & Science Center: Online versions of planetarium programs, virtual tours, programming, and more. Also, the museum's Facebook page and other social media pages feature virtual tours every Tuesday. (Central New York)
Allegany State Park: Follow on Facebook for nature-based learning, activities, crafts, and videos. (Chautauqua-Allegheny)
Chautauqua Institution: The Chautauqua Institution's usual summer programming has moved online with the CHQ Assembly, with video lectures, events, and performances, and a "Virtual Front Porch," featuring group discussions large and small. The institution is offering a free 90-day membership in the CHQ Assembly, featuring this summer's programming, and will cost $3.99 per month after the initial period (though you can cancel at any time). It's a great opportunity to experience this revered summer assembly from home. (Chautauqua-Allegheny)
Corning Museum of Glass: Glassmaking videos, a virtual tour, coloring activities, education, and special programming including virtual live chats and more. Plus, Thursdays at 1 p.m. Eastern, new episodes of "Connected by Glass." More details including how to tune in here. (Finger Lakes)
CurbFreeFromHome Facebook Live series: The blogger behind Curb Free with Cory Lee's #CurbFreeFromHome Facebook Live series features a visit to Rochester. Lee speaks with Rachel Pulvino, the Director of Communications for Visit Rochester, to talk all about accessibility within Rochester and what makes it a fantastic place to visit once you feel safe to do so! (Finger Lakes)
Everson Museum of Art: Offering virtual programs and activity guides so you can stay connected and keep young minds busy while they are home from school. Share your home art projects with #artfortheE on Instagram and Twitter. (Finger Lakes)
Genesee Country Village & Museum: Family fun and learning web page. (Finger Lakes)
Milton J. Rubenstein Museum of Science & Technology (MOST): A new STEAM activity every day on the museum's Facebook page. Check the museum's website for more updates and online programs. (Finger Lakes)
Rakow Research Library: Digital collection. (Finger Lakes)
Rochester Museum & Science Center: Explore online collections and libraries. (Finger Lakes)
Strong Museum of Play: Online exhibits and virtual collections. (Finger Lakes)
Buffalo & Erie County Botanical Gardens: Check out a growing list of great activities that anyone can do at home with every-day materials. (Greater Niagara)
Art Omi Education's Creative Momentum: Sign up via email for a series of make-at-home projects inspired by contemporary artists. The projects are emailed weekly on Thursdays. (Hudson Valley)
Hudson River Museum: Museum From Home allows you to virtually experience all HRM has to offer, engaging videos, hands-on art and science activities, lesson plans, storytime, and more. (Hudson Valley)
Mohonk Preserve: "Nature Nuggets" based on material from our award-winning Education team that will help families get into nature in their own backyards. (Hudson Valley)
Long Island Children's Museum: Virtual tour, at-home activities, and teacher resources, with new additions every Friday. (Long Island)
Long Island Museum: Online family art and history activities, based on the museum's collection, historic buildings, and grounds. (Long Island)
American Museum of Natural History. Digital tours of its collection and more. (NYC) 
Intrepid Sea, Air & Space Museum: Virtual tours. (NYC)
Nicandri Nature Center: Daily virtual nature program on the center's Facebook page. (Thousand Islands-Seaway)
Zoos, Aquariums, and Wildlife:
National Museum of Racing and Hall of Fame: Season 3 of Foal Patrol is in full swing, featuring six mares and the champion stallion Gun Runner. This one-of-a-kind interactive web project provides viewers a unique opportunity to learn about the breeding and foaling process and watch live as the mares give birth. Visit the museum's Facebook page for activities and more. (Capital-Saratoga)
Animal Adventure Park: April the Giraffe cam and more! (Central New York)
Beekman 1802: Baby goat cam. (Central New York)
Binghamton Zoo at Ross Park: Online educational resources and activities, with Find updates on Facebook and Instagram. (Central New York)
Utica Zoo: Keeper Takeovers on Instagram (@uticazoo). See the animal care staff during their workday. Family activities are also available on the website. (Central New York)
Rosamond Gifford Zoo at Burnet Park: Daily video animal updates on the zoo's Facebook page. (Finger Lakes)
Seneca Park Zoo: Online projects for adults and families. (Finger Lakes)
Aquarium of Niagara: Updates and virtual programming on their Facebook page. (Greater Niagara)
Buffalo Zoo: Videos on Instagram. (Greater Niagara)
Hidden Valley Animal Adventure: Follow on Facebook and Instagram for photos and videos of baby animals. (Greater Niagara)
Peregrine falcon webcam: Falcons nesting on the Mid-Hudson bridge. (Hudson Valley)
Trevor Zoo live webcams: Featuring red pandas, herons, and more. (Hudson Valley)
Wolf Conservation Center: Check out webcams of "Ambassador" wolves Atka, Alawa, Zephyr and Nikai, and seven elusive packs of critically endangered wolves via unobtrusive cameras in and around anticipated den sites. (Hudson Valley)
Woodstock Farm Sanctuary: A new digital tour program called Sanctuary Strolls is being offered to make sure you can stay connected with our 350+ rescued residents! Public and Private virtual tours available. (Hudson Valley)
The Whaling Museum & Education Center: Museum from home with activities, crafts, coloring pages, resources, and virtual events. (Long Island)
Nature and Adventure:
New York State Parks: Take 360-degree virtual tours of more than 125 state parks. (Multiple regions)
Mohawk Hudson Land Conservancy: Virtual hikes and lessons from the field. (Capital-Saratoga)
Tulip Festival: Virtually celebrate the Tulip Festival with the Self-Guided Tulip & Garden Driving Tour. Follow along on social media with #518TulipTracker and safely explore tulips throughout Albany! (Capital-Saratoga)
Visit Ithaca: Learn about and virtually visit local waterfalls. (Finger Lakes)
Endlessly Outdoor Company: Take the Stay Adventurous Challenge! Find ideas to stay active for at least 30 minutes every day, encouraging you to improve your muscular strength, cardiovascular endurance, positive mindset, and of course your ability to complete simple educational tasks like using a map and a compass. (Greater Niagara)
Letchworth State Park: Enjoy a virtual 360-tour of some of the Park's most beautiful locations right from home! (Greater Niagara)
Niagara Falls/Cave of the Winds/Maid of the Mist: Users can experience the adventurous side of Niagara Falls USA on the Maid of the Mist, Cave of the Winds, helicopter over the Falls, jetboating and more. Even if users don't have VR goggles at home, they can still enjoy the 360-degree views (and soothing sounds of the Falls and nature) by simply navigating the video with their mouse. (Greater Niagara)
Niagara Region Interpretive Programs Office: Daily "Spring Into Nature Challenge," a photo scavenger hunt for NYS Parks. (Greater Niagara)
Mohonk's Virtual Tulip Fest: Experience the wonder and beauty of spring when the Victorian Show Garden comes to life. Celebrate the turn of the seasons through Facebook and Instagram (Hudson Valley)
Olana State Historic Site: Experience Olana's iconic view of the Hudson River and Catskill Mountains in real-time from anywhere in the world. (Hudson Valley)
Brooklyn Botanic Garden: BBG At Home, including a virtual tour of the cherry blossom trees, plants in bloom, videos, kids' activities, and more. (NYC)
LGBTQ
Oscar Wilde Tours Zooming Through Queer Culture: A series of live, on-line tours and lectures by the top guides and writers on LGBTQ culture, history, and art from institutions such as the Met, MoMa, The British Museum, and The Victoria & Albert Museum. Events will run approximately an hour, including time for questions. Tickets are $10 per person. (Various Regions)
Cooking, Gardening, and Farming:
Augie's Family-Style Restaurant: Augie Vitiello learned the secrets of old fashioned home-style Italian cooking from his parents. Watch a variety of cooking videos at home. (Capital-Saratoga)
Farmers' Museum: Virtual experiences featuring gardening, cooking, and other virtual tips. (Central New York)
New York Kitchen: Cooking videos, tasting videos, recipes, kids cooking ideas. Visit New York Kitchen on Facebook, Instagram, and blog. (Finger Lakes)
Culinary Institute of America: Cook like a pro with expert advice and tutorials available online. You can also take a virtual tour of the New York campus of the venerable cooking school that launched the career of many famous chefs. (Hudson Valley)
2020 NY State Sheep and Wool Festival: The annual Rhinebeck festival will now be taking place online October 17-18, and will allow participants to take part in a variety of workshops. This virtual experience will connect beginners and experienced fiber crafters together to learn everything from sheep shearing to new knitting techniques. (Hudson Valley)
Craft Breweries/Wineries:
The New York State Brewers Association: Virtual happy hours featuring guest brewers will return in fall, but an archive is available for viewing. (Various Regions)
Southern Tier Brewery: The famed New York craft brewer is teaming up with friends from Bold Rock, Sixpoint, and Victory, to bring a virtual bar to your home. They host fun online sessions that bring together an amazing community around beer education, bottle shares, bar trivia, and more.
The Taproom Live Facebook group is a meeting place where Bold Rock, Victory, Sixpoint, and Southern Tier create a Happy Hour programming including guest appearances by brewers and beer experts, classes, and "first tappings" of the brewers' new releases. (Chautauqua-Allegheny)
Zugibe Vineyards: Bringing a new WOW (Wine of the Week) to you virtually every Wednesday evening. Each week, a new wine will be featured and put on sale for 20% off for the following seven days. (Finger Lakes)
Music:
Lake George Arts Project : Presenting the Jazz Weekend Virtual Series, every Thursday night in September, curated and hosted by LGAP's Jazz Curator, Daniel Kelly. These livestreamed shows will bring renowned jazz musicians to you through a series of four hybrid events that combine live performances, time for discussion and audience questions. All events will stream on Facebook, YouTube, or the LGAP Stream Now page! (Adirondacks)
Luzerne Music Center: Enjoy free virtual concert programs of faculty and student recitals that will be live-streamed throughout the summer on Facebook. (Adirondacks)
The Sembrich: The 20/20: Virtual Visionaries Summer Festival, a series of eight carefully curated digital presentations, will explore visionary composers, performers, and educators who led or are currently leading the way to a new future with their unusually keen foresight and creativity. Presentations will be released for complimentary viewing and streaming throughout the summer. (Adirondacks)
The Strand Theatre Hudson Falls: Livestreams of performances on Facebook and Instagram. (Adirondacks)
Albany Symphony: Explore digital content like weekly videos from Maestro David Alan Miller and producer Ari Oser Miller, Symphony Circle Time for kids every Wednesday at 9 AM, and tune in to WMHT on Fridays at 6 pm on 89.1 FM Albany, 88.7 Poughkeepsie, or online at wmht.org/classical for Albany Symphony radio hour. (Capital-Saratoga)
Caffe Lena: Stay at Home Sessions, live concerts broadcast on the venue's YouTube page. (Capital-Saratoga)
Scotia Freedom Park 2020 Quarantune Series: Saturdays & Wednesdays at 7 pm, enjoy free livestream concerts all summer long with the Freedom Park 2020 Quarantune Series. Watch on Youtube or Facebook. (Capital-Saratoga)
Smith Opera House: The Smith Sessions feature recordings of regional musical artists from their living rooms. Sit back, relax, and enjoy these intimate recordings anytime, anywhere. (Finger Lakes)
Buffalo Philharmonic Orchestra: Streaming performances, plus archived videos on the Philharmonic's Facebook page. (Greater Niagara)
Rites of Spring Music Festival: Saturdays at 2 pm: "Music & Tell," a virtual performance series in 45-minute sessions on Zoom, is aimed to expand the mission of ROSMF and create a stronger sense of identity while investing in the passion and artistry of classical and contemporary artists. (Long Island)
Film:
Woodstock Film Festival Alternative Projections: Short and full-length films curated by Woodstock Film Festival alumni filmmakers, programmers, industry friends, and staff for you to stream from the comfort of your home. (Catskills)
Crandell Theater: Watch world-class cinema in the comfort and safety of your own home while benefiting the continued operations of the Crandell Theatre in Chatham with the Virtual Screening Room. Virtual tickets required. (Hudson Valley)
New York Latino Film Festival: Through September 20, the premier Urban Latino film festival in the country offers a virtual version of its annual programming, with features and shorts streaming online. Ticket prices vary or a pass for all online screenings is available for $50. (NYC)

Comedy:
National Comedy Center: Comedy videos, with more online programming being added regularly. Check out National Comedy Center Anywhere, with exclusive comedy content from the center's collection, including the video special "Laughing Matters: Carlin's Legacy," celebrating George Carlin's life, career, and legacy, featuring conversations with Judd Apatow, Norman Lear, Sebastian Maniscalco, Lewis Black, Jim Norton, and Kelly Carlin, along with tributes from many famed comedians. (Chautauqua-Allegheny)
Dance:
Syracuse City Ballet: Follow along for the 2020 Digital Season featuring special content for all ages, dancers, and friends of SCB. (Finger Lakes)
Kaatsbaan: Weekends through September 27, join Kaatsbaan Cultural Park's first Summer Festival with performances of dance and art to celebrate its local and artistic communities. Guests can enjoy performances with over 40 acclaimed dance artists and marvel at the outdoor art and film installations. The festival will be presented on the organization's social media platforms and YouTube channel as well as on participating artists' social media. (Hudson Valley)
Theater:
Adirondack Theater Festival: The long-running Adirondack Theater Festival's summer season is canceled, but in its place is ATF On Demand, featuring clips of past performances as well as several full performances, as well as other exclusive content. ATF On-Demand seeks donations to support future productions and will donate $25 of any $50-plus contribution to help support local businesses in Glens Falls. (Adirondacks)
Pendragon Theatre: Offering a "Germ-Free Season" of streaming play readings, virtual productions, and alternative performance formats. Stream The Snow Queen now or check out the Stay at Home Puppet Camp for Kids. (Adirondacks)
Forestburgh Playhouse: Building Your Artistic Toolbox: An Online Education Series from the FBPH Academy. Featuring videos, live streaming, conversations, and more from seasoned industry professionals teaching dance, choreography, acting, and singing all to help you hone your theatre chops! (Catskills)
Broadway HD: High-definition versions of classic and more recent Broadway plays and musicals. (Note: this is a paid service.) (NYC)
Storytelling/Literature:
Proctors: Choose from 200-plus stories for adults from the Story Circle, one of the first resident storytelling companies. (Capital-Saratoga)
Chautauqua Lecture Series: Watch and engage with Chautauqua programs live or on-demand this summer using five CHQ Assembly online platforms. Many programs premiere live, so register ahead of time. Learn more here. (Chautauqua-Allegheny)
Writers & Books: Join Writers & Books online as they host mini-workshops and virtual SummerWrite camps. (Finger Lakes)
Architecture:
Frank Lloyd Wright's Martin House: Join the Martin House's executive director, Mary Roberts, for short, easily watchable mini-tours of the stunning Martin House Complex. Learn about the Wisteria mosaic fireplace, interesting design features of the home and a history of the Martin family. Watch along on the Martin House's Facebook page as they release new videos every few days. (Greater Niagara)
Health & Wellness:
Samsara Yoga Center: All regular classes available on Facebook Live. (Chautauqua-Allegheny)
Hudson Valley Healing Center: Video guides to stretching, yoga, and more. (Hudson Valley)
Mid-Hudson Road Runner's Club: The Mid-Hudson Road Runner's Club 42nd Annual Dutchess County Classic, now a virtual event! Track your time and complete the required distance between September 13-20 on a treadmill, outdoors, or anywhere you'd like! All proceeds from this virtual running event will be donated to Dutchess Responds, a charity that has set out to help those in need due to the COVID-19 pandemic. (Hudson Valley)
Sports/Motorsports/Aviation:
The National Baseball Hall of Fame and Museum: Digital collection and more. (Central New York)
Motorcyclepedia Museum: Now open with reduced capacity, you can still check out the Virtual Museum, browse through pictures, specs and more for 250 of the museum's best motorcycles. (Hudson Valley)
History:
Adirondack Experience: Explore the ADKX Digital Museum's featured collections, online activities, live webcam, and more. (Adirondacks)
Fort Ticonderoga: Online database featuring over 3,000 museum objects. Plus, join engaging, interactive programs and discover the powerful stories of the men and women who lived at Ticonderoga in the 18th century. Beyond live online programming, see thousands of museum artifacts, watch dozens of videos, and see the many educational resources that have earned Fort Ticonderoga the reputation as the premier center for the study and dissemination of the military experience in the Early Modern Era (c.1609-1815). Upcoming digital campaign event calendar. (Adirondacks)
48 Hudson: Take a virtual tour of 48 Hudson, the Van Ostrande-Radliff House. (Capital-Saratoga)
Albany Capital Center: Explore every nook and cranny of Albany's convention center. Dive into the Center's impressive mural and learn more about what it depicts. (Capital-Saratoga)
Empire State Plaza & New York State Capitol: Visit the Empire State Plaza and New York State Capitol virtually! The Virtual Visit series offers educational videos that give you the chance to "visit" and learn about the New York State Capitol and Empire State Plaza's rich history, great art, and stunning architecture. Go inside the NYS Assembly Chamber, explore the Empire State Plaza art collection, learn how a bill becomes law, and much more! (Capital-Saratoga)
Erie Canalway National Heritage Corridor: Historical photographers, lesson plans, and more. (Capital-Saratoga)
New Netherland Institute: Learn more about America's (and Albany's) Dutch roots with online resources. (Capital-Saratoga)
New York State Museum: Join a Facebook Live Field Trip every Tuesday, Wednesday, and Thursday at 1 pm. Learn about cool facts and finds from New York from the comfort of your own home. (Capital-Saratoga)
Shaker Heritage Society: Explore the site of America's first Shaker settlement virtually. (Capital-Saratoga)
Virtual tour of the Fly Creek Cider Mill (Central New York)
Center for Mark Twain Studies: Take a virtual tour of the quarry farm, including the original location of Mark Twain's study where he wrote major portions of The Adventures of Tom Sawyer, Adventures of Huckleberry Finn, Life on the Mississippi, A Connecticut Yankee in King Arthur's Court, The Prince and the Pauper, A Tramp Abroad, and many short pieces. You can also explore a virtual map of Elmira from 1901 and Woodlawn Cemetery. (Finger Lakes)
Genesee Country Village & Museum: View trail cam videos and virtual tours of the MacArthur House. (Finger Lakes)
Geneva Historical Society Find a variety of stay-at-home activities covering topics from architecture, well-known Genevans, suffrage, and more. (Finger Lakes) 
Seward House Museum: Livestream lunches. (Finger Lakes)
Buffalo History Museum: Digital collection. (Greater Niagara)
Old Fort Niagara: Livestream from the lighthouse. (Greater Niagara)
Theodore Roosevelt Inaugural National Historic Site: Visiting the Theodore Roosevelt Inaugural Site is a chance to experience a place where America entered a tense crossroads that helped to define its next one hundred years. Take a virtual stroll through an important moment in American history, complete with 360-degree views, interactive features, and video. (Greater Niagara)
Friends of Mills at Staatsburgh: Enjoy a glimpse into one of the Hudson Valley's historic treasures. Virtually Staatsburgh offers family activities, videos, and blog essays to help you learn about and enjoy the magic of Staatsburgh. Plus, discover how the Titanic story is part of the Staatsburgh story. New content is added regularly, so check back often! (Hudson Valley)
Historic Hudson River Towns: A new mobile audio tour of the Historic Hudson River Towns includes two audio points of interest in each of the 16 HHRT member communities, from Yonkers to Peekskill in Westchester County on the east side of the Hudson River, Nyack and Haverstraw in Rockland County on the west side, as well as on both the new Governor Mario M. Cuomo Bridge and the Bear Mountain Bridge. (Hudson Valley)
Historic Huguenot Street Exhibit: Through original archival documents, the exhibit Jane Deyo Wynkoop explores her story from birth in 1803 to death in 1876, at age 73. (Hudson Valley)
Martin Van Buren National Historic Site: Don't miss the Summer 2020 virtual speaker series. Historian Michelle Dempsey will share her research on the lives of Angelica Singleton Van Buren and Christina Cantine, two women who had a profound influence on Martin Van Buren. Both videos will premiere on Martin Van Buren National Historic Site's Facebook page. Following the premiere, the talks will also be available for viewing on the park's website and YouTube channel. (Hudson Valley)
Mesier Homestead and Museum: This museum tells the story of Peter Mesier, a loyalist during the American Revolution—his store, and the Wappingers Tea Party of 1777. Check out the 360-degree virtual tour. (Hudson Valley)
Virtual tour of Franklin D. Roosevelt National Historic site (Hudson Valley)
Virtual tour of the permanent exhibit at the Franklin D. Roosevelt Library (Hudson Valley)
Virtual tour of Eleanor Roosevelt National Historic site (Hudson Valley)
Staatsburgh State Historic Site: Follow along on Facebook as the Gilded Age merges with the Digital age every day of the week: Social Etiquette Sunday; Manly Monday; Tea on Tuesday; Women on Wednesday; Theater Thursday; Fashion Friday; and Sociable Saturday. Plus new blog essays and other digital content. (Hudson Valley)
Wilderstein Historic Site in Rhinebeck is pleased to announce a new joint online exhibition with Locust Grove Estate in Poughkeepsie featuring a selection of Victorian household objects from both collections. (Hudson Valley)
Cradle of Aviation: Virtual museum and online educational services. (Long Island)
Gold Coast Mansions: Step inside Long Island's Gold Coast through a virtual experience for a look into the elegant and opulent lifestyles of the elite. (Long Island))
Joseph Lloyd Manor: Explore the 1767 house where Jupiter Hammon, the first published African American poet, lived. Enjoy a free virtual tour of the manor, furnished to the 1793 inventory of Joseph's nephew, John Lloyd II (1745–1792) and occupying a spectacular 2.5-acre setting overlooking Lloyd Harbor. (Long Island)
Long Island Museum: Online exhibitions. (Long Island)
Southampton History Museum: Enjoy a variety on virtual programming and updates to "History Talks" blogs. (Long Island)
Gaining Access: The NYC Disability Rights Movement. Based on the first museum exhibit presented at the Brooklyn Historical Society in 2015 observing the 25th anniversary of the ADA, curated by Warren Shaw. (NYC)
Museum of Chinese in America: Experience the best of MOCA content digitally and online through Digital Tours and Audio Guides, the Oral History Archive featuring video interviews from MOCA's Journey Wall collection, Collections Online with 35,000 digitized images from MOCA's archives, digital learning resources such as our new MOCA Heroes magazines, the My MOCA Story social media video series, and MOCA Talks webcasts. (NYC)
New-York Historical Society: Join the New-York Historical Society online for a live, interactive journey through history as docents or curators walk you through a slideshow of objects and imagery and answer your questions via Zoom. Check the website for registration and a full schedule of upcoming events. Tickets are $10 and free for New-York Historical members. (New York City)
The H. Lee White Maritime Museum: Explore the Virtual Exhibit Experience around the museum and the "Path Through Maritime History" series. (Thousand Islands-Seaway)
Science:
Martz-Kohl Observatory: Explore the Observatory Lecture Series covering topics like Astronomical Contributors to Climate Change and Lunar Astronauts:Preparing America's Next Moon Landing Crew. (Chautauqua-Allegheny)
Paleontological Research Institution: Explore a rich and growing array of freely available online educational resources in Earth and life sciences. (Finger Lakes)
For more in NYC: Visit our partners at NYCgo.com for a list of virtual experiences, from Broadway shows to art museums and children's activities.